Thoughts from a cold February sofa.
For most of us taking the boat out overnight when the temperature is forecast to drop below 30 and the wind is pretty much zero is not exactly inspirational, however as I sit here in mid February at 8 degrees out and cast my mind back to the weekend of November 3/4 2006 I do so with a strange affection. That was the weekend we brought our newly accquired boat 'home' from Hingham, MA to Portmouth, RI. For all you winter armchair sailors and dreamers, I'll share my memories here.
We had purchased the boat in Hingham, MA during October and I had spent 2 or 3 long days making sure that the boat was recommissioned ready for the journey. It was odd to be hanking on the sails when others were removing theres but we were excited about our new baby and we really wanted to get her home safely before winter arrived.
The boat is a 2001 Beneteau Oceanis 381, an upgrade to our 1984 Elite 32. We had owned the Elite for 5 years after we moved up from our Venture 22 (hence our tenuous membership of NE-TS) and after attending the Newport International boat show we began casually looking at bigger, newer boats. After a surprisingly short search we found ourselves buying this new (to us) boat.
Our route of course from Hingham, MA to Portsmouth, RI was pretty straightforward and we were all tee'd up for the last weekend of October but a storm came through with 50 knot winds and 14 foot seas, so we postponed. I then had issues with crew availability due to various family commitments and sickness (more on the sickness later), but by Friday late morning (November 3rd) we were confirmed for a Saturday morning departure for the trip from Hingham to Portsmouth, RI.
SATURDAY 3rd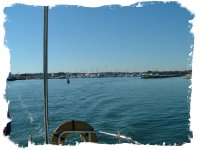 We left Hingham at 10:00am on Saturday moring with a forecast mid 40's day and forecast 1-2ft seas and 10-15 knot NW wind. We motored out of Hingham and followed the winding but well marked channel out through Hull gut and gradually increased our hull speed until we were running the engine at around 2,600rpm and making 7 knots (SOG) being watchful of an engine that hadn't really been run in 12 months except for the survey and my preparatory maintenance. There was an issue with the knotmeter paddle wheel because I was getting zero readout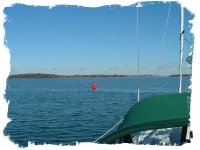 but I was getting a good SOG readout from the chartplotter (GPS). Just another thing on the albeit short to-do list. (The paddle wheel issue turned out to be sea growth and was fixed during winter maintenance).
We raised the main just South of Boston light in 8KN of wind and picked up SOG to slightly over 8 knots on a beam reach, sheltering behind the dodger from the cold and we got some nice shots of the Boston skyline behind the helmsmans shoulder. Given that we were probably going to be motor sailing all day I elected to not put up the genoa and keep the boat flatter and the engine well lubricated.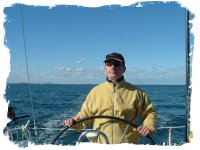 Spirits were good and both the crew and the new boat were working nicely. Our secret weapon Norm has been sailing in this area for 25 years and was a veritable source of knowledge on local history, points to look out for and of course the time flew by. By 11.00am we had Minots light in sight and came by this 'lighthouse with a history' (picture 4 below) at our closest point around noon (more photos).
As our course came round closer to due south and we headed for the canal the apparent wind shifted and veered to the North and we found ourselves motor sailing by the lee so ended up tacking downwind to avoid any accidental jibe.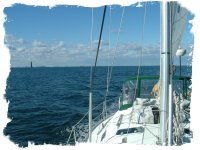 Despite being a mile or two out, there were plenty of lobster pots (or at least markers) and every 5-10 minutes we'd spot one that was close enough to pay heed to it. Late in the afternoon we sighted a largish cat boat off of Duxbury (subsequently identified as the catboat "Kathleen") and I got some nice "sky color" shots of this to the East as she passed our stern. We approached the marker on the end of the breakwater at the East end of the Cape Cod canal around 4:30pm and tucked into the canal channel against the last of the flood to see our SOG immediately drop by half as we fought the current.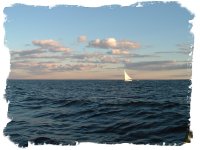 Once in some less turbulent water we dropped the main and slipped quietly into Sandwich marina a few minutes shy of 5:00pm. Despite calling ahead for a slip earlier in the day we couldn't raise anyone on the VHF or by phone nor was there anyone in sight, so we slid the boat into an empty slip and went ashore to stretch our legs. I guess off season everyone knocks off early because the place was a ghost town. As the sun set, so the temperature plummeted and I started dinner. We reviewed progress made during the day as I cooked and we all agreed that we had sufficient time to head out on the the tail of the ebb the following morning and could easily make Portsmouth with enough daylight margin. Lasagna, potatoes, veg, bread, fruit, hot coffee/tea and a beer - I cleaned up and we all hit the sack around 9:30pm.
I was also coming down with a cold and my voice was beginning to 'go' ...
SUNDAY 4th
Gee it was cold during the night, I got up 3 or 4 times during the night and then I was first up at 6:30am the next morning. There was ice on the inside of the hatches from condensation, but it started to warm up nicely once I had the kettle on and then later the oven to toast some raisin bread (toasted canned raisin bread – great 'stock' food to keep on board). We cleaned up, wiped down the moisture (condensation) off of the headliner and we headed out into the canal on the button at 8:00am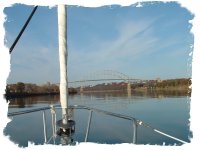 into the last of the flood. We were making about 2KN less (SOG) for the same rpm as the previous day so there must have been at least 1.5KN of current, but by 9:00am when we reached the Mass maritime academy at the west (south) end of the canal we were actually getting a 1.5 - 2.0KN lift from the current, which shows just how much of an impact the 5ft difference in tides causes. In the canal it was surreal, the surface of the water was like glass and we were the only vessel around. Regretably the previous weeks storm had taken most of the fall foliage off the trees but it was still a gorgeous morning with a few brave locals out walking or fishing on either shore.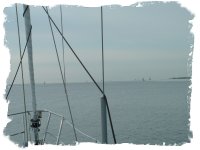 As we entered Buzzards bay I reflected out loud that it was like some 1980's video game. First the bay itself was flat calm and secondly the channel markers just lined up like that game where your job is to steer your 'player' down a course – almost like a runway, the photograph (left) doesn't do it justice. The water stayed uncharacteristically flat for the next hour or so and we checked off the waypoints and headed Southwest, gradually hardening up towards a more westerly course through Buzzards bay. There was zero wind so the main stayed in the lazy jacks on the boom. At around 9:45am I looked at the fuel gauge and we discussed consumption - it looked like we could run out at our current rate of burn. We were by then approaching Fairhaven which was our best option for fuel at this time of year but I had a full 5 gallon jerry can on board and conditions were calm enough to refuel underway if I had needed to. I chose to back off the rpm to 2,200rpm and we watched over the course of the next hour or two and the consumption dropped dramatically.
Conditions were calm and I was able to play with the electronics, setting the autopilot and watching how our COG varied from our actual heading (set and drift) and making periodic manual corrections towards our waypoints - I had them plotted in the chart-plotter but to be truthful we did the trip pretty much through dead reckoning as we gazed at the scenery and enjoyed each others conversation and sipped hot coffee. We maybe saw 4 or 5 other boats all morning. Every now and then we would come up on a lobster pot and I'd either just adjust the AP a point or two or if I was not as diligent in my lookout or if the pot was 'camouflaged' I'd drop into manual to avoid the thing (Gee I so hate those things). But on the whole the AP steered most of the morning and we sat back and enjoyed the ride.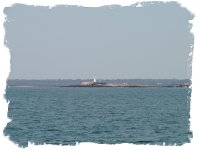 By about 11:15am we had the last of the Elizabeth islands - Cuttyhunk, square off of our port beam and entered Rhode Island sound. The temperature started to pick up, probably low 50's and the sun made a vain attempt to break through the clouds. At 1:30pm we rounded Sakonnet point and made the turn to starboard into the Sakonnet river (actually it's an estuary like the East and West passages, but let's not split hairs here) and the sun finally broke through. The last hour as we came North up the river in familiar grounds were probably the best of the weekend, we let Norm helm which he enjoys tremendously and I even stripped down to just 4 layers of clothing (I think I maxed out at one point at 8+ layers)!
My wife left the house around this time and headed down to Rhode Island. We agreed she would find our assigned slip at the marina and tell us which side the tie up was and if she got down early enough she'd maybe catch us coming up the river from Foglands beach or something. We eventually came up on the East side of Gould island - just South of Tiverton basin and they were on the little spit of a beach there, taking photos and waving. The photos below are taken as we come up past Gould island and into Tiverton basin (Pirates cove) a few minutes before 3.00pm.
We motored up through the mooring field in Tiverton basin and under the Rt24 road bridge and waited outside the marina to hear which side to tie up. I used this time to remind myself how the boat handles under power, how fast she would turn and how she would back down etc if need be. Once we had the word, we rigged for a port side, bow in tie up, crossed our fingers and gingerly (aka nervously) approached the aisle to put a 39ft boat into a slip that looked to be slightly shorter than our boat length (it was !) - with a boat next to us that was also sticking out into the aisle (39ft Pearson). Exiting and returning to the marina are our least favorite activities but I needn't have worried (this time), the new boat spun on its keel and almost turns in its own length. The fixed three blade prop provides plenty of thrust in forward and reverse and we 'slipped into the slip' quietly and without fuss.
We quickly put the boat to bed and all jumped in the car for the one hour ride back to Hingham to retrieve our vehicles. Norm had to dash (Patriots game to watch that evening), but the rest of us had dinner at 'Stars' in Hingham and then left for home. The next day back at work my cold 'broke' and I had no voice, a fever, the chills and hot sweats, but our baby was home safe and sound.
Now it's mid February, I am working my way through a winter projects list (some regular maintenance, some post purchase items) and am feeling the cold and counting down the days until Spring. Even that cold, cold November night seems bliss in comparison to this. Brrrrr !!!