Trip Report - Stockton Harbor, Maine 1st Annual Regatta
August 28, 2004
By Rick Dieffenbach/Lady-in-Red
Stockton Springs, Maine sits unpretentiously about 30 minutes north of the well known town of Camden. But while Camden is mentioned on some 10 pages of the Cruising Guide to Maine, Stockton Harbor gets about two paragraphs. Both provide access to Penobscot Bay. But blessed with less, Stockton Harbor is quiet and laid back even on a Friday in August. Ah, just the way *I* like Maine.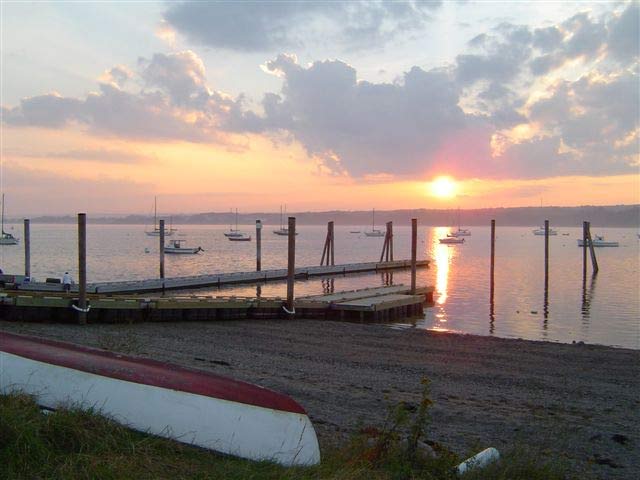 Above: Stockton Harbor at dusk. The ramp rests between the piers. Photo by Linda.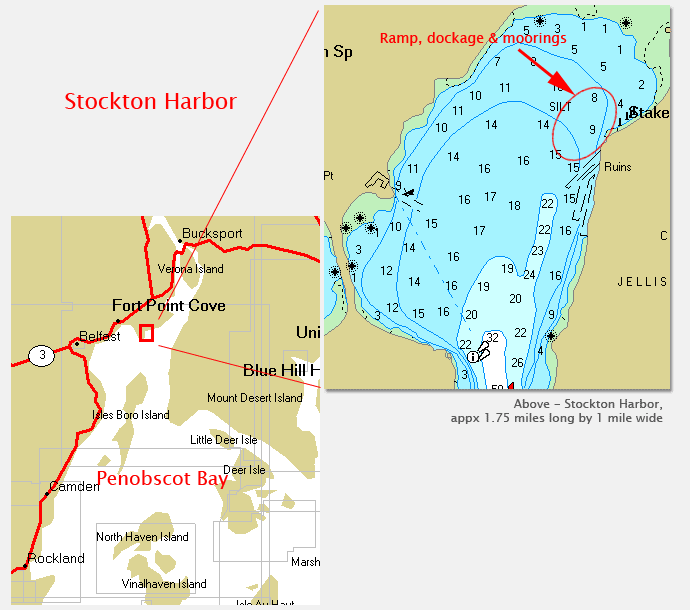 Kathie, Jacob and I arrived towing our 26x to participate in the first annual Stockton Springs Regatta. At the launch ramp we were greeted by Joe, the Harbormaster. His firm handshake and smile said welcome better than a whole mountain of tourism ads.
Joe took a few minutes to tell us about the harbor. He pointed to the line of new posts extending past the current docks. "We're lengthening the docks. It's going to be great! And, we're replacing the launch ramp." Joe was obviously proud of Stockton Springs and his harbor.
The existing launch ramp is in need of replacement – its ribbed concrete strips have disintegrated in places. The new ramp is already on-site - a mountain of ribbed concrete planks waiting to be installed. With a tide swing of 12 feet, and (thankfully) a fairly small slope, there are lots of concrete planks to replace. Joe says the new ramp will be installed in October.
The next morning, Kathie and I awoke a bit nervous - for this was to be our first sailing Regatta. At the Captain's meeting we learned that nine boats would be racing in two classes. There were beautiful sloops and smaller boats, two Mac 26x's and a new Hunter 21. Thank goodness for the handicap system to even out the slower, smaller boats. Kathie and I figured we had a chance of at least coming in last. After all, we've had lots of practice on NE-TS rendezvous we've attended. :-)
We met some terrific people at the Captain's meeting. Jim, a Korean vet, had his crew Linda and Shanna. Jim's pride and joy was his 30' Tartan, which he planned on sailing to South Carolina next year. We met Joe, who had recently bought his Mac 26x and sailed it with his daughter. Everyone was friendly.
The race course, to be held in the harbor, was triangular in shape with legs upwind, downwind and reach. The starting line was defined by an anchored boat and a yellow mooring ball.
As the starting time drew near contestants flocked in constant motion near the start line- circling like moths around a light. Kathie and I were a little bit nervous- we always try to avoid getting near other boats, and here we were in the middle of the swarm!
The race began. Our Mac 26x caught her stride, our new Genny filling to capacity with 10-12 MPH winds. Yet, we knew others would pass us. We just kept repeating "it's all for fun.... it's all for fun...".... as if this would somehow bring peace.
But still, it was all for fun. Our main goal was to make it around the circuit without hitting someone... and finish the race.... and maintain our dignity.
Well, somehow, despite a stall and a couple of other embarrassing moments which I choose not to mention (so, scratch the dignity goal...), we won third place in the open class! Imagine!
This was our first regatta and our first boating experience in Stockton Harbor. And what a time it was! Grilled hotdogs and hamburgers never tasted better. MMMmmm... good. (They were prepared by the nice people of Russell's Marine of Stockton Springs, Maine's only Hunter and Mac dealer, www.russellsmarine.com).
The Regatta was fun. We hope to return next year. Who knows, there may be a future 2nd place trophy with our name! Or, we may finish the day saying "It's just for fun". Either way, we recommend a trip to Stockton Springs and its harbor. If you want to experience down-home friendliness in one of the less touristy places in Maine, in a well protected harbor with access to Penobscot Bay, try Stockton Harbor. Consider it when planning a northern Maine trip.
Rick Dieffenbach
"Lady in Red"
PS- we did not have our camera along, hence no pictures - sorry!