Maine's New Meadows River &
Lady-in-Red's First Adventure of 2004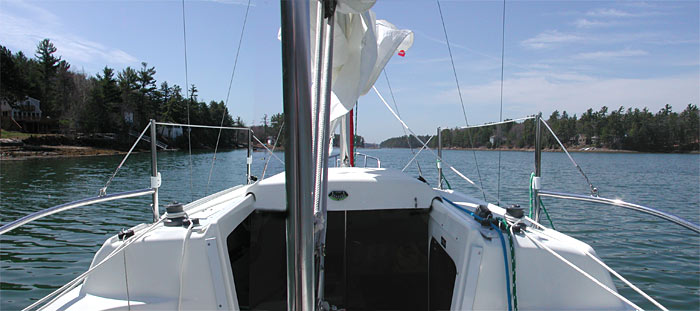 The New Meadows River located about 30 minutes north of Portland, Maine was the site of our first launch for 2004. The navigable portion of the New Meadows is roughly 10 miles in length. Unlike its well known sister The Kennebec River just a few miles away, New Meadows is almost totally devoid of noticeable current. We've seen boats land on the Kennebec at about a 30 degree angle fighting the current; on the New Meadows it's not even a consideration.
Sawyers Road Ramp - Nice!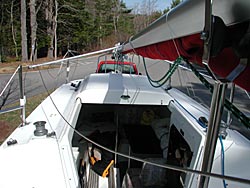 The town of Brunswick, Maine provides a launch ramp which is usable in all tides and easily accessible just a few minutes off of US-1 New Meadows exit. There is amble rigging space and a large parking lot. (Although in peak months even that can be full, but we have always managed to find a place to park.) The Casco Bay Cruising Guide calls this ramp a model for others - and I have to agree. There are no fees to launch.
The ramp is a bit on the steep side, but the pavement is strongly ribbed. There are no drop offs and the pavement goes to water even on low tide. As long as my non-4 wheel drive truck can find concrete, I have no issues hauling my 26x up the ramp.
Just off the ramp are some tall trees. Watch the top for mother osprey and babies during spring. We're on a first name basis now.
Within eye shot of the ramp is the New Meadows Marina, situated at the very end of the navigable portion of the New Meadows. There are temporary slips for visitors at a pretty standard price of $1.50/foot.

Now, to the River!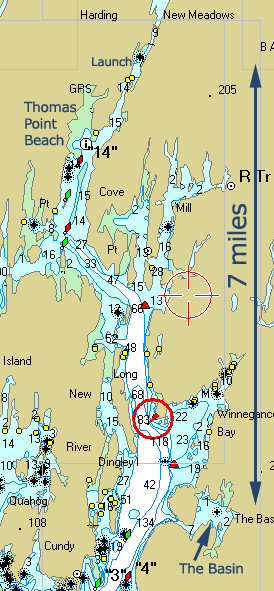 From the launch area, the first couple of miles are very narrow, perhaps a couple hundred feet across. You must carefully make your way because there are some bad things lurking just under the surface in certain places near low tide. Most are well marked on the chart. As long as you follow the buoys, you'll be fine.
My wife and I love to go slow and gaze at all of the homes - some small and some large - that spot the area. We frequently face south winds so most often we motor.
When the river finally opens up, look to your right and see Thomas Point Beach. From then on, the river grows progressively wider and you begin to forget that it is called a river.
Make Your Way Towards The Basin
About seven miles from launch you'll reach "The Basin". A wonderful expanse of totally protected waters that is home to many overnight boaters. Anchoring is good and there is even a state owned tiny island to camp.
(Go to our website www.trailersailing.com to see pictures and read more about The Basin.)
Just a little further south is Cundys Harbor - a small lobster boat harbor that sports a great place to have lunch - Estes Seafood.
We did not go all the way to Cundys on this first of the season cruise - it probably isn't open yet. A little bit past that is Sebasco Harbor Resort - stay moored at night for some $25 and enjoy their salt water pool and beautiful restaurant.
April 29 was a great sailing day - although I was single handed, the breeze was steady and the air was warm. Sailing was great and the New Meadows never looked finer.
So, that's my brief report on the New Meadows. Kathie and I like going there, because even in the height of summer, the boating traffic is reasonable, there is plenty of wind, and a great place to overnight. See ya around!
Rick Dieffenbach
Lady-in-Red 26x
webmaster2@ne-ts.com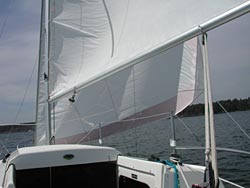 Ahh... the wind in my sails... once again!