2007 Fall Foliage Cruise
"A Little Jasper AND A Little Tow"
By Millie Seeberg
It?s a rainy Friday in late October, I am looking at my glass sailboat on my desk and daydreaming about all the summer sailing adventures that we had this year. I start to reminisce. I log on to the NE-TS website for a sailing fix. I see a new message on the sail together board from our good friends Dan & Linda Lacey, (S/V Spice). They are going sailing this weekend in Boston Harbor. At this point all work has pretty much ceased. I am calling and emailing Paul. I think we should join Spice this weekend. Can we do this? Can we get everything loaded and set to go by Saturday AM? We call Dan & Linda and confirm that YES we are going sailing.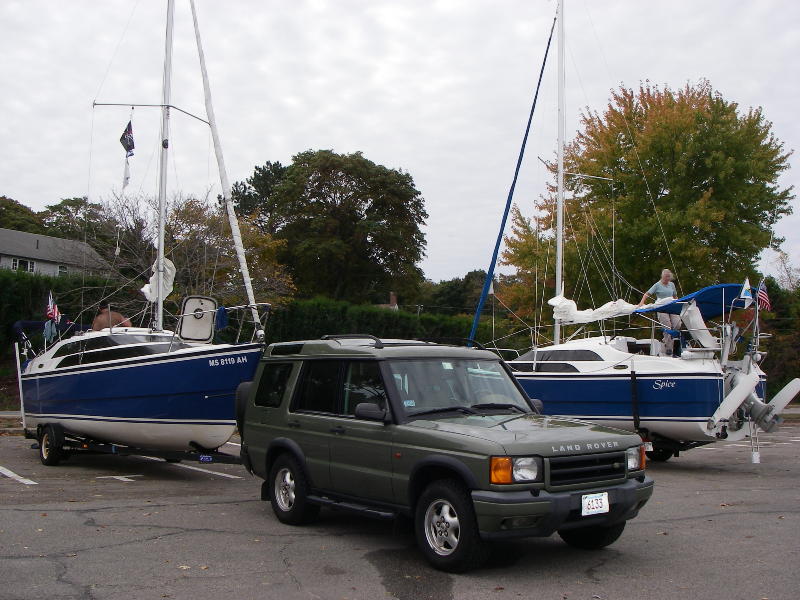 A beautiful FALL weekend is forecasted, high in the mid to upper 70?s and some decent wind. Sure does not sound like a typical late October forecast. Our float plan is to meet in Hingham at 9:00 and launch by 11:00, as we are approaching low tide. You have got to love being able to launch near low tide. In Hingham, as good as our boat is, you still can not launch AT low tide.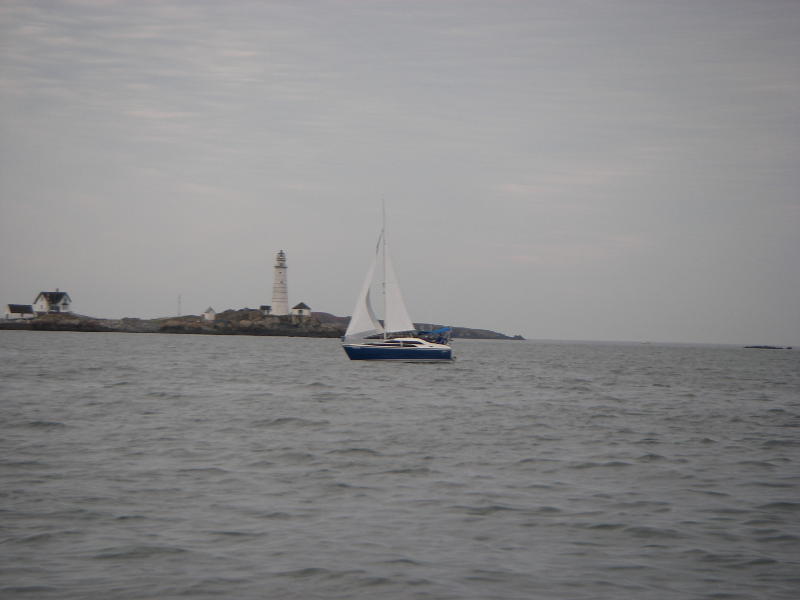 We will sail to Spectacle Island and stay there for the evening. This time of year there is no attendant at the dock to collect a slip fee. We will have the island to ourselves. It is turning out to be a great sailing day wind is blowing 15kts, waves 1? or less. We sail out of Hingham thru ?the gut? into Boston Harbor, thru the narrows, what an awesome sail we are having; there were times that we hit 7 knots! It?s getting late and we are getting hungry. We do our final tack to approach Spectacle Island. Something is wrong the boat is not turning. The steering wheel is stuck!?we quickly drop anchor and take down our sails. We radio Spice. Spice circles back and rafts with us. After briefly troublshooting this issue, Paul determines that the problem is the rack & pinion steering is gone. There are little pieces of teeth in the unit. The unit is toast. Need a new rack! No way to fix this on the water! Time for Towboat/US? Not exactly! Well not at this moment anyway! Paul figures out he can steer the boat by maneuvering the motor with his hands and feet. This got us into Spectacle Island. Spice stays along side us in case we run into difficulty. We are determined to continue on with the weekend!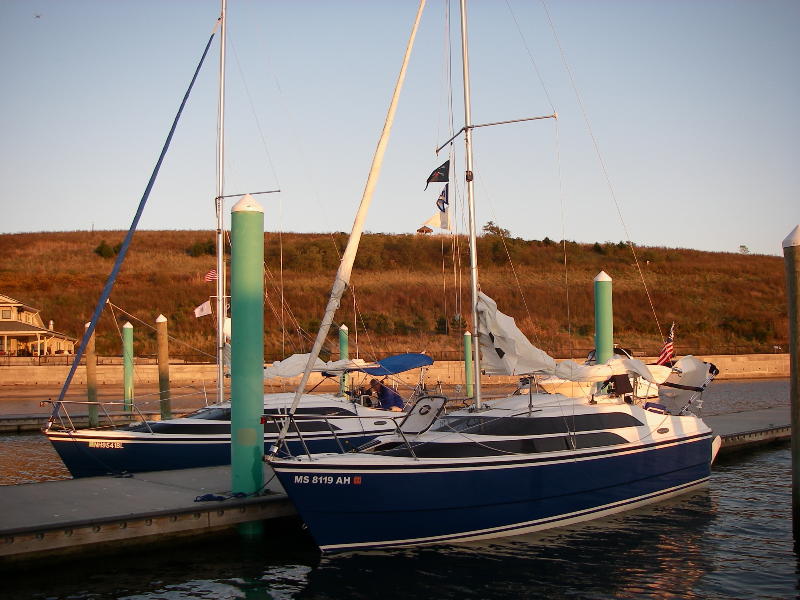 We get to the dock. We dock smoothly, considering we have no steering! After all this stress, we are hungry and need a boat drink. We have our own little ?happy hour? margaritas, shrimp cocktail, cheese & crackers, and fruit. It?s now dusk, my favorite time of day. We decide to hike the trails to the top of the island. What a beautiful view of Boston and the city lights!! We just sit on the benches and enjoy the warm breeze and scenery. On our way back to the boats, Linda spots what looks to be a raccoon on the dock. Dan tells me ?not to worry, they are more afraid of me than I am of them?. Dan chases him off the dock with a boat hook and we settle in for the evening.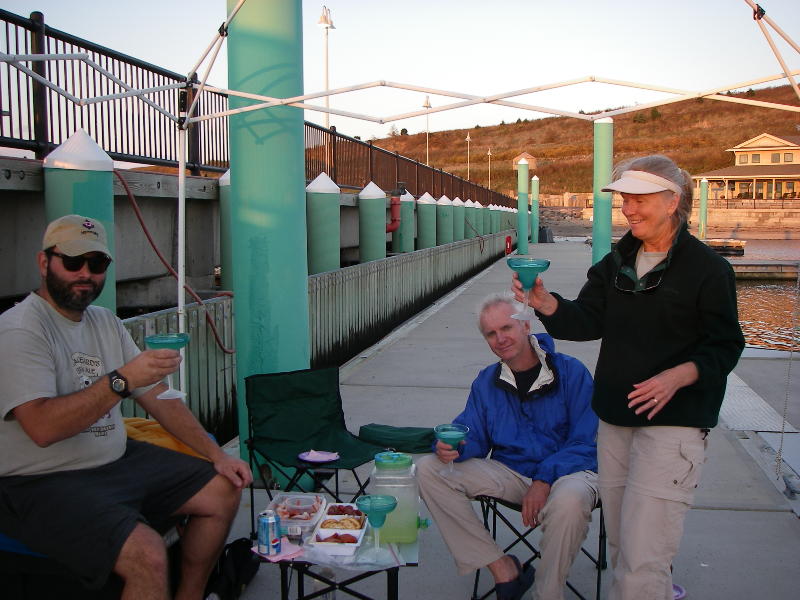 We forgo dinner as we had too much happy hour food. We invite Dan & Linda to join us later for coffee & dessert. We are all relaxing in the cabin with the campionway hatch open to catch the nice breeze. All of a sudden I let out a scream! The raccoon has come on the boat and is staring down into the cabin at us! He thinks he is coming into the cabin for dessert! Dan jumps up and tries to shoo him off the boat with the boat hook. The racoon goes into the engine well and finally jumps into the water. Who knew that raccoons could swim? We close that hatch, I don?t want anymore uninvited guests onboard. We resume our socializing and discuss "Jasper", the racoon's new name that Dan has given him. About ½ hour later we hear a scratching sound outside the boat, Jasper is back! He is now on the bow of our boat, trying to lift the hatch with his hands! He has come and visit again. I am not happy!! Dan again grabs the boat hook and tries to get him off the boat. Jasper just wants to party with us !He is not leaving willingly! It takes some persistence with the boat hook to get Jasper off of our boat, He is ?nudged? into the water with the boat hook. Hopefully he got the message this time. Before turning in for the evening we make sure that all the hatches are closed and secure.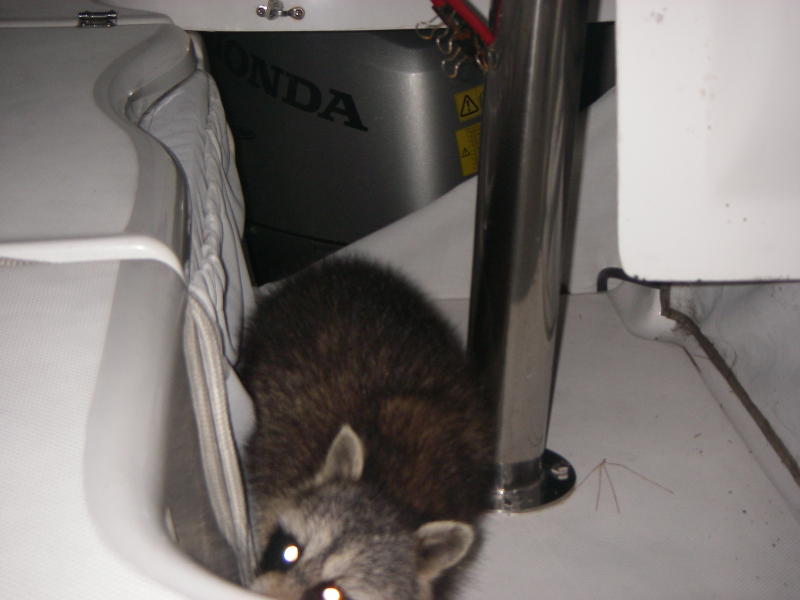 Sunday morning we awake to a beautiful warm and sunny day! The plan is for Paul to get the boat to Hingham Yacht Club. We will leave it there while we go off sailing on Spice for a few hours. We will call for a tow later to take us back to the ramp. We sail Hingham Bay on Spice - it is just awesome to be out there enjoying this weather in October.
When the tow boat shows up, I go back with Spice while Paul stays on our boat while it is being towed. Back at the ramp, Dan backed our trailer into the water. Towboat/US puts the boat right onto the trailer! We were towed approximately 2 miles. The bill was almost $500.00. Thankfully our Boat US towing coverage is $500.00. Time to upgrade to UNLIMITED towing with Boat/US! Remember towing charge is roundtrip from the tow boat's dock, to your vessel, to your detination, back to his dock! Not just the distance you are towed! You can quickly eat up $500 in a very short tow!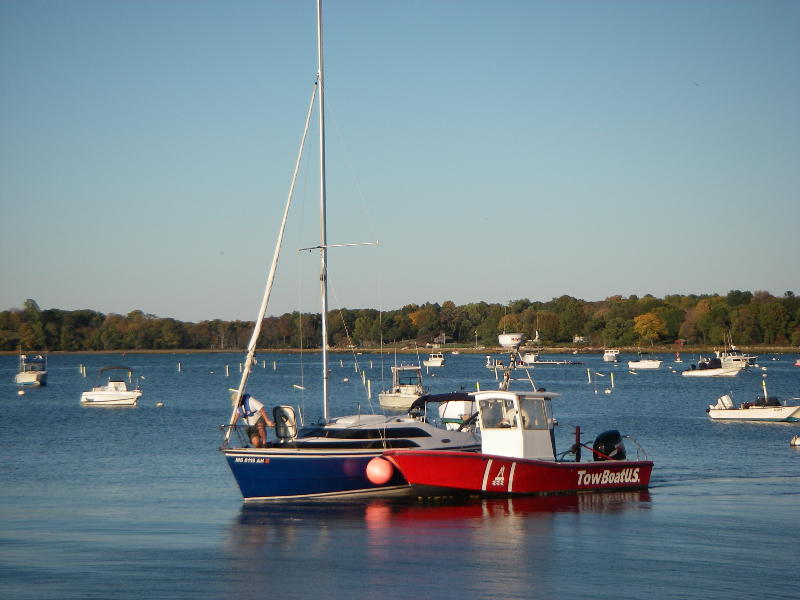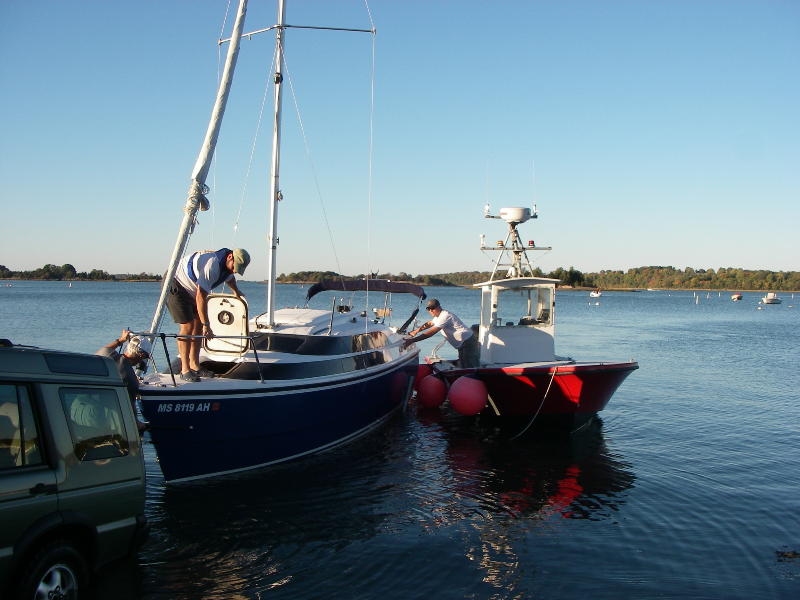 Back at the ramp we de-rig the boats and head over to Stars restaurant for a nice dinner and conversation. A perfect ending to an almost perfect weekend. Even though we ran into some mechanical difficulties, it did not dampen our spirit. We made the best of it and had another great sailing weekend.

I am looking forward to next years Fall Foliage Cruise, and hope more of you will join us. Maybe even Jasper will come to see us again?

Millie Seeberg S/V Mildred Rose