Hi, Karamal with more adventures,
FEBRUARY 16, 2010
I'm glad I don't have to wear clothes, Karen is doing laundry again and it looks like a long wait over there. Well 2 1/2 hours to do 1 load wash and dry but Karen met several ladies and men and she seemed to enjoy herself. Al was cleaning me and checking engine, it tickles when he messes with my plugs and wires, Al picked up the laundry and put it in dinghy that is tied up at the seawall.
They head into town to do library and computer time on their bikes. The library is a neat place it has a nature preserve around one end of the building and property. It's real neat with a garden, pond with stone seats and lots of birds.
They bumped into Bob and Carol again... Short visit then they all started back to No Name Harbor in Bill Baggs State Park, Karen and Al on bikes and Bob and Carol walking.
Now they are a sight coming back in the dinghy, imagine 2 fold-up bikes in their bags, 1 LARGE bag of clean laundry, Al and Karen. Thank goodness it is a short trip from the seawall to me. The dinghy kind of looks like the little train that could go up the hill except it's on the water.
FEBRUARY 17, 2010
I am off the hook at 9:30AM and on our way to Coconut Grove across Biscayne Bay. It is 56 degrees and 19 knots of wind is wrong way of course so I am motoring. The water is very choppy. We got #3 mooring with no problem, its just outside of main channel.
1PM and they load up with shower stuff. They plan on walking about and return fairly early. THEN...
They bumped into Carol and Bob and plans were made to meet at 5PM at marina office with 2 other couples to walk up to a restaurant for TAPAS and Mohito's. As best as I can figure this means they have appetizers for a $1.00 and 2 for 1 drinks from 4-8PM.
The restaurant is Las Calenbrina's on the corner of SW 27th and Coconut Ave.
Al and Karen, Bob and Carol, ?? and Joyce, Mike and Christine had the bar to themselves for most of the time and everyone had at least 2 drinks, so all were happy. as they walked back down the road to their dinghy's at 8:30PM, some LATE NIGHT CROWD (ha-ha).
Oh my, it's 44 degrees at bedtime no wonder my rudders are shivering. Even Murray has his fur fluffed up.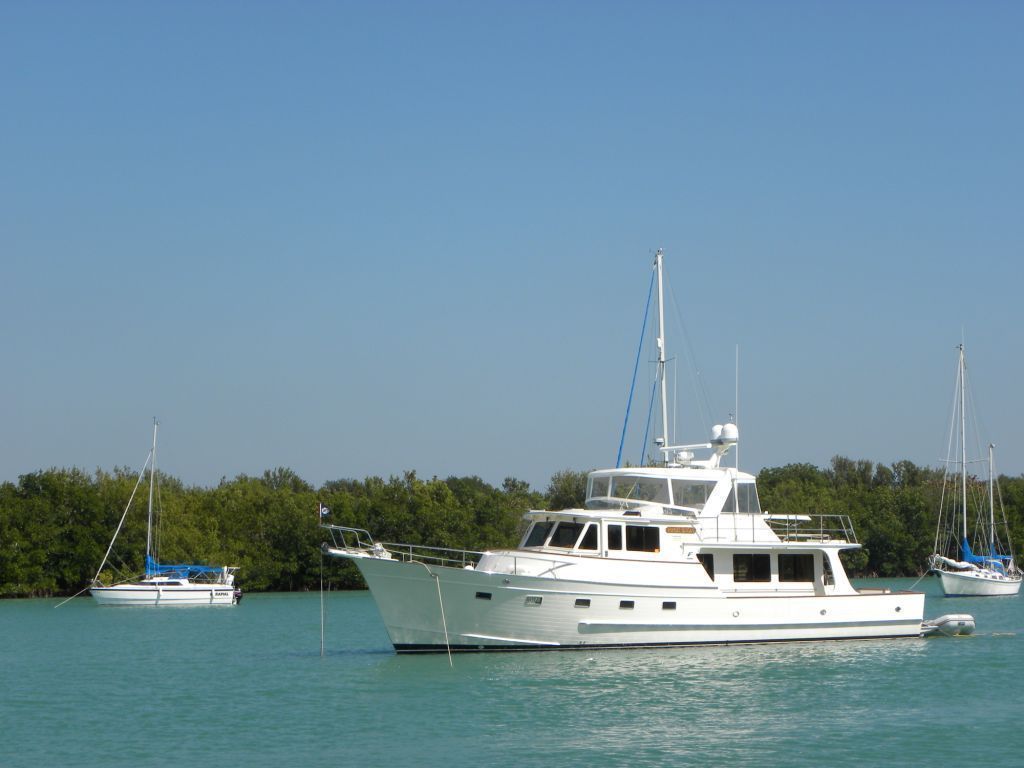 FEBRUARY 18, 2010
Up at 8:30 ish, it's 54 degrees and they are so slow moving ( I wonder if it has anything to do with TAPAS) Al and Karen dinghy'd in at 11AM . They took showers then did laundry (bedding). Done about 1:30PM and they went for a walk about to Library and stores. Karen got her nails done and she found a neat thrift store named "This n' That".
I don't feel any fish in the water, it's so cold and windy, about 20 knots. I can't get any of the boats to talk and several look like they haven't had a human on them for a while.
Bedtime and it's 48 degrees. OK, where is the real Florida weather!
FEBRUARY 19, 2010
Off the mooring and headed for Plantation Key to the Annual Nautical Flea Market that runs the 18th, 19, and 20th. It's 7:30AM 55 degrees and next to no wind, south at 5 knots so we motor sail. OH NO, my motor is sputtering, I'm shaking and oh it hurts so much.
Change of plan, we are now sailing to No Name Harbor so Al can get parts and work on my motor. Something is very wrong.
The motor worked enough so we could get anchored but I am still shaking and I don't feel well at all. Al took my motor apart and he's using 3 buckets for the carburetors and all the parts, I feel so exposed and vulnerable. I hope the parts come in quick and the weather stays good.
Al dinghy'd to the seawall and then rode his bike to Ace Hardware for parts for my drain. Al ordered lots of parts online at the Library.
I guess we will be here awhile. I'm not happy because if something happens I can't get out of the way, oh dear. I know Al is worried too.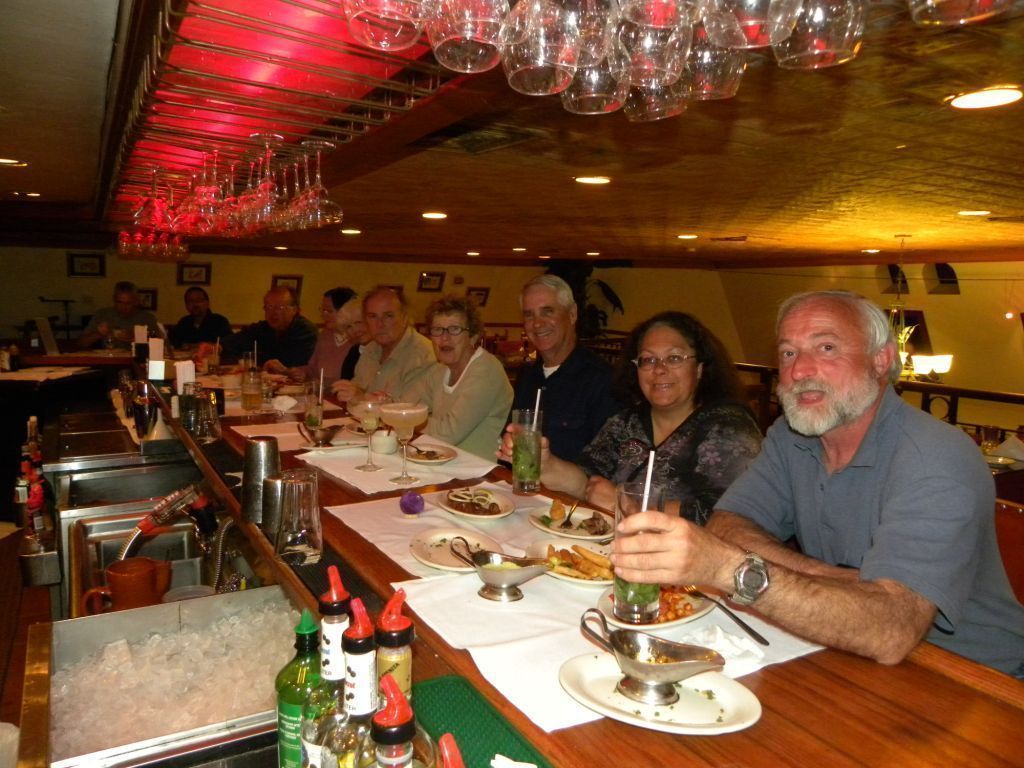 FEBRUARY 20, 2010
Sun is up and it looks like a great day 72 degrees. It's warm, yippee.
Al biked to Library, Winn Dixie and Ace Hardware. (fun stuff). Karen stayed on me and cleaned and fretted about all day.
WOW, this harbor sure fills up on the weekends. Lots of BIG boats - 40 foot plus size cruisers, cigarette boats, and smaller motor boats all here for one thing "PARTY and MUSIC".
Some of them are rafted 3 and 4 deep. 4 large boats rafted and anchored together about 10 feet behind us. 1 of them kept his generator on ALL night. I can feel the fish leaving the harbor as the volume goes up and the dancing begins. Oh, what a sight to see. Girls and guys in almost bathing suits wiggling and whatever, all having a great time.
I'm wondering and hoping that all stays safe in the harbor tonight. I feel so lonely, most of these boats speaker different languages and I miss talking with the nearest boats.
Al is not sleeping well because he's nervous about us not having a motor working and a short rode on the anchor.
FEBRUARY 21, 2010
So much music and not everyone has the same thing on so it is quite chaotic but kind of fun. It's 75 degrees at mid day and the dancing is such a sight.
Quiet day aside from the loud music.
They are all leaving 1 by 1 until there is only about 8 boats in harbor, I think we can all breathe again.
No sleep again. Me, I'm a nervous wreck watching all the boats left in harbor as we learn from the radio that a cold front with high winds approaches our area again.
FEBRUARY 22, 2010
Al is such a worry wort - he's worried that we are to close to the coral rocks (we are), we don't have out enough scope (we don't) and he's still cleaning carburetors as he waits for parts ( he has 3 pails under the stern with all the parts in them).
Karen and Al are both down below because it is raining like crazy, Al keeps looking behind us to check how close the coral rocks are as he is making soda and Karen is making PB & J sandwiches for lunch. They are relaxing and enjoying the music from a chowder fest being run on shore by a local yacht club. OMG - Karen sees a BIG boat coming right at us moving fast. Al jumps up on the deck , grabs the boat hook and fends off at the bow Karen grabs the other boat hook and fends off the port side stern. WE NOW MEET OUR NEIGHBORS, Russ and Pat and their boat FIRST SNOW, a 50 foot plus Fleming cabin cruiser. They were going over our anchor line and snagged it. OUCH. Russ turned off his left motor so he wouldn't tangle more line on his prop then Russ yelled for us to cut our anchor line and Al yelled back we have no motor...SSSSSSSSSSSSSOOOOOOOOOOOOOOO!!!
Russ said to raft to him as he was using his bow thrusters and starboard engine to keep him and us off the rocks a mere 10 feet away. So we rafted together as quickly as we could. Al at the bow and port side - Karen at the stern and port side and Pat running the length of her port side throwing lines to Al and Karen, setting LARGE fenders with Russ at the helm keeping us all off the rocks. We all worked together for several minutes, after we were secured together Russ used both engines (which immediately cut my anchor line with the line cutters on the prop) to motor us all tied together to an open spot in the harbor and put down his anchor, then raised it ,moved again then lowered the anchor and set it.
WOW, we are all safe and not in too bad of shape. We were glad we were able to entertain the yacht club after they entertained us with their Dixieland music.
Al and Karen climbed aboard "First Snow" so they could all SIT and collect their wits again, and let the adrenalin calm down. They introduced themselves then they sat and relaxed over a simple glass of soda, juice, wine and a sandwich lunch.
WOW, what a day .
We are still rafted together and we still don't have a motor and we now have lost our anchor. The ladies chit-chatted as the guys work on the problems.
Russ and Al using Russ's dinghy and a small navy type anchor attempt to drag for our anchor. YIPPEE, they found my anchor and chain and a small part of the rode (line). Al and Russ attached a short rode to it and marked it with an empty water bottle. The guys then came back to get me. Imagine a 12 foot inflatable dingy towing a 26 foot Macgregor sailboat around the harbor back to her anchor in 19 knot winds. Al rigged a large anchor to be ready to drop if I got away from them. A nice neighbor in the anchorage brought it over to help us when he saw our predicament, but my trip back to my original anchor went without a problem. It feels so good to be anchored and holding on my own, of course my rode is now many feet shorter, Al is going to worry that much more now.
The guys went back back to "First Snow" and joined the ladies in the lower salon for drinks, a snack and more chatting except now they are all much more relaxed.
Al brought our dinghy back to "First Snow" to get Karen and bring her back to me.
It feels great to have my people back on board but I don't like the short rode, I still feel so violated, I think it's going to take time for me to feel safe.
Lots of people came over to check us and ask questions about our adventures. What a way to meet people and other boats!!
Bottom line we all survived, everyone is friendly, and we met more new friends.