sumbitted by the webmaster for Al and Karen Hill
JANUARY 20,2010
Hi there Karamal here,
We are leaving soon I can tell-- Al has been climbing all over me with big boots trying to clean the snow off my cover and from from around the wheels of my trailer. It's so cold I wish he would hurry up - I want the warm water under my hull and a nice warm wind in my sail--Florida here we come...
JANUARY 22,2010
We left about 10AM - 38 degrees. We have a new family member in the truck - I haven't met him "Murray" yet, that's his name I heard Karen tell Al "surprise we have a new pet his name is Murray and your going to love him.
Quiet ride as routes 93 S to 495 S to 90 to 84 the GPS kept trying to put us on rte 15 parkway 8' low bridges "YIKES".
I haven't seen many boats on the road but I like the looks of some of the trailer trucks and RV'S.
BYE - NH,MA<RI,CONN,NY,NJ,MARYLAND,,DC,VA,NC,SC ALL THOSE STRANGE NOZZLES GOING IN THE TRUCK AND ALL THE UNIQUE GAS STATIONS WE WENT THRU. We stopped for the night (1AM) at my favorite truck stop A Flying J on the border of NC/SC. I get to nestle in between 2 trailer trucks, lucky me. Murray came onboard me to sleep -BOY is he small. It's cold 48 degrees and bedtime.
JANUARY 23,2010
Up at 7AM = CHILLY 40 degrees. Al and Karen head in for Breakfast and Bathrooms. On the road again, boy do I miss having all those trailer trucks all around me.
Several fuel stops later and we are in Florida and at the Wal-Mart in Florida City it's 8PM Al and Karen go to do grocery shopping. Me, I' m relaxing in the parking lot checking out the 2 BIG RV'S that are parked nearby. Lots of bags are put in me lucky Karen gets to put the food away or at least out of the way.
WOOOOOO BABY check out the 30' racing sailboat with a fixed keel that just pulled in. It has a very unique trailer with stands and special tie downs. They parked right near me, I won't sleep tonight (be still my swing keel). I found out they need a police escort because of how wide the boat and trailer are. The guys told Al that they placed 4th in a race in Key West. Very interesting!!
JANUARY 24,2010,
I watched the 30' racing sailboat leave. WOW!!
We left Wal-Mart lot about 11 AM - got fuel for me, mmmmmm my tanks are full I feel GREAT, now all I need is to be in the water. Florida Keys here we come!!!!!
We attempted to put in at the Caribbean Club in Key Largo BUT big event going on, too many cars, traffic in lot is wild. Boy was it fun to back out of there. We put in at Gilberts Marina also in Key Largo. Warm water and it feels GREAT, hey I think I felt a Manatee touch my hull. Al did NOT set up the mast because of low overhanging branches in the Lake Surprise canal so we motored to our house. Arrived about 3PM.
It is SOOOO good to be in the Lake Surprise canal, I haven't seen or felt the crocodile that lives here. The great egrets, pelicans and white ibis all have checked out my bow, so far no droppings.
Murray has been quietly checking out his surroundings, I think he is cute.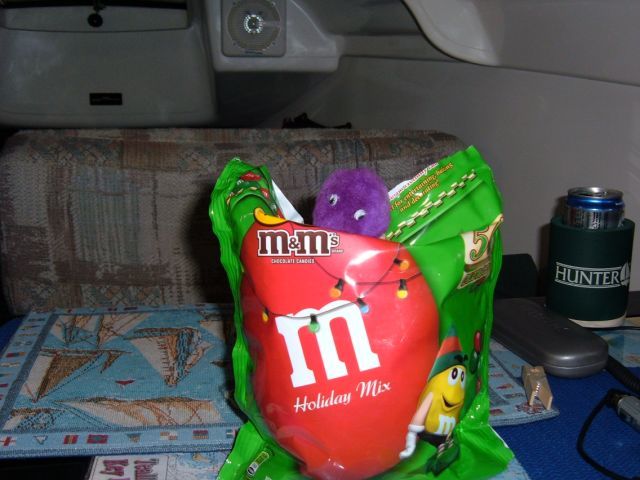 JANUARY 25,2010
Lots of cleaning and sorting, Al and Karen are trying to fit so much in me I think my sides are stretching (ha-ha). Oh the TV's not getting good reception so the antenna goes back into the truck, yippee 1 less thing. OK Karen go through your clothes once more and get rid of more stuff.
Visited with Eric,our tenant for the house, everything looks great, he is now redoing the master bathroom, he just finished the patio blocks and gravel for the yard.
We are off the dock and motoring through the canal system to Lake Surprise. We grabbed a mooring and we start setting the mast and NOW I feel like a real sailboat.
About an hour later we are sailing WHOOPEE
Hey, I know where we are... Community Harbor, Tavernier. We anchored but its grassy I hope the anchor holds. High winds tonight 20-25 knots.
I can tell Al is worried about the anchor holding. I like it here and want to stay for a day or two, there a couple catamarans I would like to know better in the harbor. OH,OH,OH,OH, OH NO I feel the grass loosening on my anchor there isn't a thing I can do but hope Al wakes up before we hit another boat or go aground!

JANUARY 26,2010
3AM and Al's awake, thank GOD. Al starts the boat and Karen gets up too. Karen's steering around boats while Al is pulling up the anchor. Whoa we are swinging wild - Al has anchor up, Karen now has the stern starboard side against the bow sprit of another sailboat, Karen holds it off with her hand as Al cuts motor ( we have gone over the other boats anchor line- No damage. Al puts DOWN my centerboard and rudders NOW I am stable and able to steer properly (Karen could have used that). Now we are motoring out of Community Harbor and it's only 3:15AM. LOTS of wind, we continue motoring in spite of the cold 58* and windy 20 knots with 30 knot gusts. VERY dark, I like it but Al is cold, wet and miserable. I enjoy the bouncing from wave to wave, the rolling and turning as the spray of water comes over my bow and drenches Al. Al motors till sun is up and we grab a mooring at 7:20AM at Lignumvitae Key. What a beautiful sunrise. Now Al can rest, nope, now he is cleaning up anchor locker, deck and cockpit, he says if it dries we own it. THANK YOU AL I like being clean. Bed soon 8AM. Karen is up at 1PM, Al at 2:30. I am trying to recognize the sights , vibrations and noises near me. There are several pods of dolphin going by underneath me and lots of jellyfish oh they do tickle with their long tentacles. Lots of bird nesting on the island have come out to check me out then left when we don't feed them. I think I feel the crabs as they escape the crab pots on either side of us. Wow, several dolphins are jumping to my port side on their way to the ocean that I can see just past the bridge near Indian Key. Al and Karen are cleaning me up inside and just relaxing. OH, what a great sunset even though there are lots of clouds. Ha Ha Ha Murray got into the M & M's. (the picture is worth a thousand smiles). Quietly we all rest awaiting tomorrows adventure.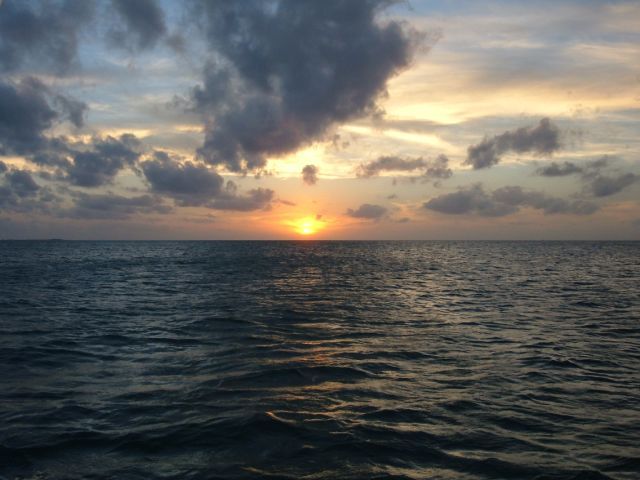 JANUARY, 27,2010

Left fairly early from the mooring at Lignumvitae Key. We sailed/motor sailed under the bridge to the ocean side and wow lots more room and water and fish and junk in the water (people are such pigs sometimes). Heading south watching the other boats and feeling the sea life swimming near and up to me. Lots of BIG Fish, maybe barracuda too, skates, sharks, and whales. Wow I do sometimes feel small. I see the channel marker as we turn west toward Boot Key Harbor in Marathon. We arrived about 3PM, lots of boats and no moorings available, so we set our anchor close to the bridge. I'm glad Al knows how to anchor, its so tight to other boats.
Its chilly 58 dgrees -70 degrees. I see a trawler and several sailboats that I can get to know better while Al and Karen go in to register and TAKE SHOWERS with HOT WATER. Me, I'll just relax and get to know my neighbors, Lots of birds, fish and boats. They took Murray into shore also, leaving me alone to meet my new friends.
JANUARY 28,2010
LAZY DAY!!!!!!!!!!!!!!!!!
Love to listen to the Cruisers net trivia. I heard a great one today but Karen said I can't tell because she's going to use it a a rendezvous this summer. Found some dolphins playing in and out between boats. Lots of big fish nibbling on my stern and underside. Al went for dingy ride to Burdines to get fuel, Karen is cleaning again (thank you). We ALL just relax together as the sun sets again behind clouds and buildings. Murray likes to be on the table, he thinks he can see everything from there.
Dinner and bed. WHAT A WEEK!!!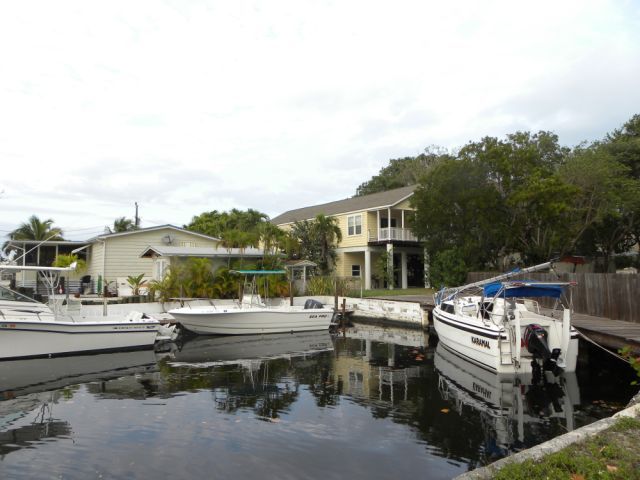 More Splashes of Travel Memories from KARAMAL to come.
Signing off,
S.V. KARAMAL