Penobscot Bay Rendezvous
by Dan Lacey s/v Spice
Three boats ventured out into Penobscot Bay on this rendesvous. Dan and Linda Lacey on Spice,Rick and Kathie Dieffenbach on Lady in Red,and Barbara Garland and Loyd Dussault on Serenity. The Macgregors met at the Rockland ramp,joined by Serenity,sailed in from Boothbay,on an extended trip. After a leisurely breakfast and setup,we got all boats under way around one pm for our first destination. The wind was a bit scarce for the beginning,but we all did sonme combination of motor/sailing to get to the Fox Island Thoroughfare. The thoroughfare is a winding channel cutting between the islands of North Haven and Vinalhaven. About two thirds of the way through,is the quiet anchorage called Carver Cove,and our first overnight stop. After dining on our own boats,we all dinghied to Serenity for after dinner "happy hour". The paddle back to the boats was amazing,with the zillion stars in the sky,and the glow of bioluminescence in the water,flashing with every paddle stroke.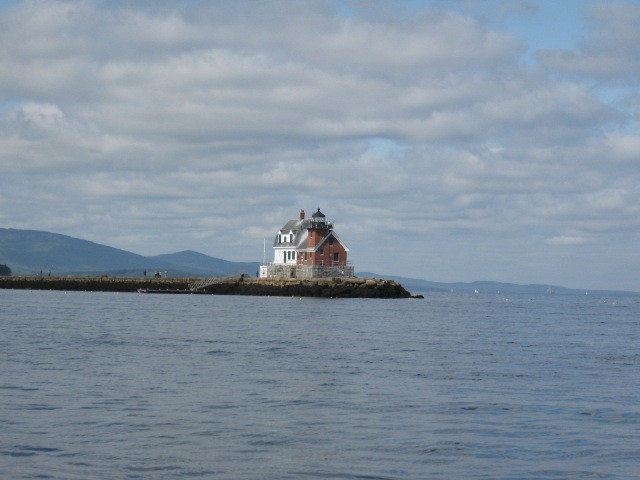 Saturday morning we all sailed off the anchor in light wind,which developed into a good breeze once we were out in Jericho Bay. The wind took us almost directly to the top of Marshall Island-then quit,leaving us to motor down to Burnt Coat Harbor,on beautiful Swan's Island. Burnt Coat is the real"Downeast Maine". A working harbor,tucked in a sheltered cove. I tried to reach Kevin Staples,owner of the Boathouse,to have lobsters delivered to our boats,but no answer. Later,I had a conversation with Kevin, and got his new hours for next years trip,so lobsters this year involved a dinghy ride to Trafton's Wharf,a real no frills seafood place. After we all had our fill of assorted snacks and lobsters and steamers,we dinghied back and some of the group hiked up to the Hockamock Head lighthouse,currently being restored. Along the way to the lighthouse,our dessert consisted of wild blackberries,picked by the handful.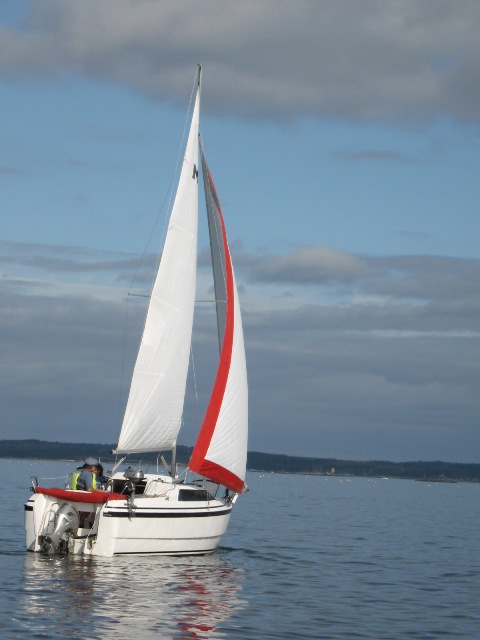 Sunday morning we said goodbye to Barbara and Loyd,bound for Mt Desert,and Lady in Red and Spice sailed on towards the Thoroughfare. As Rick was in need of ice and fuel,we made a detour to Stonington,where we had lunch at the new restaurant on the dock,wandered around town a bit,had ice cream,and resupplied. A quick stop at Billings Marine for fuel and off we went,our destination for the night-Perry Creek. This is a tidal creek,very sheltered,with lots of moorings. We "borrowed" moorings,which is customary there,but nobody came to collect or tell us to move. Rick and Kathie joined us on Spice for a sunset dinner,and we had a great visit.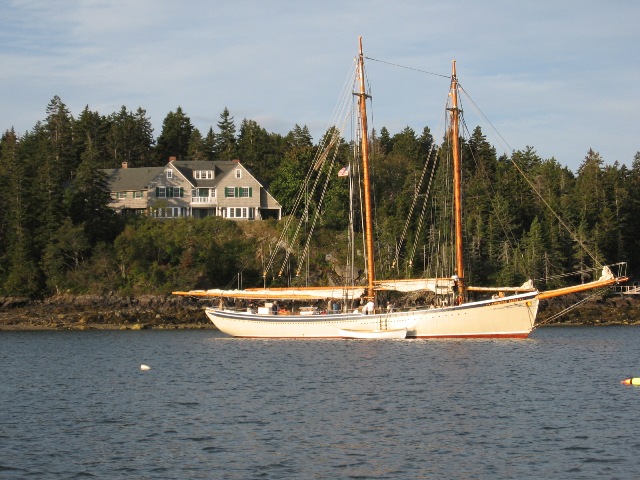 Monday morning,bright and early.Lady in Red was underway for Rockland on what would be a windy,roller coaster ride back. Since we didn't have to be back,we left around ten,but after sailing out into the bay,we found it had gotten a lot worse,and after about a mile,we decided to change the plan. A quick tack and we were back in the Thoroughfare,cruising past the anchored windjammers,and back to Perry Creek for the day. It was a wonderful,warm,leisurely afternoon of cold beer and sailing magazines,hiking on the island ,and a dinghy tour of the creek,followed by dinner at sunset. And the sunset was amazing.
During my dinghy tour,I found another example of how small the world was. I met a couple "camped" in a rowing dory,and after some conversation,we realized that we had seen each other in Scituate 2 weeks before! We'll be seeing them on our next Scituate trip,no doubt.
Tuesday morning,the wind has eased some,and after motor sailing across for a few miles,we shut down the motor and ran reefed for the last 6 miles,with one of the windjammers closing on us fast,intheir full glory.
The takeout was almost uneventful,until the winch broke. A short ride down to Hamilton Marine got a new winch,which needed some modification. How nice to be next door to a huge marine refitting yard,where the guys fixed up my problem in no time. Linda and I finished up the visit with a late lunch at "The Landings" restaurant,right on the water.
Good food,great friends,and spectacular weather made this trip a great success.
DAN LACEY
return home to NE-TS Public Page click here