Blue Marlin
Posts: 207
Joined: Wed Jan 09, 2008 9:48 am
Boat_year: 1968
Boat Make: Ohlson
Boat_Model: 38
Boat_Name: Mildred Rose
Location: Boston, MA
Contact:
---
Blue Marlin
Posts: 207
Joined: Wed Jan 09, 2008 9:48 am
Boat_year: 1968
Boat Make: Ohlson
Boat_Model: 38
Boat_Name: Mildred Rose
Location: Boston, MA
Contact:
return home to NE-TS Public Page click here
Lake Champlain 2008


by Barbara Garland
The 15th annual rendezvous on Lake Champlain was a relatively peaceful trip for most of us though there were some adventures by some. These are my memories of the trip.
Loyd and I arrived at the ramp Friday evening June 27 at around 5 pm. I expected to see a number of boats in the area – on the water or rigging in the parking lot. There were 2 trailers – no cars and Don, on "Off the List" just about finishing rigging. 15 minutes later my boat was rigged. I asked Don what he was doing and he said "going to Sonja and Franks for dinner and you're invited too. What a great start to the weekend – getting together with 3 good friends and catching up on things that had happened over the last year.
Adventure 1 – Al had lost some of his brake capacity on his truck while launching and
"Karamal" with both he and Karen were "up the creek" – that's the creek by Frank and Sonja's - while his truck was being fixed. Sonja had helped him get his car to a garage. Saturday, Dan helped him get his car back.
We slept in the parking lot and when we got up, Don was off doing things and "Spice" with Dan and Linda had arrived. We headed out to Valcour; as we knew that 3 boats from PA were due to arrive over at Peru dock. Eventually "Karamal", "Spice", and "Mental Floss" joined "Whale" in the beach by Butterfly Bay on Valcour Island.
Adventure 2 - There was Jim - a new sailor to the group – and the last one into Valcour that night. The boat however was an original member of the group, which was then MOANE. As he came into the beach at a rapid speed, he hollered that this was his first time sailing the boat. We caught the boat and helped him anchor appropriately. He continued to have adventures all week, with a broken wheel. So as far as I know he spent the rest of the week at Valcour with other people stopping by on occasion to visit with him.
By Sunday night there were many more boats as they kept coming in over the course of the day. Thunderstorms were predicted all day and none appeared till after dark. We then had a 15-20 minute show of lightning and wind.
Adventure 3 – several of the boats stern anchors didn't hold properly and there were several people scurrying around on the beach. This blow was a good reminder that storms can come up quickly on the lake.
As we were worried about afternoon thunderstorms on Monday, we did a discussion Sunday evening of where to head. So Monday morning most people headed to Deep Bay but the 3 PA boats, "Whale" and "Mental Floss" headed to Shelburne bay. We met Zussamen . The five of us had a nice sail for some of the day and then motored into a cove by Allen Hill. There were no storms.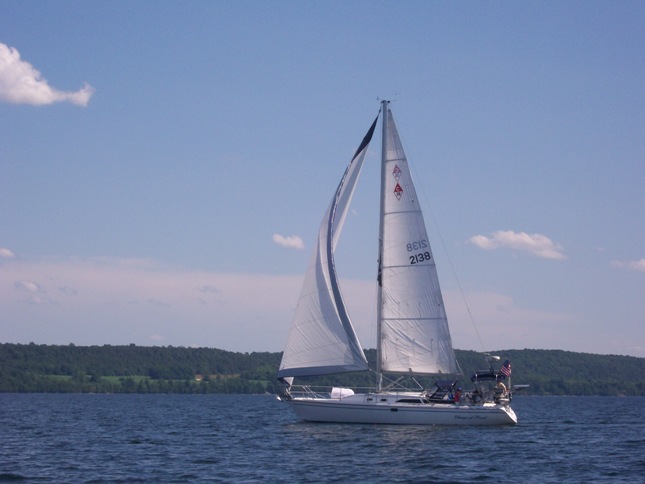 photo of 'Change of Heart'
Tuesday, I was determined to join the group at Burton Island. We all headed out but the others got tired of motoring and 2 of them stopped at Valcour and the other 3 went to Plattsburg for the night.
Adventure 4 - Roger and his granddaughters on "Cerulean" bought gas at a marina near Valcour on Wednesday and had motor problems. The bottom line was diesel rather than gas was put in his tank. He had the boat repaired in Plattsburg and then went to Valcour for the rest of the week.
Wednesday we hung out at Burton Island as we were expecting a storm on Thursday. The "big boats" had joined us on Wednesday and at breakfast Thursday morning we gathered around the table that had the 3 of the early members of the group. Charis – the Hunter 37 owned by one of the founding members, Bruce and Pam Foshay, will be headed off the lake and will be moored in Maine this fall and next year. We thanked them for all their support over the years.
Several of us went out sailing, 2 boats went out to lunch – don't remember the name of the restaurant - with docking on the lake. Those who were at Plattsburg joined us, as did Tony on "The Beep". 3 boats headed to Deep Bay. The highlight of Wednesday night was a sing along with Bill – on Guitar, Bob A on fiddle and Bob B., a new member from PA, on a Hawaiian Slide Guitar that he plays with one hand. The music inspired Bob and Pat from "Windsong" to do some dancing. We sang till quite late and all had a great time.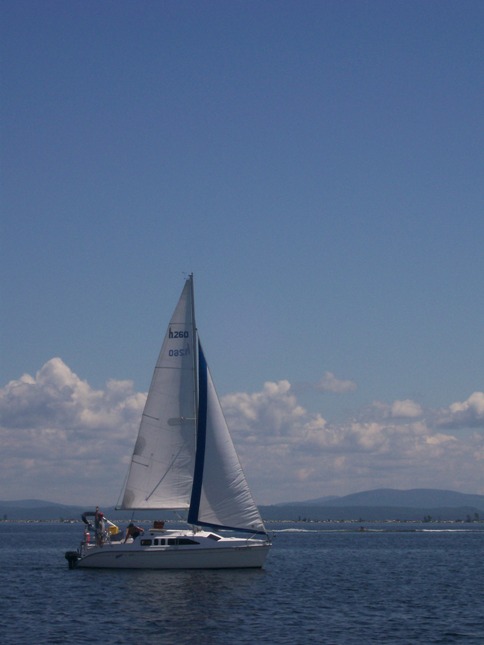 photo of 'Mental Floss'
We hung out under the tent on the island most of the day Thursday. It was blowing quite hard and at breakfast we watched a sailboat come in. We helped him dock and ran into him at lunchtime. He was at a table under a tree and it started to rain. I told him he was welcome join us and started telling him about NE-TS. Steve, who lives in Pembroke, NH and trailers his boat – a Cape Dory, decided it was well worth $10 to join especially if we would be around on Saturday to help him haul his boat.
Friday dawned beautiful so we headed back to Valcour Island for the regular get together. We were able to see the fireworks from Plattsburg from there. We gathered most of the group together again and had another jam session with Bill and Bob B.
The beginning of adventure 4 – Quincy, one of the two dogs of Dan and Nancy's, wasn't feeling too well.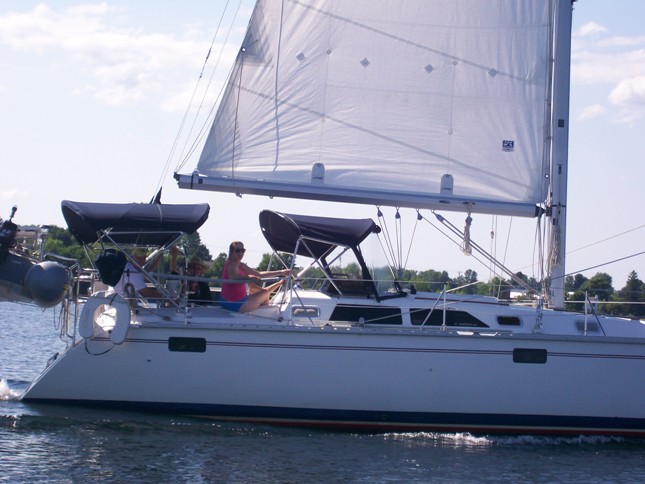 photo of 'Charis'
The 3 PA boats were headed home so they left early Saturday morning. The rest of us took it easy and slowly headed out to Mallet Bay for a party at Frank and Sonja's. This year several boats were staying for a few more days so there were many boats rafted off their house. Several of us hauled and were heading home early Sunday morning. Great party as usual.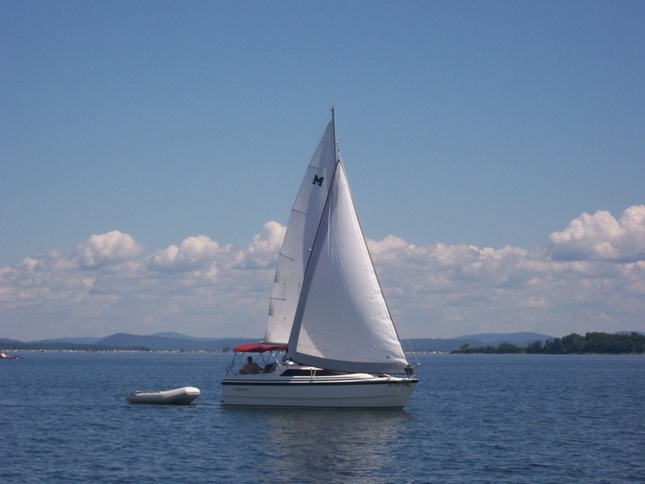 photo of 'Zussamen'
The continuation of adventure 4 - Sunday morning as we were heading out "Y'Not " headed in with Quincy – still not feeling well . As we left they were headed to a vet's about ½ hr away. We ate breakfast at a diner near the entrance to I89. Bill and Jeanne joined us. It was a wonderful week. We clocked 102 nautical miles on the GPS. Can't wait till next year.
Barbara
Sailing "Whale" a Mac 26 C
With Loyd as crew.
PS The finish of adventure 4 - Quincy had swallowed a piece of Abby's collar and needed surgery to remove the obstruction in his intestines.
And Adventure 5 – Dan and Nancy's van broke down, they rented a car to close on a property in NH and finally got home on Tuesday night.
return home to NE-TS Public Page click here
---
tadpole
Posts: 6
Joined: Thu Jan 10, 2008 1:15 pm
Contact:
And what would a trip be without the adventure. Let me add adventure 6 and 7. About a hundred yards outside "The Gut" going to Burton Island our Honda 50 sputtered,coughed,and finally died. So much for making the bridge on time. Al Hill and I dissected the fuel system,and reassembled it ,and it ran great. We fixed it-I wonder what we did?

We must be good at this,whatever it was!
Fast forward to the last evening ,anchored just off of Frank and Sonia's house. We jump into the dinghy,fire up the Honda 2hp,and in about 10 seconds there's SMOKE,lots of it-then the oil starts spewing out the side. Linda was ready to abandon ship,but I convinced her that the vessel was not on fire and sinking!
So we rowed ashore and went to a great party.
Final diagnosis on the Honda 2-owner stupidity. Closed vent-full tank and fuel valve left open in the hot sun.
Repair and admonishment at local Honda Marine dealer-$124.
A week at Champlain with friends-Priceless!
---
Blue Marlin
Posts: 207
Joined: Wed Jan 09, 2008 9:48 am
Boat_year: 1968
Boat Make: Ohlson
Boat_Model: 38
Boat_Name: Mildred Rose
Location: Boston, MA
Contact:
Lake Champlain – 2008 Tony DiStefano – The Beep
This was a different Lake Champlain for me. I could not leave on Friday but had to work till Tuesday then catch up with the group. I made good time and arrived at Peru Dock in 4 hours from the office. Not bad! This was the first stepping of the mast since the accident so it took 2 hours to set the boat up. I thought it would never end but it did and it was only 7:30pm. I launched and motored to Butterfly bay. As I set up the cabin I noticed a boat that looked like a Mac but yet had a tripod not the usual mast rig. As it turned out Bob and Roger form PA were there ahead of me. We missed each other in the morning but I caught up to Bob at Burton Island Roger had some fuel problems and spent time at Plattsburgh.
On Wednesday after finding that the group has split up some at Burton and some going to deep bay I chose to head to Burton as it was going to rain the next day and Burton was (in my mind) a better choice. I met the group going to deep bay at the rail road bridge at the gut and was soundly watered by both balloons and water guns by Puddle Hopper. They have a strange way to say hi! The sail both before and after the gut was great, hit 7.5 hull speed and just had a great time till I realized I left the charts on my table at home and could not find Burton. After a little extra sailing I found it and docked for the night.
Great happy hour thanks to Karen, Carol, and the other cooks in the group and the possum or such that Taber J was feeding us. Music and fun persisted into the night. Thursday rained as projected and the tent by the store gave us a great place to play games, talk and eat. For a rainy day it was a good day and Harry did not have to get the tarp! Needless to say another good happy hour was had; also fire wood purchased and found which made a great fire. Where do all the snacks keep coming from?
Friday it was back to sailing but a slow start as Wauneta made her homemade cookies so we could not leave till a few were purchased and the last breakfast there was consumed. That woman is some cook and the food was better than last year if possible. A thought for 09, Wauneta will make strawberry short cake if we bring the strawberries, those who remember the last time she made strawberry short cake it was out of this world. We may want to plan this for next year?
The sail back to butterfly bay was great, it seems the new mast and the rigging adjustment that Lloyd did for me worked well and I was flying again. We lost the wind after the gut but it came back and sailing was great. I had no intension to hit Bob & Trish, it was close, but I had to soak Puddle hopper my main objective, causing me to forget the boat ahead of me thus the close call. I did get Puddle Hopper but Karen took the hit when Steve and Tabby should have gotten wet. We all joined at Butterfly Bay and the usual line up occurred, a quick dink run for ice and of course the happy hour was happy with music, fireworks and fun till late.
Saturday it was off to Mallets bay and the Frank and Sonja's. Wale and I had fun with a Bennateau (sp) who put up every sail he had on the boat only to be passed by 2 Mac's. Some of the boats went to the ramp and hauled and others anchored below Frank's house. As usual (It's been a few years since I attended) the party was great and hosts were responsive to our needs. Don did an excellent job on pizza and drinks but most think that it was correct due to Connie not Don. In the morning it was time to move again and I was off to Butterfly bay for the night. When your boat is sailing well you forget that you are going to specific point. I was going fast ( I do not race) with another boat not of our group and got close to Willsboro bay about 6 miles south of Butterfly Bay before I realized I was far from my anchor point. When I did get to Butterfly Time Enough and Mental Floss were rafted and asked me to join.
The happy hour started quickly and I still wonder how Carol gets all that good food in a 26 classic. We were joined by Bruce and Pam and spent a delightful evening on Mental Floss. As I went to sleep that night I realized how great the group is and how easy it is to just sit and talk with each other. We all are friends who do not see each other a lot but enjoy each other's company.
Much more happened and there was much I did not see or take part in but I left Monday morning feeling that my 6 days were well worth the gas and the time and very happy that 22 other boats chose to be there too.
return home to NE-TS Public Page click here
---
tadpole
Posts: 3
Joined: Tue May 27, 2008 10:19 pm
Contact:
Hi,
This is Jim the new comer to the trip to Champlain. I can't believe it is September already.
Bob Chase lent me 'MOON BREAKER' a mac 26 classic for the week. He and I put her in at mallett bay on fri and I got comfortable on the 'hook' for two nights. When the weather finally settled on Sunday, I headed (solo for the week) to join the group at Valcor. Missed the beach on my first pass around the island and beached hard at about 6pm. Never set an anchor before so I got a lot of help from Barbra and others. Sunday nite thunderstorm was awsome, got a lot more help resetting my lines away from rocks. Monday morning started out ok but the cable locked on the steering wheel so my departure to deep bay was slow and late. Stayed with 'change of heart' monday nite at deep bay, then headed back to valcor tues (alone). I had a great time near the light house tue & wed with Geo and Melodie from 'Knot Last'. Knot last and Moon Breaker went to Mallett Bay for new mooring and fri fire works.

While I spent very little time with the group, the security of daily check ins, sharing travel plans and lake knowledge made the trip both possible, and very stress free. I look forward to the Champlain rendezvous in 09.

Smooth sailing
Jim
---
Users browsing this forum: No registered users and 2 guests