FYC North Channel Cruise 2005
By "Sailor Mike" Morris
Editor note: Roger and I met "Sailor Mike" in Florida in 2001 and sailed with him and some members of the Trailer/Sailor Association in the Thousand Islands, on the NY Canada border, in 2001. Mike lives in London Ontario and belongs to the Fanshawe Yacht Club as well as Trailer Sailor Association. Fanshawe Yacht Club does a North Channel Cruise every summer. This is a reprint of the article in his yacht club newsletter. He finally joined NE-TS this year.
There is an article about his current boat - "About Time" a Luger 26 in the article section. We finally have some good pictures of the final product.
Any one interested in going to the North Channel or the Thousand Islands next summer can contact Mike. Just click on his name in the member only section and send him an email.
Here's a recap of the 2005 FYC Cruisers 10 day s in the wilderness of Georgian Bay - as I recall it. The time flew by with each day having its own subtitle. There were 6 wee ships from FYC a that made their way to the north. "Open Air (the Burgess' and cat "Kitty") "Fearless" (the Pomeroys and dog "Crew") and "Elsie 11" (Bob Hendry) headed for the ferry in Tobermory while "Trioomph" (The Mackenzie group) "Less Stress II" (the Jukemas) and "About Time" (me) drove to Killarney
The party was almost over in Listowel for "Tri-oomph" as the Mackenzie tow vehicle decided to leak transmission fluid at a fast rate. They headed back home to rent a truck and start all over again. "Less Stress II" and I continued north at a leisurely pace stopping for lunch in Parry Sound before carrying on to Killarney. With the dingy tied across the cockpit and full fuel tanks in the rear, "About Time" was just a bit twitchy as we motored along. I guess a "bit twitchy" is an understatement as on 2 instances the tail (boat) began wagging the dog (truck). The first time it was major and I needed both lanes of 400 highway to wrestle the monster back under control. At one point I thought the whole rig was lost as tires squealed and hub caps flew off. A more sedate speed kept things under control for the rest of the trip.
With "Less Stress II" and "About Time" in the water, we motored over to Covered Portage for a restful night. At his point we weren't sure what was going on with Tri-oomph. Come morning we returned to Killarney and tried to call Mackenzie's but no answer. Nico walked up to the trailer storage area and saw their trailer so we now know they had arrived and were somewhere in the area.
The 3 ferry riders had arrived in Little Current, launched and made their way to Heywood Island and awaited our arrival. With all 6 boats safely put on anchor we settled in for the night. Due to the high temperatures and lack of rain there was a fire ban so no beach parties were to be had this year. The heat had warmed the waters so that swimming was quite comfortable every day.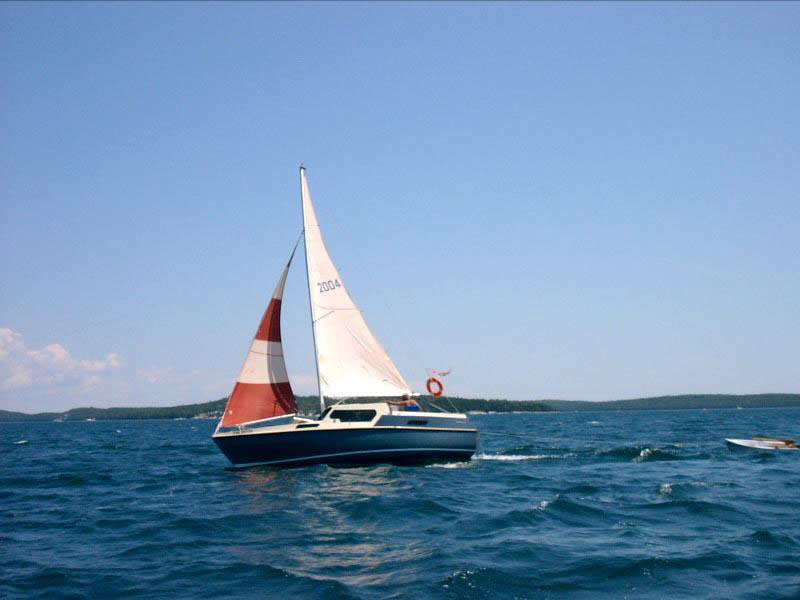 Northbound between Partridge Island and Heywood Island. Lansdowne Channel off the Transom

Next day the group headed over to Little Current for lunch and ice cream. A bad weather forecast kept us tied to the town dock that night. Deck chairs were set up in the shade and we watched the ever changing parade of boats pass by. Some folks had a second ice cream cone. A decision was mad that next day we would head for Sturgeon Cove, a pretty little bay less than 15 miles to the north and east.

Come morning it was off to Sturgeon for the entire fleet. A pleasant trip for all. On his approach Captain Bob tried unsuccessfully to rearrange the rocks outside the cove entrance. With "Elsie 11" coming to an abrupt stop the captain was thrown forward striking his head and face on the companionway hatch. A nasty blow for sure and the old captain was looking like he lost a fight with blood running and all. A few hours later swelling had set in but the skipper said he was going to survive OK.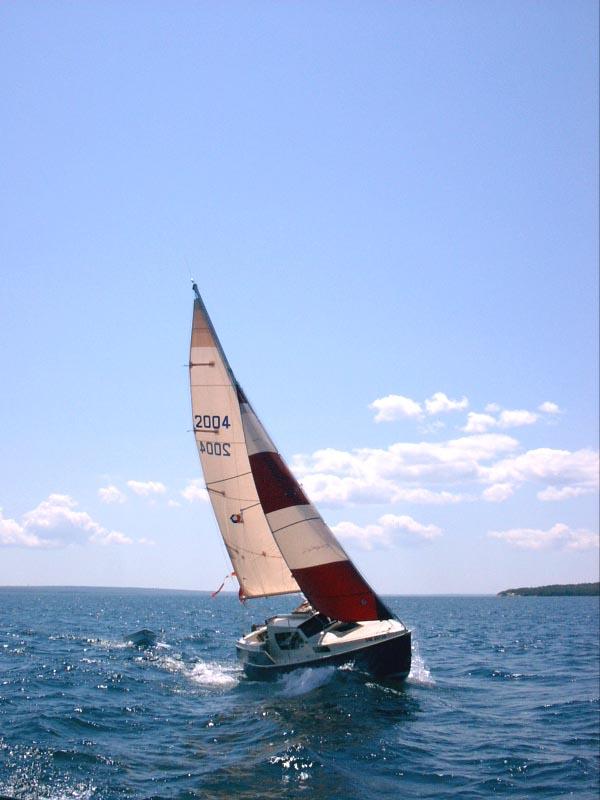 Northbound between Heywood Island and Partridge Island

P> What a wonderful sunset that night. Never have I seen such color. It was truly a sight to behold! The scarred up Captain and I shared some popcorn as the sun went down. For most, a wonderful day.

Next on the itinerary was a visit to Fort La Cloche. There is no fort but a nice sandy beach and again warm water for a swim after lunch. Then it was down to Logan Bay on the east side of Clapperton Island. Again we had a beach and warm water for swimming. A pleasant day on the water.

We had been told a must see was Kagawan and the nearby Bridal Falls. This was our next destination. Come morning off we went. The day before had seen some strong wind and I had a feeling today was going to be worse so I never took the jib cover off and decided I would motor-sail with the engine and full mainsail. For me it was a good idea as once out in the main stream the wind was howling and the seas built to 3+ feet! John and Hillary with kitty, soon had enough and turned back for Logan Bay as the rest of us crashed along. "About Time" has lots of freeboard but many times spray flew over the cabin top as I plodded along at 5 knots. The Pomeroys aboard "Fearless" with much less freeboard, took one wave over the top and down the hatch soaking their clothing.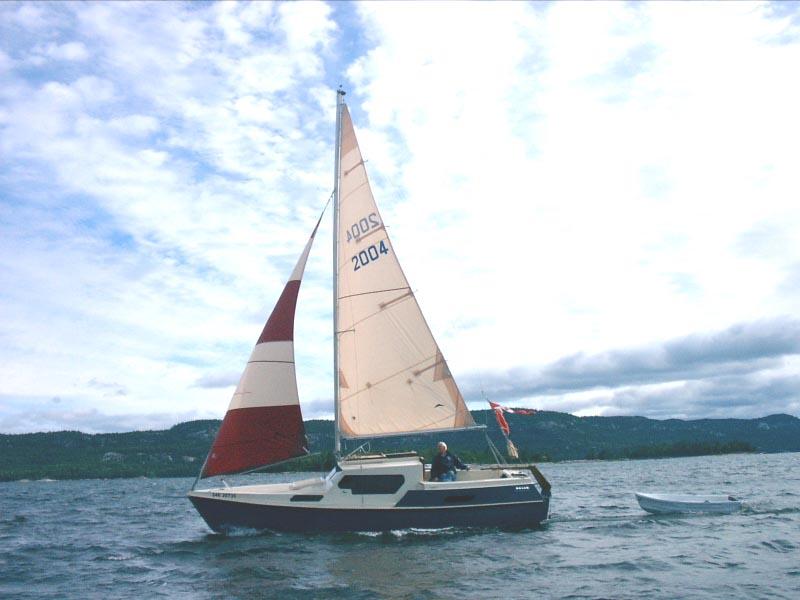 On the way to Logan Bay on the east side of Clopperton Island. La Cloche mountains in the background

Mean while, back in Logan Bay, the Burgess' couldn't locate Kitty aboard ship. Upon looking toward shore there she was looking very soggy after her quick swim ashore. John was able to retrieve her, get her dried off and settled back in. It seems the poor cat had had enough lumping around in the boat and wanted off as soon as shore was close at hand. Later in the evening John took here ashore for a stroll down the beach and she darted off into the dense forest. Try as they might Kitty was not coming out in answer to their calls. John was sure she had deserted ship and was not coming back. Just as things were looking blackest out of the brush she came and John scooped her up. All was well with the world again.

As I took the shortest route to Kagawan, I arrived first and was greeted by a pleasant young man who directed me to a spot on the town dock, these docks were built for BIG ships and are very high out of the water. I got to tie up next to a set of stairs, One by one the others arrived, some wetter than others, all tired from the hard crossing. After a walk to the Falls, we were assigned overnight dockage and some folks had dinner (?) ashore. This was Thursday night and we were a good 2 days from our trucks and trailers in Killarney but only one day for the 3 boats back to Heywood Island. The Burgess' decided to stay until Tuesday morning hoping for an easy entry on the ferry after the holiday Monday.

The sail from Kagawan to Heywood was uneventful and 4 or us had a very nice dinner prepared by Chef James and the ladies served in the main dining lounge (cockpit) aboard "Less Stress II. Burgess' had eaten in Little Current but joined us for drinks later on. A wonderful end to the day.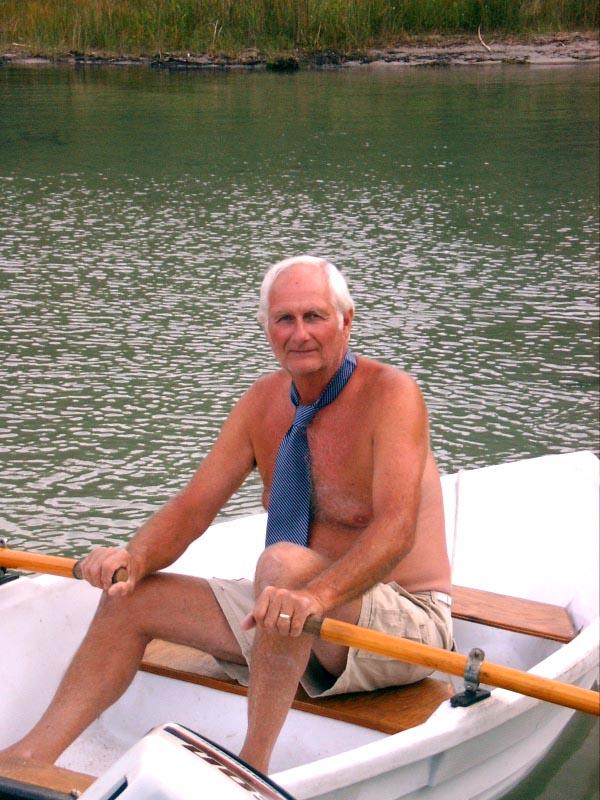 Wishing to always present himself in a proper attire, the skipper of About Time (Sailor Mike) is seen rowing around Browing Cove, Heywood Island.

Our final day of cruising took us back to Covered Portage with a stop by some in Snug Harbor for lunch. Burgess left the group in Heywood heading up to Macgregor Bay to do some exploring and finally on to Horseshoe Bay for the night.

Back at anchor in Covered Portage it was decided some of us would climb the steep rock cliff that surrounds the water on 2 sides. This I would guess to be 80 - 90 feet above the water surface. Nico, Jim, Carleen, Doug, and I made the climb to get a spectacular VIEW OF THE BAY BELOW DOTTED WITH BOATS AND FAR OFF PLACES. Having taken in enough of the view, we descended the cliff, but wait! Where is Nico??

It was about an hour before dark and holler as loud as we could, we could not locate our lost sailor. Things were quite desperate! Doug put in a call to OPP thru the Coast Guard and tried to gather a search party from the other boats. A gentleman close by said he would walk in another trail, while Careen and I returned to the top of the cliff searching and hollering more. Jim went back to "Trioomph", got a GPS and flashlight and rejoined Carleen and I. It was getting dark and still no sigh of Captain Nico. Going in opposite directions, we continued to holler and finally made contact with our wayward sailor. In the meantime, the other boater was approaching the lost soul on the ground. I could hear talking but thought it was Nico and Jim. Careen and I , feeling things were well in hand descended the cliff and returned to our boats. Nico and the other sailor emerged from the forest, But where was Jim? We knew he had the GPS so should be able to find his way out of the woods, but again the hollering brought no reply. Carleen went back ashore and eventually both came out of the woods. Darkness came with all safely aboard their respective boats.

By 7 am the 3 of us were under power and headed back to Killarney to load up and drive back to London. The weatherman got one last kick at us as the rain came down while the folding up was going on. A quick brunch was had then it was homeward bound. Of course there was a stop in Parry Sound for lunch and Craighurst for ice cream.

All in all an interesting time what with Bob's effort to move rocks, Kitty, Kitty, where is the Kitty and Finding Captain Nico! There was also the chasing of a loose dinghy, the loss of several hats and the parting of the stony bottom by my keel when the shift lever fell off my motor giving me no reverse.

It's time to start thinking about NEXT year. Who else will join this band of mariners for another adventure? There are rumors we might have a couple of American friends join in. Will you be there ??

<