Log of SV Puff Stuff: Bahamas 2005
By Sam Wykoff
Jan 15, 2005 Arlene, Bandit (our 6 month old Springer) and I left a cold and snow covered New Jersey with Puff Stuff, our MacGregor 26 Classic in-tow.  We arrived at Everglades National Park in Flamingo Florida on Jan 18; the 80 degree temp compensated for the sticky mess from some soda cans that froze and leaked en-rout.  We were forced to launch on the everglades side of the marina, as the Gulf side was completely reserved.  This meant hauling out and moving to the Gulf side when we were ready to depart for the keys and Bahamas.  We were joined later in the day by our buddy-boat, Time Enough, a Mac 26 from Albany NY with Bob and Carol on-board.  Flamingo has a great marina (picture below) and is only $14 per day.  We spent the next several days working on the boat to ready it for a few months in the Bahamas.  One afternoon the marina delivered a message to call Bob and Carol; their truck motor died while provisioning in Homestead, 50 miles away.  We picked them up at the Ford dealership, where they left the truck to have a new engine installed.  The yacht club reserving the Gulf side did not take all the space, so we moved across; in the process I broke a taillight lens on the trailer.  This was remedied by ordering one from the manufacturer and having it held at Flamingo until our return.
<![if !supportEmptyParas]>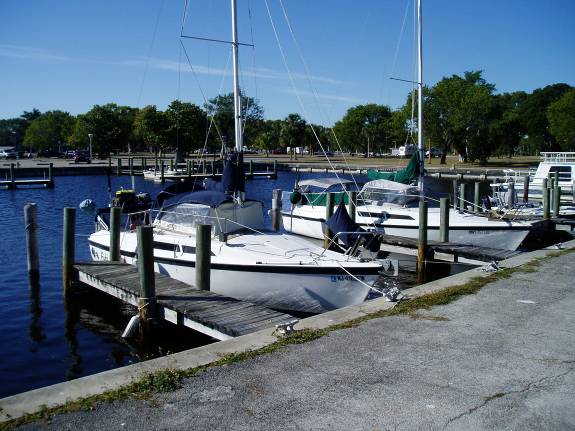 <![if !supportEmptyParas]>
On Jan 24th, we had barely completed our boat work, when we got what promised to be a good 3 day weather window.  On Jan 25 we made the 65 mile hop from Flamingo to John Pennekamp State Park on Key Largo.  We arrived at the outer marker to the Pennekamp channel well after dark.  The channel is unlit and winds for about a mile through mangroves.  We made it with only one grounding.  The Park is nice, with simple slips requiring climbing on and off over your bow.  Our target was a mid afternoon departure the next day for the Bahamas, with a lot to get done before leaving.  We were up early and Carol secured a rental car for all our errands: fill LPG tank, fresh veggies, fruit and meat, extra fuel can, veterinarian clearance for Bandit to enter Bahamas, West Marine for spare parts.  By 1630, we had even showered and cast off to cross The Stream. 
<![if !supportEmptyParas]>
The weather was perfect as we motor sailed SE in light SW wind and watched a full moon replace the setting sun.  A little after midnight Bob and Carol called on the VHF and sang happy birthday to Arlene.  Time Enough led the way as we road the Stream north and crossed onto the Bahama banks at Riding Rock around 0430. We continued to motor sail across the banks in gin-clear water, targeting to traverse the dangerous NW Channel into the Tongue of the Ocean before sunset; in the span of a few hundred yards the depth goes from 10 feet to over 1000 with strong currents.  We made it on schedule and tied up at Chub Cay marina at 1630, 140 miles and 24 hours after leaving Florida.  Bandit was very happy to reach land, having refused to relieve himself on-board.  At Chub Cay it was cocktail hour; we opened champagne with a group of sailors and celebrated our crossing and Arlene's B'day.  We then had a great dinner at the club and crashed.  On Jan 27 we cleared customs at the local airport, $150 cash and numerous forms, but no hassle.
<![if !supportEmptyParas]>
The effect of cold fronts lessens as you move south in the Bahamas, so our plan was to jump south as quickly as he weather allowed.  On Jan 31 we made a fast spinnaker run to West Bay on New Providence Island in strong N wind.  The next day we moved on to uninhabited Allan's Cay near the top of the Exumas chain and slipped into a shallow well protected bay with loads of wild Iguanas on the beach.  Our next night was at Lobster Cay.  With a cold front forecast, we worked our way into the North Harbor of Normans Cay, which is virtually a totally enclosed bay; the entrance is very tricky and breathtakingly beautiful with pink sand beaches, palms and crystal blue water over white sand.  We hung out there for 4 days and I found and cleaned my first conch, from which we made excellent chowder.
<![if !supportEmptyParas]>
Feb 7 we moved South to Shroud Cay and Time Enough led us into a very snug anchorage up a mangrove creek with a beautiful sand beach at the entrance.  A few anchors and lines were required to hold position, but there was no swell and Bandit loved the deserted beach.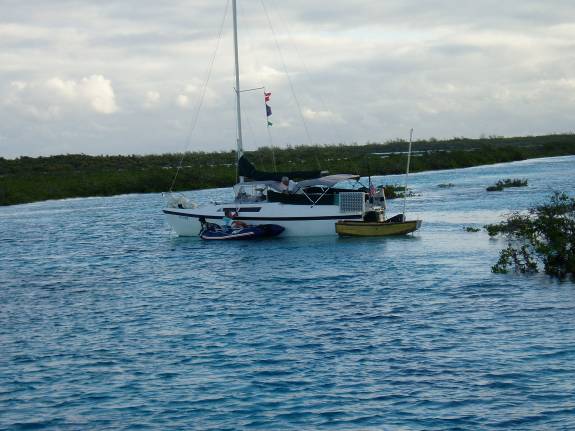 <![if !supportEmptyParas]>
  On Feb 8 we returned to civilization for water, fuel, ice and provisions at Staniel Cay Yacht Club.  Groceries and beer are about double to triple USA prices; water is 25 to 60 cents per gallon at marinas and gas is $4 per gallon.  The Club has good dinners at reasonable prices.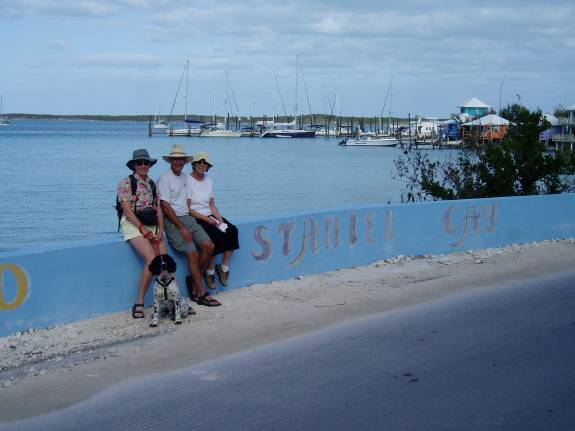 <![if !supportEmptyParas]>
  Feb 9 we had a good sail down the Sound side of the Exumas and ducked into a hurricane hole on Rudder Cut Cay as the sun went down.  The next morning, the water was so still and clear, you could not tell where the air and water met unless you made some ripples. (Time Enough entering Rudder Cut Cay)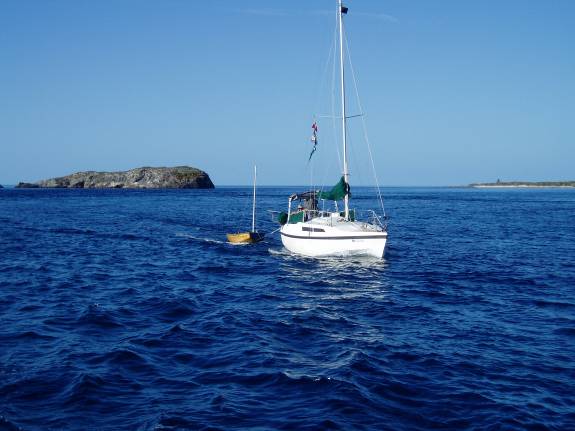 <![if !supportEmptyParas]>
Another good days sail brought us to Georgetown, our furthest point South and winter home to some 400 cruising boats.  We had 280 nautical miles under the keel since departing Flamingo.  Once again, Time Enough led us into a 3 foot spot right off the beach in Hole 1, just a few hundred yards dink ride to volleyball beach and the Chat n Chill beach bar; this was home for the next 12 days ( see our Mac Gregors in foreground of picture below).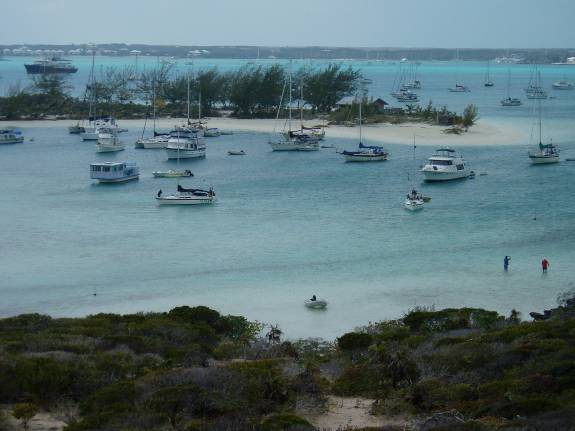 <![if !supportEmptyParas]>
Cruisers truly "own" this bay and town; they are well organized and do a lot for the local community.  The day starts with a VHF net at 0815. Groups meet daily on the beach for painting, bridge, dominoes, diving, softball and of course volleyball ( 4 courts go constantly every afternoon).  A lot of effort is spent planning regatta week, which is in mid March and consists of numerous competitive events and entertainment; unfortunately we could not stay for it.  My team did however win the bragging-rights volleyball tournament and Arlene's came in second, as we beat them in a play-off match.  We had a great oldies dance on the bar deck for Valentines Day.  Georgetown is a choppy dink ride a mile across the bay; you enter a protected dink dock through a narrow tunnel (see picture).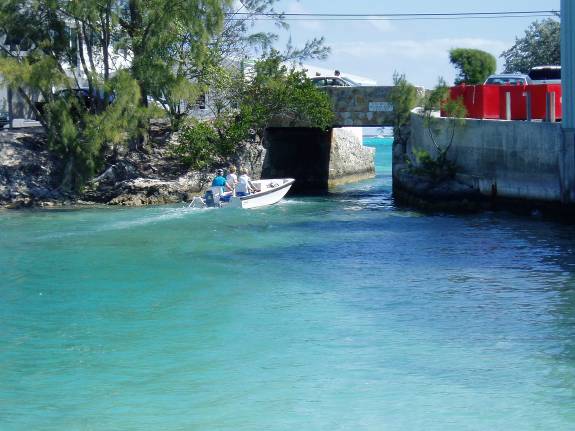 <![if !supportEmptyParas]>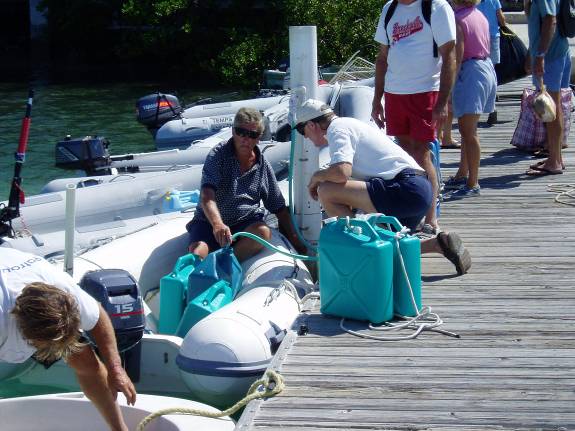 The town has good supplies and free RO water at the dink dock.
<![if !supportEmptyParas]>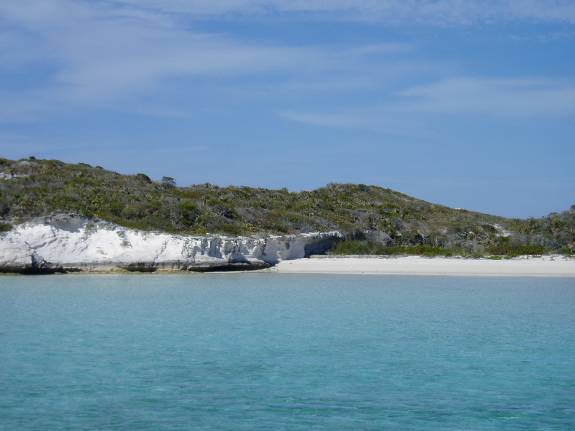 Williams Bay on Lee Stocking Island provided a quiet deserted anchorage on our trip North from Georgetown.  Lots of snorkeling failed to provide fresh fish for dinner, however.
<![if !supportEmptyParas]>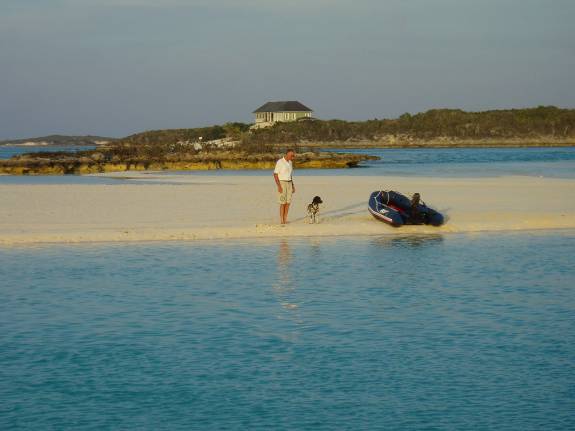 With another cold front forecast, we worked our way into the narrow channel behind Pipe Creek Cay. It was our favorite anchorage of the trip. We had huge sand bars on 2 sides and the Cay in front giving excellent protection. The channel offered great snorkling and provided a few fresh dinners of grouper and lobster.
<![if !supportEmptyParas]>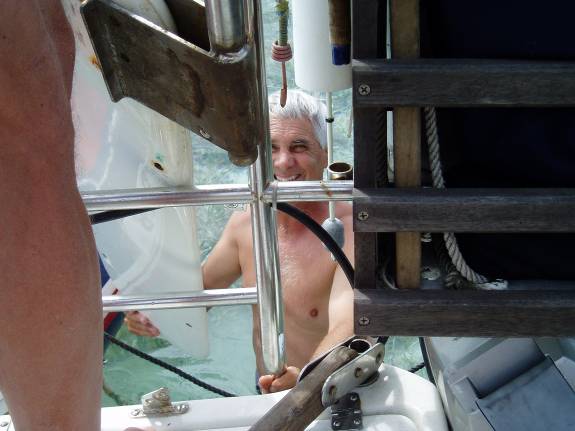 A strange but remotely familiar feel in the tiller alerted us to stress cracks forming in the SS rudder bracket; we had one tear apart in Long Island Sound several years ago.  This could have been real bad news in the Bahamas where help is not readily available.  Unbelievably, Bob had a beefed-up spare on-board, as he also had torn 2 up.  At low tide we made the switch in a few hours time, allowing us to complete the trip without a problem.  I am now having my 2 broken ones rebuilt from much heavier stock and will carry 1 as a spare. 
<![if !supportEmptyParas]>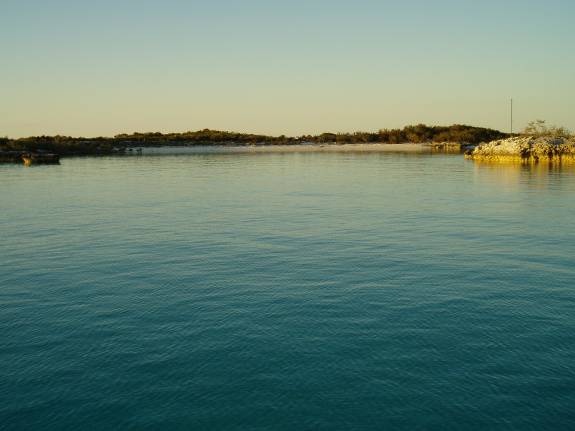 A picture perfect and very quiet anchorage off Shroud Cay. After a long days sail we swam and BBQ and then awoke to 2 foot waves and 20 plus knots on the nose at midnight. With no where sheltered to move to, we spent a sleepless 6 hours and headed North at first light. We learned that a lot of boats were surprised by the front.
<![if !supportEmptyParas]>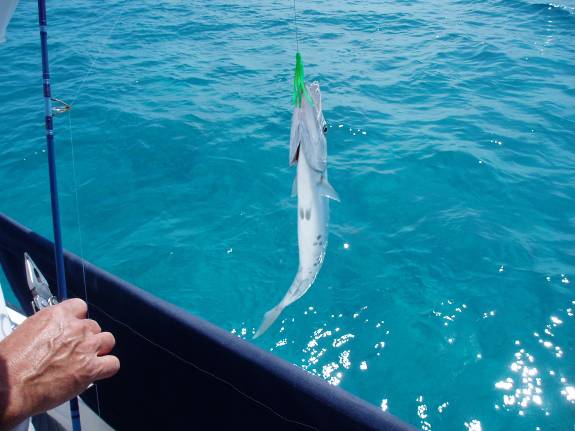 The only fish we caught on a line was this 2 foot barracuda, which I carefully released.  A few minutes later another fish hit, stripped all my line off the reel and the broke the line without revealing its identity.
<![if !supportEmptyParas]>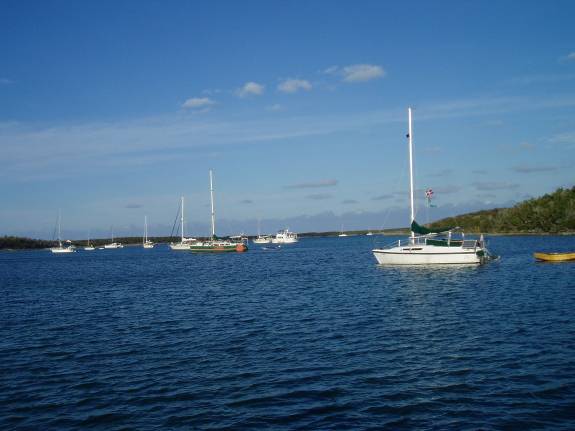 Time Enough anchored at Royal Island.  It looks very peaceful …now, however, the night before a storm came through unexpectedly with strong gusts 180 degrees from the prevailing wind.  Having just retired for the night, we were called on deck by voices above our forward hatch.  We had our rhode sprung for the light swell and offered too much windage for the grassy bottom. We had dragged into a large steel hulled boat, which was a much softer landing than the coral along the shore.  We then had the pleasure of re-anchoring in the pitch black pouring rain.  It took 2 tries to get comfortable, then the dink motor ran out of gas when I put the second anchor out and I got blown into the mangroves.  Rowing an inflatable into 20 knots of wind and rain ranks right up there with root canal, but I finally made it.
<![if !supportEmptyParas]>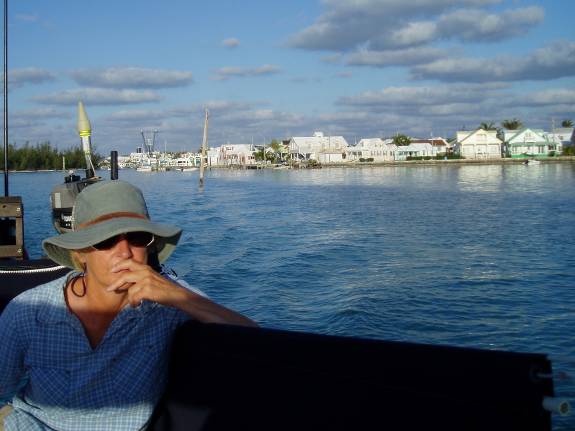 As we depart Spanish Wells for the narrow cut in the dangerous surrounding reef, Arlene ponders if Bob really knows where he is going.  As usual, Bob guided us safely through and North to the Abacos.
<![if !supportEmptyParas]>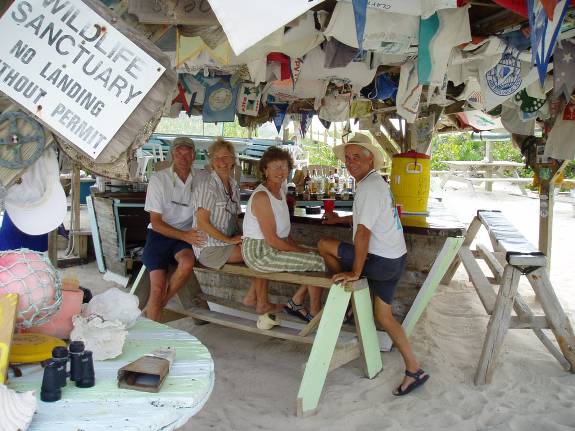 In Little Harbor we opted for lunch at Bob's favorite bar in the Bahamas, Petes Pub.  The rum blasters went down so easy that by 1400 hours Carol had sense enough to realize we were "rummed-in".  Shortly after, another couple at the bar mentioned they were from Cape Breton Nova Scotia and Arlene immediately shouted "you're the fiddle player". The summer before, we had sailed Bras Dor lakes in Cape Breton and Carol and Bob had met the couple and played music with them … what are the odds.  This quickly led to plans for a jam session at the pub that night and other places as we sailed north with them.
<![if !supportEmptyParas]>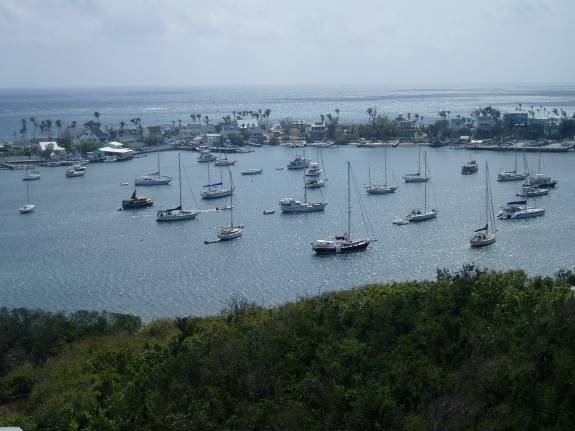 Hopetown harbor as viewed from atop the lighthouse
<![if !supportEmptyParas]>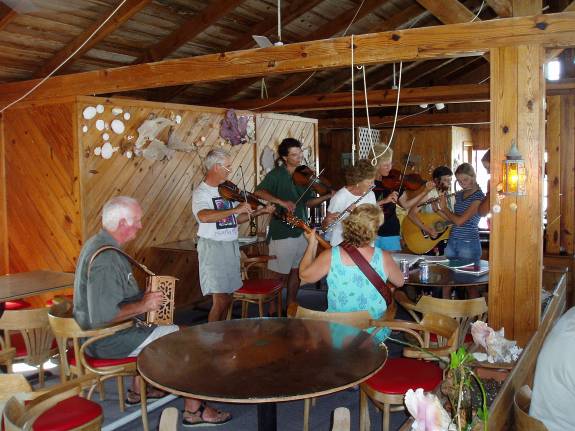 If it is St. Patrick's Day, you can count on Bob and Carol to organize some Irish music.  The ad-hoc group came together off boats in the marina and provided great entertainment while the rests of us sipped a wee bit of Guiness at Hopetown.
<![if !supportEmptyParas]>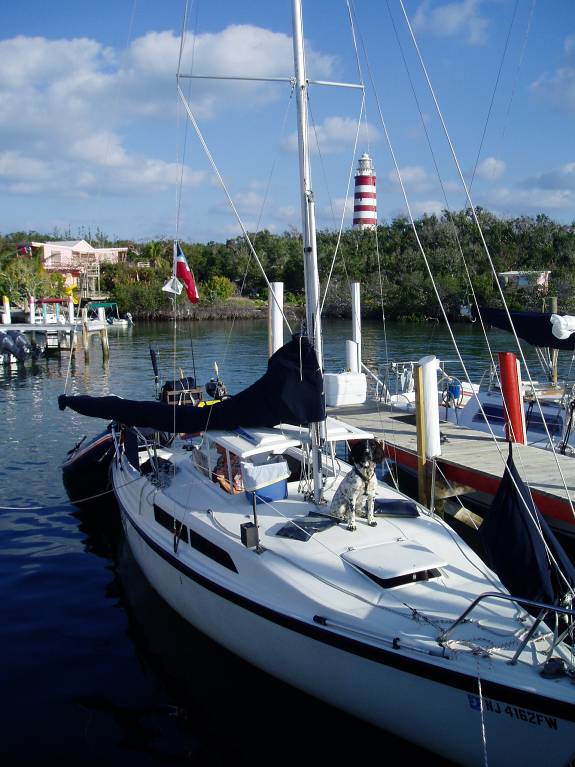 Puff Stuff and Bandit at Club Solei with the famous Hopetown lighthouse in the background.  The lighthouse is kerosene fired and rotated by a weight on a cable that must be wound-up every 2 hours.
<![if !supportEmptyParas]>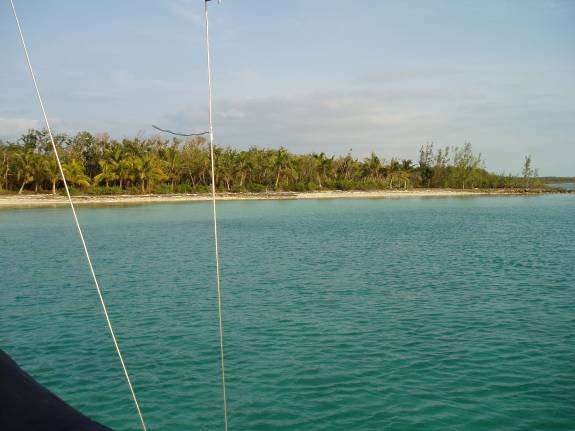 Crab Cay is a good shallow draft anchorage with a great beach and good snorkeling. Bob enhanced dinner with 2 lobsters.
<![if !supportEmptyParas]>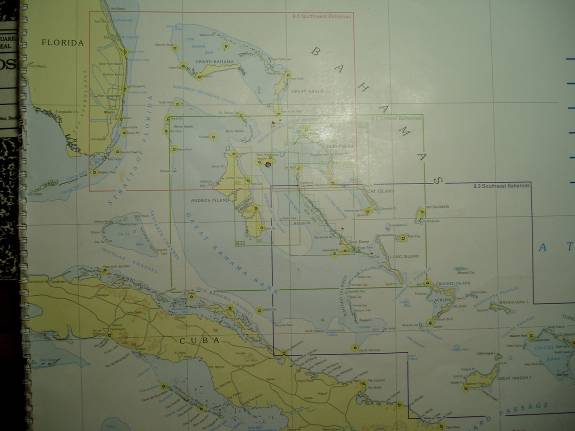 Our great adventure took us 626 nautical miles in 10 weeks. After traversing the length of the Exumas, visiting the north of Eluthera and covering much of the Abacos, we departed Double Breasted Cay for Fort Pierce Florida.  The crossing was a little rough and thunderstorms worried us as we approached Florida.  We docked in Vero beach about 24 hours after pulling anchor in the Bahamas.  The next day we rented a car and retrieved our trucks and trailers from Flamingo; closing the loop. For me, it was the trip of a lifetime made all the more memorable by our buddy-boat Time Enough.
<![if !supportEmptyParas]>
<![if !supportEmptyParas]>
<![if !supportEmptyParas]>
<![if !supportEmptyParas]>
<![if !supportEmptyParas]>