Sailing Whale Again
By Barbara Garland
Pictures by Barbara, the Chadowitz's and the Hills
Chapter 1 - The prolog
It would be easier to write this from "Whale's" prospective but the real feelings need to come from me. Right after Roger died, I figured I would never sail "Whale" again. I wasn't even sure I would go sailing at all again.
That's where the wonderful people of NE-TS came to the rescue. First was Bob (and Linda) - "come sail with us for a weekend on the Champlain Rendezvous" in 2003. Shortly after there was Ed telling me the "guest cabin" on his 26X was available for the Winnipesaukee rendezvous. Many invitations followed but by the time the Champlain rendezvous rolled around this year, I knew I needed to do something else.
Champlain 2004 was a conglomeration of many different boats over the 8 days and it was then that I announced that I had made plans for "Whale" to be checked over and I planned to put her in the water in RI for the rendezvous on July 30-Aug 1.
The plan to put "Whale" in the water started when plans kept changing for the Champlain 2004 Rendezvous. I almost put "Whale" behind the car and headed up there myself but decided, instead, to make an appointment to deal with the motor and trailer. That appointment was right after Champlain (mid July). That meant putting the boat behind the car and towing it - something I had never done. Then there were several other things I needed to do; install a rudder, replace a battery, pack the boat, make arrangements to leave the boat in RI. It all got done and I headed out late morning on Friday, July 30.

Chapter 2 - The Allen Harbor Rendezvous
The boat trailered well behind the Escape. Over the weekend, people told me that people on the internet trailer sailing group had said a Mac 26C trailed well behind an Escape. Boy I wish I had known that before I headed out. I went around every corner reminding myself to take the corners wide. I don't remember much of the drive down Quonset Point - the emotions were right on the surface.
I arrived in RI at about 3pm and my crew, Tony (the Beep), didn't arrive till about 6:30. No problem. Mike and Roger were there - eager to meet "Whale" and willing to help me rig. There were many friends to talk to and new people to meet.
I expected everything to go smoothly but that was not the case.
Problem 1 - the new rudder - thoroughly tested, I thought, wouldn't go down. I needed to sign in at the boat yard and when I got back Mike had solved problem 1 - Thanks Mike.
Problem 2 - it appears the replaced battery didn't solve the power problem. Problem 2 wasn't solved but we lived with it. Only later did I find out the battery charger was on 6 volts not 12 volts when I tried to charge it. The result was probably discharging it.
Problem 3 - the Main halyard was tangled. Tony and I just joked that I needed practice docking and putting the mast up and down - and we needed to start further behind so we wouldn't be so far ahead. Problem 3 solved
Problem 4 - the biggest. The motor wasn't acting properly from the beginning of the weekend and Sunday afternoon as we were going back into the ramp it just decided it had had enough and refused to start. Solution - use my old sailing skills - dating back to when I was 13-18 and just sail the boat right through the mooring field and into the dock by the ramp. I must say that was the icing on the cake of a perfect (well almost perfect) weekend. I needed to reach back into my past sailing experiences and I found I could just do it. I had only docked the boat once (Saturday morning) under motor and here I was challenged to do it under sail - with the wind broad side to the dock and a piling at the end of the dock. Though there weren't loud cheers from the audience, I couldn't have felt more affirmed in my ability to sail.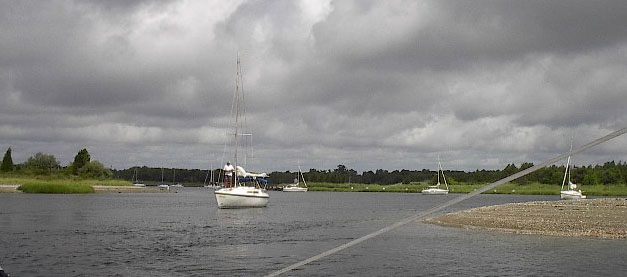 Whale and other MacGregors headed out of Allen Harbor

I have to say THE TRIP WAS A HUGE SUCCESS - BEYOND MY WILDEST DREAMS. As I sat and thought of it shortly after I got off the water it seemed more and more amazing. I did it all, did it well, felt comfortable in the boat. I will say that a huge thank you goes to Tony. His sense of humor, knowledge of the boat, willingness to be crew - and allow me to skipper was a huge help. THANKS TONY!! What was best about the weekend was actually getting out and sailing on Narragansett Bay and feeling "I was home again on MY boat" - that it was a place I really belong.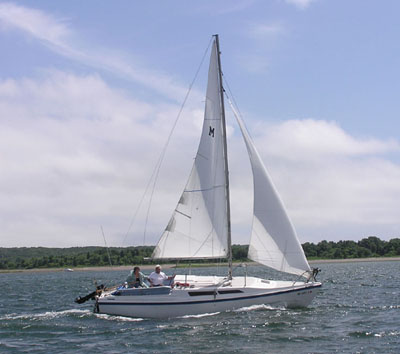 Sailing Whale into Potter Cove, Prudence Island
Chapter 3 - Buzzards Bay Rendezvous
The plan to sail "Whale" all of August didn't come to pass. Jack Chadowitz spent Saturday August 6 trying to fix the motor with no luck. He (with the help of Cheni and I) had diagnosed the problem to the point where we knew we needed to take the motor apart and replace another part. Sadly , I put the boat behind the car and took it home. It took me another weekend to get the motor fixed but it didn't matter. We had 2 rainy weekends - so no sailing. I had commitments the last weekend in August (sailing with Mike at the Boston Rendezvous) and Labor Day weekend with family.
September 10 arrived clear and bright. The weather report for the weekend was great. The boat was packed and I headed out. I made a quick stop in Wrentham to deliver a computer to my daughter and while heading down Rt. 495 it happened. First the left trailer tire started bouncing funny. I slowed down and it stopped. Then I looked at the right one and - oh no - it was going flat. I stopped and pulled out my Boat/US membership card. I called them and within 1 ½ hours I was back on the road again.
My favorite quote of the weekend was from Bob Ahler when I pulled into the ramp "Whale has arrived. Thar she blows!" Tony was there again - not as much because I needed him - but because his trailer was in need of repair and I offered to return the favor and take him along. I felt in command of the boat and all that involved.
As we left Wareham on Saturday morning I found IT - or I should say Tony did. After Roger died I had a fleeting thought about people who find gifts left after people died - things like a letter, a Christmas present wrapped and put away. That fleeting thought was put to rest with another thought - the one that told me Roger never wrote letters and surely didn't by presents. That's why it was so amazing when Tony found IT. IT was a GPS full of buoy for all over New England. (or at least Buzzards Bay and Narragansett Bay). We were heading out the channel and Tony turned on the GPS. I suggested he keep an eye on the buoys as we left because I wasn't familiar with the channel and missing one could be trouble. As he flipped through the screens, he mentioned I was right on course, he could see the buoys on the chart. I know Roger had heard Bill Brock's talk about adding data from the computer to the GPS, but didn't follow carefully what Rog had done over the winter. Obviously he had downloaded the data. The only way I was able to find his last gift was to be back out on "Whale" in unfamiliar territory - so I would want a GPS on. What a wonderful affirmation of where I was supposed to be.
Other than that, the sail from Wareham to Martha's Vineyard was uneventful and absolutely gorgeous. I/we basked in the warm September sun. The cloud formations were beautiful. I got pictures of Cleveland Ledge lighthouse.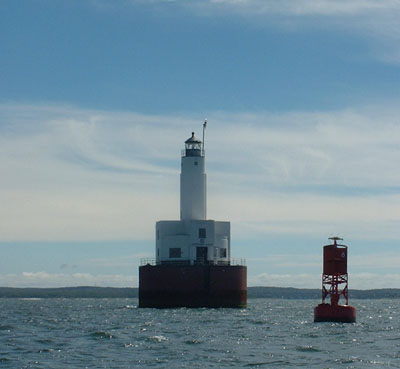 Cleveland Ledge Lighthouse

We went through Woods Hole against a 2 knot current with no problems and were first into Tashmoo - "Whale" hasn't lost her touch.
We anchored - another first - and were given a ride to shore for ice cream by Al and Karen. We spent a quiet evening under the stars. It gets dark early so we were asleep by 9pm and up at 6. We read till 8 - the plan was to leave at 9. The next thing we knew we had 4 dingys tied up to the boat. Every one else came to visit. Sunday was also beautiful but not much wind so we motored most of the way home.
Then came the treat of the weekend. My daughter, Cindy, her husband, Lou, and 2 grandchildren - Andrew 3 years old and Justin 1 year old came sailing. The second best quote of the weekend was Andrew's. The clever 3 year old knows my car and had seen the boat on the trailer on Friday. They drove into the parking lot and he exclaimed. "I wanted to go sailing on Granny's boat". Told that he would the cried "But where's Granny's boat". Never having had the experience before, he didn't realize that the boat was already in the water. We motored out of Wareham - counting backwards the "even red nuns" and "odd green cans" - quoting Tony D., the chairman of his Power Squadron education committee, "even red nuns have odd green cans"
We went out about 3 miles and then back in. The 26X's were still at the ramp - unrigged but skippers talking. Al and Steve helped me get the boat out of the water. I thanked Al and Steve and Al reminded me of all the help I had given to others over the summer. Why wouldn't they spent an extra 15 minutes at the ramp to help me. I headed to my daughter's for the Sunday night. Monday afternoon, before I left for home, Andrew brought his 3 year old friend on board "Whale" for a visit. It was as if he had always been on board. He told Bryce what things were and what they did. I'm cultivating a new crew!!
Trailering home was uneventful except for a very unbalanced new tire. I stopped at a tire store on the way home and got it balanced - in preparation for the next trip.

Chapter 4 - the third time is a charm.
I hoped to head out the following weekend for another sail but the weather, again, didn't cooperate. The weekend of September 24-26, however, was beautiful. I had talked to Jim, a friend from the past who loves sailing and said to me - if you ever need a crew just give me a call. I had called and set things up several times and then had to cancel because of weather.
But Friday the 24th looked good. We both headed out, planning to meet at Allen Harbor at 11am. I drove in 10 minutes early and it was obvious that the fog had just lifted. Jim arrived about 11:15, we rigged, and were under way by 11:45. Out on the bay there was a light east wind, and just outside the channel I handed Jim the tiller and raised the sails. Jim never left the tiller till we went to enter Potter Cove 6 hours later. The sea breeze kicked in about 15 minutes later and we were off to Newport. After watching the 12 meters race we headed to Potter Cove, arriving just as the sun set - 6:30 in late September.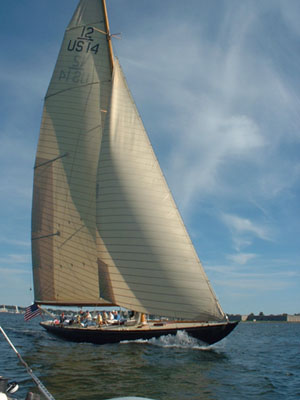 One of the 12 Meter's in Newport

As we turned in for the night Jim looked out to see great fire works over Bristol. What a great end to a perfect day.
Sunrise on Saturday was spectacular. " Red sky in the morning sailor take warning" didn't apply for the day - though it did rain a little Saturday night.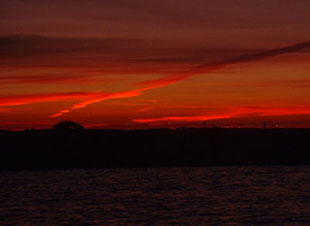 &nbsp &nbsp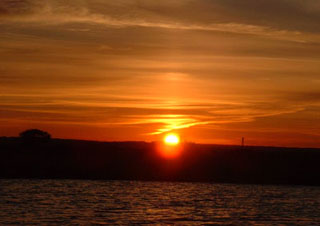 sunrise
We ate breakfast and were under way by 8:30. We headed South into an ever increasing southerly. Friday we were sailing with a Genoa. Saturday we started out with the little jib. We stopped in Newport long enough to reef the main. The 12 meters were out again, and Jim really enjoyed the sights in the area. We sailed all the way out to Beavertail Light - a 12 mile beat - and then down wind back to Allen Harbor.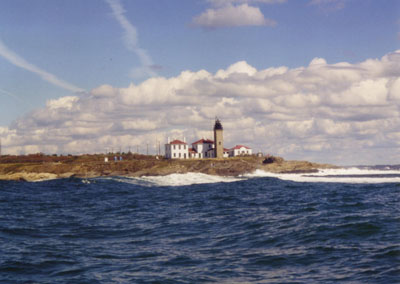 Beavertale Light

Then came the next challenge. I had made arrangements to have dock space on Saturday night in Allen Harbor. The problem was - I had to "parallel park" the boat at the dock between 2 boats. We had a brief discussion about the technique - bow in , cleat the bow, and then back the stern in. It went perfectly. Jim headed home and after joining the Catelina party at the picnic area for a short time, I hunkered down for the night. This was the first time I decided not to sleep out - a good thing because it rained a little.
Sunday morning dawned cloudy but cleared by the time Jack Chadowitz arrived. The whole family was invited but Rani and Cheni needed to take Suki - their puppy - to puppy class. We planned on heading north in a north west breeze, but the breeze was light so we headed into Greenwich harbor. We needed to motor back to Allen harbor and again the next challenge - docking and hauling without other help. I don't know why I worried. I docked the boat perfectly. Putting the boat on the trailer was a breeze and we were unrigged in no time. The trip home was uneventful. A perfect end to a great sailing season.

Chapter 5 Epilog
You can stop reading here if you'd like. That's the end of the story but I need to add some thoughts for myself. I'm willing to share them with you, so read on if you want to hear them.
What have I learned as of October 15, 2004 -it's a year and a half since Roger died as I write this:
First of all I loved sailing through life together with him. That's written on the tombstone that was place in the ground last week at a burial service.
Second, and more important for me now, I loved sailing through life BEFORE Roger was even there. Jim was part of that sailing life before Roger and also part of that life as Roger came into it.
I have to say over the last 1 1/2 years there have been many people to help and support me. The road to transitioning ones life from a married person (especially 24/7 together) to an independent single person has been hard.
I have a great group of sailing friends. I keep saying that, but you all need to know that each one of you has played an important part in getting me back into a boat. This year on Champlain, sailing with different people, I got onto boats and people had faith that I knew more than they did. I answered questions, took up the challenge when Don suggested that I/we were not as fast as he,


the result of Don's challange - I'm on the yellow boat

changed sails while under way, heeled a little more than someone felt comfortable doing and in doing so hopefully helped, taught people to read charts and judge whether a boat (or ferry) was ahead or behind them. What I'm getting at is that you all helped me to see how much I know. If you are out there doing it, I could surely be out there too. THANK YOU ALL
Then there are Tony, Don and Bruce & Pam - who over the last 1 ½ years have constantly nudged, prodded and almost pushed me to move on with life - especially in a boat.
For all of you reading this who are not sailing friends, know that you have also been helpful in my life. A copy of this with pictures will be on the New England Trailer Sailor's web page ne-ts.com, if you want to see the pictures.
Life goes on. If you take the task at hand and break it down into little pieces, it's doable. I started my "life without Roger" ½ half hour at a time. I still haven't tackled a lot of things that need to be done. That will come in time. My focus for the next couple of weeks is writing and preparing for winter. I, however, have at least one long range plan - Winnipesaukee, Allen Harbor ,Lake Champlain and Buzzards Bay rendezvous next summer - Lake Champlain by myself. The boat is cleaned up repaired, except for an electrical problem. I can't wait to take it out next spring. My Christmas wish list is mostly boat things!! I think what pushed me hardest was jumping from boat to boat on Champlain this year - feeling I'd enjoyed my neater boat more (the 2 of you know who I'm talking about). Sailing with other skippers also helped - finally understanding I knew how to sail as well or better than most others. The main thing about Champlain that I'll miss next year is a private "stateroom" on Charis - though Bruce advised me that I would have had a major lecture if I hadn't made the decision to sail "Whale". There was also the kind words from many in the group - even those who had never seen "Whale" or knew Roger.
Thank you to all. "Whale" and I will see you on the water next year.