Last sail on Lake Champlain
Hello Trailer Sailors,

Willy and I (Carol had to work) took 3 Breezy Fleas out for one last overnight trip to Valcour Island on Lake Champlain. Saturday was gorgeous in the mid-70s. No wind, so it was a motor boat trip to Butterfly Bay. Only 2 other boats were there. That afternoon Willy and I went hiking to the lighthouse and then barbecued some hotdogs. Popcorn and cards were the entertainment for the evening. I lost, best of 7 in Crazy 8's. We enjoyed a clear, calm, night and full moon. Everytime I woke up I, heard geese on their way south.

Sunday morning dawned with a little bit of wind, 10-15 kt predicted. Closer to 5-10 kt. WIlly and I sailed and motored back to pick up Carol for one last afternoon sail around Malletts Bay. We saw Frank and Sonja's new Mac 26M moored in front of their house on Malletts Bay.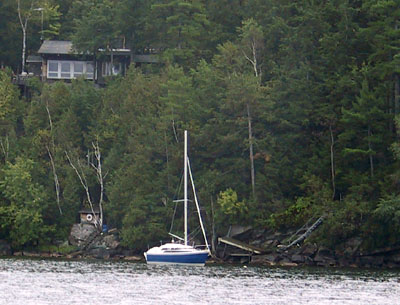 After that it was back to the boat ramp to pull 3 Breezy Fleas out for the winter. This weekend will be spent scrubbing and cleaning before winter storage - and of course writing up the inevitable project list.
-- Gerold & Carol & Willy Noyes