Whale's Last Sail with Roger and Barbara
I thought you boats would like to hear of my last sail with Roger and Barbara.
Boy was it a bad winter and to top it off they didn't put me in the nice barn this winter. They had a really nice cover. Roger worked very hard to make it so the snow wouldn't get in the cockpit. Barbara brushed me off almost every snow. In late January they pulled me out from in the woods. They kept plowing around my trailer.
Then in late February they took the tractor out of the boat garage and put me in. I got really excited. Out came the coolers and the clothes and - yippee - I knew we were headed for Florida again.
We almost didn't make it out of the driveway. It was icy and narrow. Roger got the trailer stuck in a snow bank and they had to shovel me out. The second try up the driveway worked and we were on our way. It was early in the day - not like other trips when we started out at 8pm. I must say I have never been so covered with salt. Even the mast was salty!! I didn't know that the roads were salty.
We did get suck in some traffic jams but we were in Southern Virginia by midnight and they stopped to sleep. But the next day they pushed on and by 11:30 they were almost to Sarasota. Then it happened - something about no water in the radiator. They climbed aboard several times and took out water and a cork stopper from the sink - and we were under way again. Forty hours to Florida - and they even slept one night. I figured I'd be in the water by midnight but they slept in the car, hosed me off in the morning and it was afternoon before I finally was in salt water again.
I wasn't the only MacGregor there. "Off the List" came down too with skipper Don Huff and some friends Sue and Craig. Don wondered about fixing the car but Roger wanted to go sailing. Boy was I glad.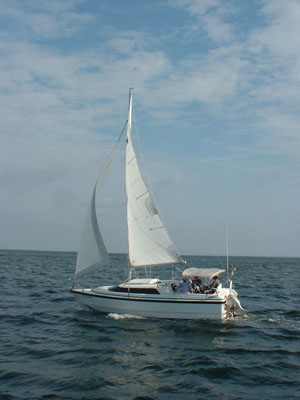 "Off the List" sailing
So Monday morning we headed north from Sarasota Bay. We spent the first night up the Manatee River at DeSoto Memorial Park. Roger stayed with me but Barbara and the others went walking. I was afraid they wanted to stay but was excited when we headed out north again on Tuesday. The winds were light to begin with but about 1pm the sea breeze kicked in at 15-20 knots. We had a fun sail into John's Pass but "Off the List" had a bit of a hard time. We waited for her (and Don and crew) inside the pass and stayed at my favorite spoil bank for the night.
Roger kept things moving and we were out of John's Pass by 9:30 and in Clearwater Pass by 12:30. Then under one more bridge and another 5 miles and we were at Caldisei State Park. I haven't been that far north in years. We docked at the marina (something like $9 a night) and they went ashore. I guess that is allowed after 3 great days of sailing. The mosquito's were bad but we stayed the night. In the morning Barbara and the others went for a hike. Roger kept me company.
It was about noon and we finally got under way - but we left "Off the List" behind. We headed out Honeymoon Pass - that's a little tricky but we did OK and headed further north. I've never been up there. We went to Anclote Key and back down the ICW. We went back into the mosquito infested marina for dinner and some visiting but then went to anchor out for the night. It was nice to be under the stars with no one else around.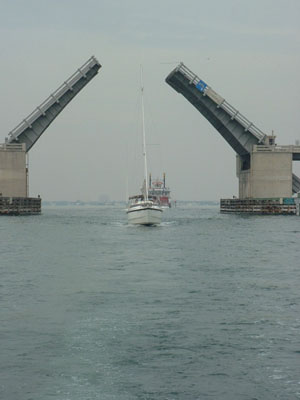 My friend "Off the List" motoring through a drawbridge
Friday dawned with no wind and a bad weather report for Saturday so we motored -ugh - all the way back to the Manatee River. The plan was to spend a rainy Saturday at DeSoto Memorial Park but it wasn't raining on Saturday so we headed back to Sarasota. We said good bye to Sue and Craig. They hauled me out and I got a bit worried. But they stayed around and waited 2 days till the weather got better. We had some pretty strong rain storms. Roger fixed the car - it was an easy job - only took him about 1/2 hour.
I was finally put back in the water to stay on Tuesday and we headed south. The wind was from the wrong direction so we motored to Venice - stopped for a little while and motored again to Lemon Bay. With Don by himself, Roger and Barbara helped with anchoring and rafting to "Off the List" all they could. It was nice to have another boat for company. We anchored for the night and woke up to fog. Barbara helped Don fix the depth sounder on "Off the List". Roger stayed on board and consulted from the cockpit.
Again bad weather reports sent us motoring north. We anchored in Little Sarasota Bay for the night. The next morning it was blowing really hard. I've never sailed so fast under genny along - no less bare pole some of the time. The nice bridge tender at the Ringling Causeway Bridge waited 3 minutes for us so we didn't have to wait a half hour. That was the nicest bridge tender on the trip.
They hauled me out of the water again and I was worried, but they stocked up again and headed north on Friday to DeSoto Memorial Park. I guess they really like that place. We sailed Terra Ceia Bay on Saturday and up the Manatee River to a fancy marina for a short time on Sunday. The people went ashore for lunch. "Off the List" and I just waited.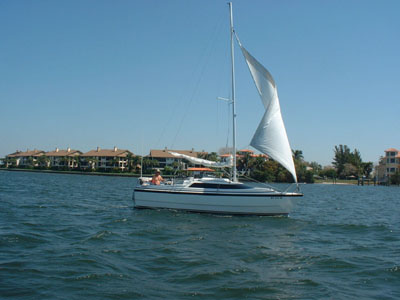 "Off the List" sailing the intercoastal waterway
Boy what a day Monday was. We left the Manatee River with very little sail. It was a little rough till we got to the ICW. Then we had a beautiful sail to Moors Stone Crab Restaurant where the people got off and had a fancy lunch again. I hear Don treated Roger and Barbara. 2 restaurants in 2 days. That's very unusual.
We got back to Sarasota and they hauled me out. This time I knew I was headed home. They took my mast down and packed things up. They spent some time with Don and headed out at 7pm.
Boy we drove till 3:30 am. Stopped in South Carolina for a 4 hour nap and then on the road again. We finally stopped at the New Jersey border for the night. They pushed home and I was back in the boat garage by 4pm. 45 hours to home but everyone was happy.
It was such a good trip. You may wonder why I say with such conviction that it was the last one. Well 3 weeks after we got home Barbara came home one day without Roger. She visited me with her grandson Andrew. There was lots of family around but no Roger. I heard talk of a memorial service and saw lots of sadness. It's now almost August. I hear Barbara is sailing with some of you other boats - Taurus Two, The Beep, Stardust, Mental Floss and Change of Heart. If you have her on board take care of her. I miss her a lot.
"Whale" a 1988 M 26D