My four week tour of the Bahamas in a Macgregor 26x.
For several years I have been trying to get to the Bahamas and each year some problem came up and I didn't get there. Last summer at the MOANE rendezvous on Lake Champlain, Dennis Wall and I decided this was the year to do it. Dennis had sold his Island Packet 38 and bought a trailerable Seward 25. He has been to the islands many times and thought mid February to mid March would be the best time. Our plan was to meet at Indiantown, FL where I had launched my Mac the last four years. Indiantown is on the ICW 30 miles west of Stuart and the St. Lucie locks, thus a good place to fill the ballast tank with fresh water and to wash the salt out of the motor on the return trip. Indiantown Marina has a good ramp and is also a very good place to store the van and trailer at a reasonable price.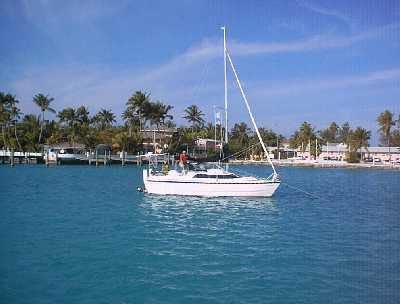 Anchored at Bimini
The trips from Albuquerque, NM and Cape Cod were uneventful and we meet at Indiantown in early February. Our plan was to sail to Miami and go to the boat show February 15th and then sail down Biscayne Bay to Anglefish Creek to get a better angle for the crossing to Bimini. Sailing in Florida unfortunately involves a lot of motoring. The Seward 25 has a small 20 hp diesel which gets very good mileage. My Mac 26X has a 50hp Tohatsu gas hog. I have 2 / 9 gallon tanks plus a 13 gallon tank under the seat and I also carried another 10 gallons in portable tanks. Needless to say all that weight in the back of a 26X does not help its sailing ability. I have a 25 gallon water tank and 200 pounds of batteries under the vee berth to help balance the weight of the fuel. Both boats are equipped with refrigeration / freezer units so we did not have to bother with ice and that's a big plus in the Bahamas.
We left Indiantown at noon on February 12th and motored 34 miles to Peck Lake, a favorite anchorage in Hobie Sound. The next day was a 58 mile motor run thru many bridges to Boca Raton. On Thursday the winds died down a little so we sailed the 46 miles to Miami on the outside. At Miami we anchored near the Collins Canal so we could dingy up the canal to within a 500 ft of the entrance to the boat show. The Miami show is a very big one at three locations with a free shuttle bus between the locations. After 2 days at the show and buying nothing, we started down Biscayne Bay on Sunday. It's a 30 mile sail to Boca Chita. I had stopped there last year when returning from the Keys, but Dennis had never been there. The Guides say don't go there on the weekend because the power boat group fills the place and they are correct. The power boats filled the harbor and we had to anchor outside on the banks. Fortunately there wasn't much wind so it wasn't too bumpy.
On Monday we headed south to Pumpkin Key at Key Largo where we planned to anchor. My anchoring guide said the holding wasn't very good and after we both dragged 2 anchors several times we gave up and motored 5 miles to one of the side creeks off Anglefish Creek. These creeks all have 2 to 3 knots of tidal current. Angelfish Creek is a 2 mile passage between the south end of Biscayne Bay at Key Largo to the ocean. Here we waited for the proper weather to make the 75 mile crossing to Bimini. For two days the wind was northeast at 20 to 25 knots which tends to create 10 to 12 foot waves in the Gulf Stream. We waited for a weather change and at Angelfish Creek there isn't much to do except watch the current change. My 26X is equipped with a HF SSB marine radio so I was able to listen to the weather from Herb on short wave. For those who don't know about Herb, many cruisers will not move unless he tells them the weather is ok to make the run. For Thursday, NOAA out of Miami predicted southeast to south at 10 to 15 knots while Herb was saying it wouldn't be the best day to cross and he was correct.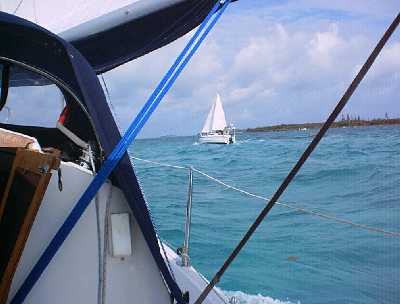 Enroute to Green Turtle
Dennis and I decided to make a run for it so we pulled anchor at 4 am. The exit from Angelfish Creek is a very narrow channel with several turns and thin water on both sides to the Pacific Reef. Not a very nice voyage on a very dark night. My 26X is equipped with radar, a laptop computer with navigation charts and interfaced GPS. I had everything running trying to find the marks and Dennis was following with a powerful spotlight to highlight them when we got close. It took 2 hours but we finally made it to the Straits of Florida. It is about an 80 degree course to Bimini when you take in the Gulf Stream current. The wind never did clock to the south. It stayed southeast at 15 to 20 with gusts to 25 knots. We were close hauled all the way with 6 to 8 foot plus in the Gulf Stream. Dennis's Seward 25 tends to pound a little more than my 26X because I have more weight foreword. About 20 miles from Bimini, a couple of real big ones realigned his diesel engine a little. This was the beginning of Dennis's engine problems. Freedom developed a bad vibration and one of the pulleys began rubbing on the fiberglass cover, making quite a bit of noise. By now the wind had clocked to the east thus we had to motor the last 10 miles to Bimini. It was a long 10 miles because every time Dennis went over 1400 RPM, Freedom would start to vibrate. At 5 pm we made it to Weechs Marina in North Bimin where we decided to get a slip so Dennis could work on his engine. Customs and Immigration closes at 6 pm so it was a mad rush to fill out many forms and give them $100 to enter the Bahamas.
The only thing Weechs has going for them is the low slip prices at $20/night plus $5 for power if you want it and it is close to customs. Both Freedom and TaurusTwo are equipped with 1000 watt Honda generators and solar panels for power generation so we had no need for their $5 power.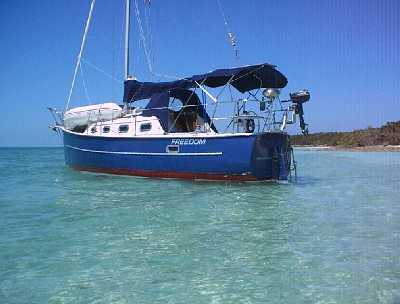 Freedom Dennis's Seaward 25
When you reach the Bahamas, the first thing you find out is your cell phone doesn't work unless you pay a big deposit to Bateco, pay phones are very expensive and the TV is useless. I am a ham radio operator and I have TaurusTwo equipped with the necessary stuff to send and receive e-mail via ham radio from the 26X. I was able to keep in daily contact with friends and family via e-mail and ham radio contacts on short wave radio.
We spent one day at the slip so Dennis could realign his motor and then we anchored in the harbor. Downtown Bimini can be covered in two hours and we ended up spending three days in Bimini waiting for weather to go to Nassau via the Berry Islands. Its about 100 miles due east to Frazers Hog in the Berry Islands across the Bahama Bank and for three days the wind blew out of the east at 20 knots. The main attraction in Bimini is the Hemingway Museum and a good ice cream stand. Finally on Monday the 25th the wind died down a little and we decided to sail south to Gun Cay and leave from there on Tuesday for the Berries. After we reached Gun the wind went from 15 knots to zero knots. The weather report for Tuesday night was 5 to 10 out of the south, clocking to the southwest and a front would be coming across Florida Wednesday and arriving near Nassau and the Berries late Wednesday afternoon. Our plan was to leave Gun at 4pm, sail across the banks to Russell Light, anchor for a few hours sleep and leave at 5am so we would be safely anchored at Frazers Hog when the front came thru. The only thing that went according to plan was that we left at 4pm. There was no wind so we had to motor 55 miles across the bank to Russell Light. At 2 am we anchored in 10 feet of water 30 miles from the nearest land and within 30 minutes the wind was blowing 20 knots causing a mean chop and we got no sleep. At daybreak the wind decreased to 15 or so out of the southwest so we pulled anchor and headed east 20 miles to the Northwest Channel marker. At about 10 am it got very dark to the west so I doubled reefed the main and furled the 150 genoa to the size of a storm jib and within minutes we had a 25 to 30 knot tail wind. It seems the front was a little ahead of schedule. The last 20 miles to Frazers Hog went by very quickly. A 26X can be a handful going down wind at 7 to 8 knots and I have found that the autopilot does a better job keeping the X on course than I do with a following sea. I stayed under the dodger to keep dry and let the autopilot do its job. It is 42 miles due south to Nassau from Frazers. The weather report for Thursday was 10 to 15 out of the east as the front had passed thru a bit ahead of schedule. We had covered over 100 miles in the last 24 hours in all kinds of sea conditions so we were a bit weary and decided we would not leave at the crack of dawn for Nassau. When we pulled anchor the wind was only 10 knots and since it was going to be a beam reach to Nassau I decided to start out with the full main and 150 genoa. After sailing with Dennis and his Seward 25 for over a year, I have learned that the only course a 26X can keep up with a Seward 25 is on a beam reach when flying everything. If you have a 26X, you spend a lot of time looking at the transoms of other sailboats. After about 10 miles the wind increased to 15 to 20 with gusts to 25 and I made the 42 mile run to Nassau averaging over 6 knots and the GPS indicated a maximum speed of over 8 knots. I was learning very fast that weather reports in the Bahamas are not very accurate.
We had planned to spend a couple of days in Nassau and then head north to the Abacos via Royal Island near Eleuthera. For the next 7 days the wind blew out of the north or northeast at 20 knots so we had a lot of time to tour Nassau. Everything in the Bahamas is very expensive. Food was double the price I was use to and even scotch in their duty free stores was more than at our local liquor store on Cape Cod. The only bargain I found was that for a dollar we could take a bus trip around the Island. I filled the gas tanks at $2.68 per gallon.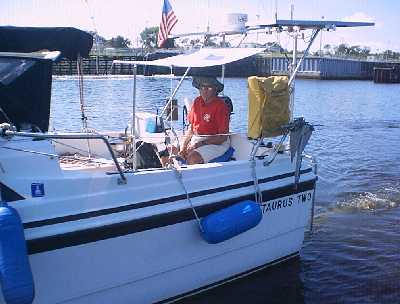 At St Lucie Locks
Our course to Royal was 48 degrees. Finally on the 8th of March the winds were suppose to clock around to the east at 10 to 15 so we pulled anchor at 6 am and headed for Royal Island. As soon as we cleared Nassau Harbor the wind went back northeast and we motored the whole 46 miles to Royal. On this leg Dennis began to have new problems with his diesel inboard. Water began showing up in the fuel filters and he couldn't get over 1400 rpm most of the time. We later figured out he picked up a bad tank of fuel in Nassau.
There were about 30 boats anchored in the Royal Island harbor and all much larger than ours. If fact during all 800 miles we sailed in the Bahamas, I never saw another MacGregor. Herb the weatherman told a couple of boats that Sunday would be a better day to go north to the Abacos so we waited the extra day. Five boats did leave on Saturday and I later talked with one on marine ssb and they had a beautiful sail to the Little Harbor area. We left Sunday with 10 other boats for Little Harbor and had to motor all 66 miles as the wind was due north the whole way. Dennis's engine was not cooperating and we wanted to get to Little Harbor before dark as there is an unmarked bar to cross to get in the harbor and it can get a little nasty in a northeast wind. We got to the bar at 4 pm and Dennis's engine quit as he was crossing the bar. Fortunately he had left his sails up and he sailed into the outer harbor. We decided to anchor 3 miles north at Lynyard Cay because we had been invited to dinner by friends on board their Island Packet 38 at Lynyard. Dennis without an engine now had the choice of tacking several times and sailing to weather which gentlemen don't do or be towed by a MacGregor. He chose sailing and arrived 1 hour later. To add to our engine problems, when we went to dingy to the Island Packet neither dingy motor would start. I finally got mine going and we were only a half hour late.
Marsh Harbor is 30 miles north of Lynyard if you follow the channel where the big boats have to go or 23 miles if you cut across a few banks. Freedom draws 25 inches and my 26X draws 36 inches since I have a 97 that I put the new rudders with the ss brackets on. I also use vertical cam cleats on the rudder lines so the rudders just kick up when I hit something instead of breaking the fairleads or rudders. We chose the short route and I only had the rudders kick up a couple of times. Marsh Harbor with a population of 4000 is the third largest city in the Bahamas after Freeport and Nassau. It has supermarkets, hardware stores etc and gasoline at $3.40/ gal.
The next day we had a good sail to Great Guana,10 miles to the northeast. We had planned on returning to Florida about mid March and that time was fast approaching so the next day we headed to Green Turtle 19 miles northwest. The course to Green Turtle requires going out on the ocean side of Whale Cay where there are some rather large ocean rollers. The wind picked up to 25 knots and that was the most difficult sailing day I had for the entire trip. The next day we headed for Allan-Pensacola Cay 30 miles to the northwest and the wind dropped to less than 3 knots, thus another motor day.
From Allan's its 185 miles to Stuart, Florida across the Little Bahama Bank and the Gulf Stream. The only protected place to stop is the marina at West End, 85 miles west of Allan's. The slip fee for a 26X at West End would be $35 plus $19 for water and electricity whether you wanted it or not. The other choice is to anchor on the banks at Great Sale Cay, Mangrove Cay or Memory Rock. We opted for Memory Rock since West End would add 15 miles to the trip and $54 dollars to the cost. It took us 18 hours to cover the 87 miles to memory rock, arriving after midnight. The wind picked up and it was a very uncomfortable 6 hours we spent anchored there. The weather report for crossing the Gulf Stream on Saturday the 16th was good so left at 6am for the St Lucie inlet at Stuart. It is shorter to cross to West Palm Beach, but that adds another day to get north to Stuart. The Gulf Stream was like a mill pond compared to when we had crossed to Bimini. It took us 12 hours to cover the 74 miles to the St. Lucie inlet at Stuart. On Sunday we motored the 30 miles on the ICW to Indiantown and had the boats on their trailers by 4 pm.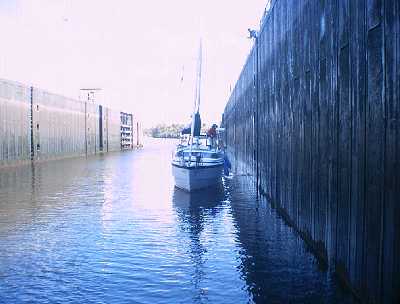 In the St Lucie Locks
We had covered over 800 miles in the 5 weeks since we left Indiantown and a lot of the time was spent waiting for weather. My advice is if you want to go to the Bahamas allow at least 2 or 3 months for the trip. The distances between stops can be 80 to 100 miles and when you are a solo sailor in a small boat even with an autopilot it is very tiring. You should only cross with a well equipped boat. There is no Coast Guard to call on channel 16 if you get in trouble. As I look back at the trip, I think it is a greater challenge to trailer a 26X from New Haven to Richmond on I 95 than to cross the Gulf Stream in one.
Ed Goodhue S/V TaurusTwo 97 MacGregor 26X
Monument Beach, Cape Cod, MA