Trip to Bimini Bahamas.
By Tom Dykema
This is a long version of our trip to Bimini Bahamas. If you just want a quick overview of Bimini you can see the last section of this article. The date set on our digital camera was incorrectly set.

We purchased our Macgregor 26X in April of 2000. We mostly day sailed the two summers we owned the boat but in the second summer we spent some weekends and one niters having a great time. After reading many articles about owners of Macgregors crossing the Gulf stream we started to plan our adventure. We had to leave during Christmas break since my girlfriend teaches dancing and had two weeks off for the holidays.

Cindy and I left Holland Michigan 30 minutes after her last dance class (approx. 9:45 PM) on Thursday evening December 21st. The 2000 Macgregor 26X was loaded as well as the 2002 Ford Explorer we used to pull the "Lucky Dog". I had just completed one of many modifications on the Lucky Dog a few days earlier. I had added a Microwave, electric faucet, front berth mirror with compartment, galley shelves and a few marine glue jobs for holding items. We kept as much weight as possible in the Ford Explorer because I felt that the single axle trailer on the Macgregor was probably the weakest link.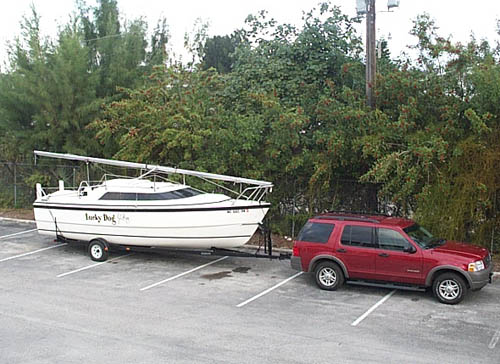 We drove 200 miles the first night, 650 the second day and 650 the third. We had originally planned to drive more than 650 miles a day but I had a close call that made it hard for me to keep driving. The sun went down at 5:30 PM. Two semi trucks passed me simultaneously on each side going down a steep hill in Kentucky at around 7PM. The wind effects caused my Macgregor to veer back and forth narrowly missing each of the semis. I had several scenarios running through my head about the results of hitting either one of them. I then would tense up every time a semi would come near us. We checked into a motel a little earlier than we anticipated. The daytime driving was much better. We arrive in Miami on Sunday morning.
We found Crandon Park Marina rather easily (phone # 305-361-1281) The marina was huge with 7 long docks used for launching and plenty of overnight/extended parking with security. We had made previous arrangements with John the Dockmaster about leaving our vehicle and trailer for two weeks. Price $25 per week. My trusty hand held marine radio had informed me that Miami was experiencing a SE wind of 15 to 20 knots resulting in waves of 3-5 feet and 6-10 feet in the gulf stream. We were not going to cross that afternoon. We enjoyed a pleasant sail in the Miami harbor. There were many interesting things to see. The marina only charged us $22 for the night, a great deal we thought at the time.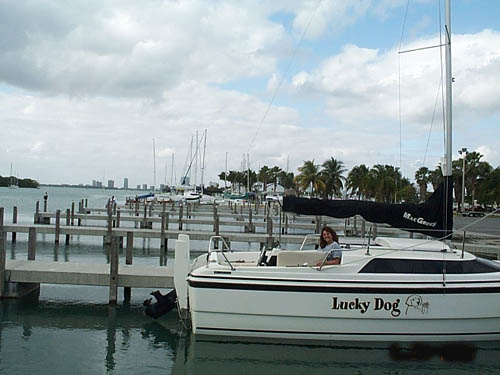 The culture and people changed the moment we arrived in Miami. If you wanted any help you better ask an American. Although very friendly, the non-Americans ( sometimes non-English speaking) were very aloof. John the Dockmaster was very helpful but very busy. I was surprised to see this huge/beautiful marina with only a little make-shift trailer where the Dockmaster and assistance worked daily. At night we realized why the marina was so cheap..........no showers, no laundry, and a bathroom that was public accessible, with no lights! When I walked up to the bathroom I noticed twelve cats, all full grown, (yes, CATS) just lounging about some in the path, some in the near by grass It gave me a creepy Steven King novel kind of feeling.
We ate dinner at a restaurant called SUNDAY'S adjacent to the marina. The view was beautiful, the food only marginal and the pricing was steep.......................plan on spending $25-$30 per person and don't worry the gratuity is already included so the service is marginal well.
12/24/01 - We left about 8:20 am after taking a Bonine and a small handful of crackers for our breakfast The GPS said we were 55 miles out from Bimini. We had to go 5 miles around Ragged Key island (with many shallow spots so watch the posts and the water). It looks like you could cut out the 5 extra miles by lowering the mast and motoring under the bridge. We had 29 gallons of fuel for our 1988 2 cycle 50 HP Mercury. When we got close to Ragged Key Island the waves got larger, 2 to 3 feet. Our top speed was approx. 13 knots, as we went out about five miles further the waves went to 3 to 4 feet but never got any worse. At one time we had to stop and add gas to the 12 gallon tank. I did the math and computed I might have to sail part of the way. I looked at the GPS and realized the Gulf Stream was pushing us 4 knots north. With the little wind that was present it would be very hard to make any headway on the Gulf Stream. I saw many other sailboats trying to sail but noticed that they were making very little headway themselves. I could still see the tall buildings of Miami from 25 miles out. When my first tank ran out I could not get the fittings to change onto the second tank, the smell of the gas and the motion of the waves as I was leaning over the back engine made me feel sick. After twenty minutes of struggling I finally got it secured and we were off. The sea sickness went away. It rained briefly two different times as we crossed and this helped to wash away the salt that had formed on my face when the overspray gave me little showers of their own.
We spotted Bimini Island at around 2:00 PM. The waves had increased to 4 - 6 feet. The wind changed direction causing the boat to toss us back and forth (good thing we took our Bonine). The first mate tossed some words as well as she got banged up inside the cabin attempting to stay dry. The Island was long and narrow without high structured buildings. I guessed wrong at the opening between the two islands but luckily choose to motor up North and if I ran out of gas I could still sail South. Immediately we were was amazed by the beauty and color of the water and shoreline. The opening is marked by an old beached shipwrecked tugboat orange/rust in color, we later found out had been there for 5 years. Word of caution: As you enter the opening to Bimini small boats like the Macgregor can go through on the left but most go through the right. You must avoid the middle because of a large sandbar.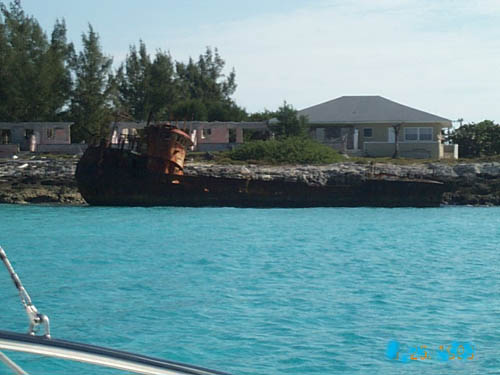 The current pushed us to the right but with the motor it was easy to control. Inside of Bimini you can visually see four marinas all down on your left. We saw a Texaco sign and headed for that. We tied up and waited for someone to greet us and eventually were greeted and told there would be someone to help us fill up...................an hour later we were gassed up at $2.85 per gallon. Welcome to the Bahamas! (Bahamian time and pace is very s l o w.........don't be a hurry for anything!) We were then directed to the Customs office which was a short walk down the main drag in town. This was again a slow process with minimal paperwork........and $100.00 which also includes a free fishing license. We then made our way back to the Lucky Dog to find ourselves at the Big Game Club - the most expensive marina in Bimini $50.00 per night. They had open slips everywhere but we decided to walk around a bit and check out the competition. We decided on the neighboring Blue Water Marina which was $30.00 + and additional 10.00 for electrical hook up. We enjoyed our Christmas Eve dinner on board the Lucky Dog..............cooked on our attached grill.
12/25/01 Christmas Day - Everything was closed, but a beautiful day! Met a nice couple, Jim and Trish who were out for a morning stroll and stopped over to admire the Lucky Dog while we were docked at Blue Water Marina. They told us about a better priced marina with a friendly atmosphere where they were docked, we told them we'd be back after exploring the marina for a few hours. We exited out of Bimini harbor noticing five or six large Stingrays as well as other exotic looking sea life. We sailed most of the day and found a beautiful secluded beach on the west side of North Bimini. The view reminded us of the Corona Beer commercial. Just so BEAUTIFUL!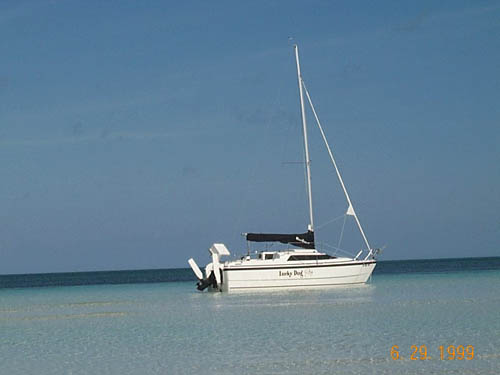 We saw a large sailboat with divers as we sailed around the island. I wanted to snorkel near them but my first mate talked me out of it. ( I found out later that they were feeding sharks.) We motored a portion of the way back around trying to see the other side of the island until the motor dug into a sandy bottom we continued on but at a slower motoring pace. We eventually put up our sails pulled up our motor and headed around in what seemed to be very shallow waters...............but never fear the Macgregor could handle it. The wind was perfect for sailing back to the marina but we had a three mile area of 1 to 2 feet depth. Jim and Trish were trying to signal us on the VHF radio to warn us not to go through it but we never had our radio on and had no problems. They and four other groups of sailors had watched us sail in through it in amazement. We were minor celebrities for making it around as we did with our trusty Macgregor! We learned that most recently another sailboat had gotten hung up out there during low tide and was forced to sleep in there boat at a 30 degree list for several hours. Luckily we came through at high tide however........... that's why we are called the Lucky Dog! I noticed a little bit of jealousy and envy in the other sailors due to the lack of draw that the Macgregor required.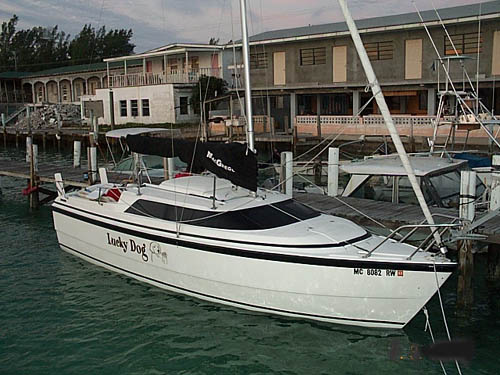 We docked up at the new marina, WEECH'S. It had nicer bathrooms and even a security guard that sleeps at night overlooking the boats. The cost was only $25 a night which included electricity. There are two grills that the boaters can use and many nights boaters would combine their food on a grill for a grill smorgasborg. Everybody at this marina was very friendly and helpful and we were able to visit some other boats. All were larger and we seemed to be the smallest to make the crossing. We had a few drinks and went to an awesome bar called the Angler. It had hundreds of pictures of Ernest Hemingway and other pictures of various fishing expeditions and records. The local three piece band was fun to see and the Calyspo dancing was a unique experience. Drinks were $5 but were tasty and high in alcohol content. Boaters and locals all frequented and were very friendly.
Christmas night a storm rolled in. It rained hard for over two hours and had some lightning as well. The next day was very windy overcast and cold. Jim suggested we take out the Macgregor and the four of us to see South Bimini through the channel. Because the entrance was rather treacherous (shallow and with many rocks) our boat would do a better job seeing it had such a shallow draft. It would be impossible to take his 32 Foot power boat. The ocean had 6-7 foot waves and the entrance was only about 30 feet wide with rocks closely guarding each side. The wind pushed us towards the starboard side as I steered her towards the port side with Jim and Trish telling me where the shallow spots were... We made it with about 5 feet to spare on one side and had to make a sharp left right afterwards. Everyone else must have been stressed because there were a lot of high five's after we made it...unscathed. We were the only one of the boats to attempt this today. I was not looking forward to going out the same way and started stressing. This was when Jim told us about how he crashed a 32 foot Catamaran during a crossing he made to Bimini. I stressed more! We made it out with little hassle only to find ourselves going against the wind in 8 foot waves. Everyone went below to stay dry as I got showered by the waves breaking over the top of the boat. I was happy but soaked when making it safely back to our marina.
Wednesday - Calm seas today. We took out the Lucky Dog to see the shipwreck Sapona. It was a ship used in the 1920's- 1930's for storing booze during the prohibition era. It went aground during a hurricane in the 1920's and was used by the United States for bomb training during World War II. We anchored along the side of this great monster. Only skeleton remains are left behind were very rusty portions but still great in her height and width. I attempted to snorkel nearby it but when I got close to it my mind re-played too many of the Jaws type movies and I swam out..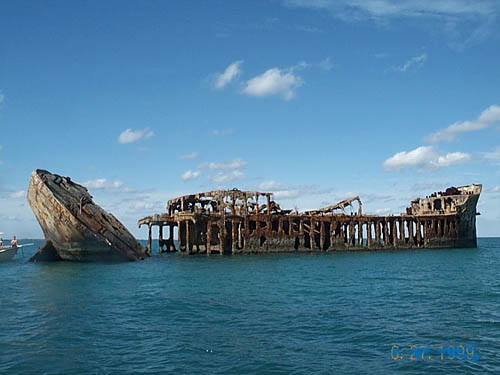 We found a beautiful beach with eight shades of crystal clear water. We motored the Lucky Dog into about two feet of water, hopped off and anchored off shore. We were both amazed at the beauty of the water. Cindy declared that this made the trip worth while and I agreed. We spent hours looking for treasures on the beach. Cindy found a beautiful fish knife and I found some wild looking crabs and plenty of shells.
Next day - Went fishing with Jim and Trish on their boat Island Girl. We were hoping for Wahoo, one of the best tasting fish. The night before we caught about 6 small fish to use as bait for today. It was very interesting how fishing is done here. You use Squid or pieces of other fish to catch small fish with little hooks. Then you use the small fish with big hooks to catch big fish. We caught two Barracuda's using a blue or red parachute lure with a red wiggle wart I had brought with me from Michigan. The Barracuda have super sharp teeth and are not good eating so we let them go.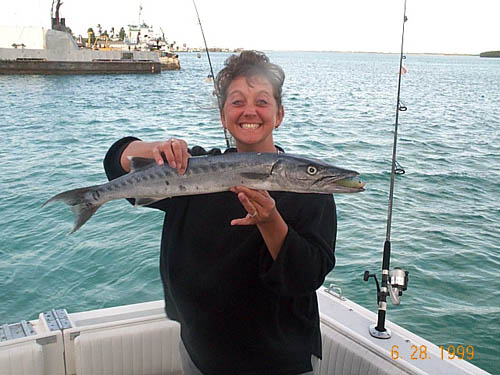 Saturday - Went sailing around North Bimini and ended up on the West Side of North Bimini protected from the wind by the island. Once again we sailed the Lucky Dog into about 2 feet of water. We took out our video camera and made a home version (so we could always remember the beauty)commercial similar to the Corona commercial where the couple is sitting on a lounge chairs looking into a beautiful view as they skip stones, beepers and cell phones into the water. As were walking out to the boat to put chairs back I saw three sharks in about five feet of water. Cindy watched on the boat (nervously) as I pushed us out into deeper water and set the anchor so we could get into their traffic lane for viewing and picture taking. Sure enough we had a perfect view as we saw over 12 sharks and 20 stingrays come up/past the boat within a very short time. Had a very rough time coming into the Marina as waves had grown to 6-8 feet. There is a sailboat that was beached and stripped laying on its side on the South Side of North Island.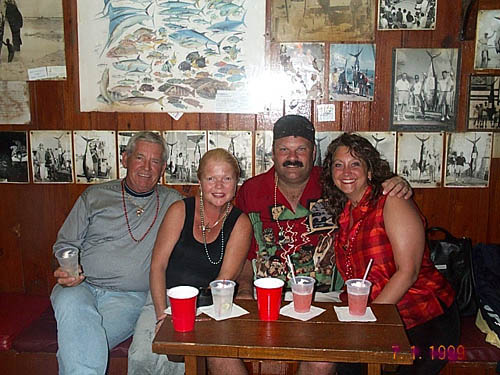 Spent the night at the Angler with Trish & Jim. Danced with a (local) Bahamian gal named Kim. She could really shake her booty! Cindy was invited quite few times by the owner of the Angler, Julian Brown (who FYI was a track star who went the Olympics some years ago representing Bimini) and he taught her some of his Calyspo moves. She being a dance teacher loved it!!!!!!!!
Sunday: Getting a little homesick for food found in the states. Food here is not what we are used to at all. Very little if any beef, poultry or pork available in the local stores. We found through referrals a couple of eating spots. We enjoyed CJ's Deli with our regular waitress Artlis, CJ's is open everyday (except Christmas) at 7:00am until 8:00pm. They offered the local favorite Conch, fried chicken (was pretty good) fries, roast beef sandwiches, burgers and breakfast items as well. All for a reasonable price. Captain Bob's had a great breakfast/lunch (only) menu again pricing was very reasonable and friendly service as well. Big John's had my favorite in the way of breakfast.......pancakes! he was only open for breakfast and lunch as well. Good food for a fair price. It's just different than the states.....occasionally we would ask for something and the response was plain and simple....."we don't have that today". Cindy's favorite night time dinning was at The Big Game Club, a little fancier as well as pricier but a "full meal" with bread vegetables and fantastic lobster dinner and Shrimp Pasta (my personal favorite) and drinks ran us approx. $75.00/$80.00. We felt this was fair and after all no dishes!
Monday: New Years Eve : Today it rained almost all day. Went fishing for Wahoo in a 27 foot Tiara ( made in Holland Michigan) with Tim and his father-in-law Jack. We would cruise around 14 MPH with 5 poles equipped with bait. We had two strikes which produced 1 Barracuda NOT good for eating! At night we went to the Angler to ring in the New Year. Cindy and I had a few Bahama Mama's danced a lot and later went to The End of the World Bar in Bimini. A very colorful sand floor bottomed bar with many hanging undies and bras from visitors all over the world. BE WARNED....... they also have an unfinished TV stand with sharp edges up attached to the wall near the men's bathroom door up high, but not high enough. I believe I will have a permanent scar on my forehead to remind me!(seriously) and I think Cindy still has bruising on her bottom from that same evening (different bar) from simply falling out of her chair! After all it was New Year's and maybe we had a bit too much to drink! We both laughed a lot that night as it seemed very special to be celebrating with new friends and different culture so far away from home.
Tuesday New Years Day: Recovering from the previous evenings festivities! We were up early and feeling just a bit under the weather we set out for breakfast and returned home to the Lucky Dog for a day of R & R. Took a nap, watched our TV/VCR movies we had brought for entertainment. We rented a golf cart for $25.00 for a 3 hour adventure and were able see pretty much the whole island within that time. The golf cart was a great idea and we saw many things we wouldn't have seen. Bimini has a traditional Junkanew Parade actually two one in the daytime and one in the evening. These were fun to watch and full of culture. People with drums played, people marched in traditional and not so traditional costumes. Many people lined up the streets to see this happen....so much fun to watch!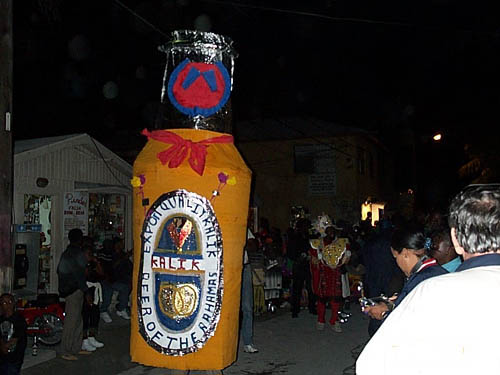 We wanted to cross and head home today but the wind was 10-15 miles from the North producing waves 11-12 feet in the Gulf Stream. Not a good day to cross. Tommy who is a right hand man at WEECH'S (he is a Weech family member) also agreed this was not the day to head home. Tommy is extremely familiar with Bimini and the gulf stream crossing and friendly with many pieces of advice. :) Tommy was a real help.
Wednesday: Time to head home. We were up early in anticipation of good crossing weather......also knew that if we stuck our nose out and it was not good, we would be returning promptly. After conferring with Tommy who agreed we should give it a try we headed out approx. 7:20am and the first hour was smooth motoring full throttle at 13 MPH with 2-3 waves at our back. The second hour brought waves increasing to 3-4 reducing our motor speed to 9-10 knots. The third, fourth and fifth hour waves increased up to 6 feet in the Gulf Stream the wind shifted direction causing the boat to rock from side to side and also caused the motor to pop out of the water pretty regularly. When the waves increased to 8-10 feet I asked first mate Cindy to retrieve my life vest and attach our portable handheld radio and flare to the vest itself. I also had her get out our inflatable life raft to have at hand just in case we need to inflate it and go. Things were very wet (it was also raining) and rough. The last 18 miles seemed to take forever as things were not calming down. We averaged 4 knots due to the rough seas in the last three hours of our journey. This seemed to take forever!! We arrived back in Miami around 3:45pm. What a day....we were both exhausted and happy to have made it back safely. However it was raining in Miami which made it another challenge to unload the Lucky Dog safely and load up our vehicle (which was safe and intack). We promptly called Customs to clear our travels and headed out for a pizza that was devoured with much gusto. No breakfast once again only a few crackers and of course a tablet of Bonine for each of us. We took our time driving home to Michigan taking an extra day. It was a trip we would never forget.
Quick overview of Bimini:
When you arrive go directly to Weeches marina. - The best price with great owners. Tommy will give you all the best information and I hear he is a great Bone fisherman. Customs takes about an hour and is located right by Weeches marina. You will need a drivers license and one other ID - preferable a passport. It cost $100 but does include a fishing license. Our favorite restaurants - CJ's, Captain Bob's, Big John's and if you want quality, go to the Big Game Club. The hot night spot is 'The Angler' - great for dancing with $5 drinks and gets very busy on weekends. Things to do: Rent a golf cart at $25 for 3 hours and see the island. Rent a Kayak for a day - $50 and paddle around. Fish in some of the best fishing spots of the world. Snorkel by some of the best reefs. Go diving with some of the dive boats and feed the sharks. See the Bimini museum and find out interesting things on Bimini like how the Bimini top came from Bimini or how Ernest Hemingway wrote many books during the time he spent on the Island. Spend time getting to know the Bahamians, they are generally a very kind and unique.
The weather we witnessed in December can change quickly, changing from sunny to cloudy and raining and then back to sunny in less than 20 minutes. The temperature was a comfortable high of 70 to 78 degrees with lows around 60 degrees. The most pleasant surprise we found was that their were absolutely no bugs to be found.
Tom Dykema
tomd@onecooldude.com