Gypsy Moon on Squam Lake NH
August 2006

Editors note: Andrea, Doug, Julia and Galena are new owners of a 1994 MacGregor 26 classic. They live in near me in Harrisville NH. This was their first major outing. BG
We took the Gypsy Moon up to Squam Lake this past Saturday. The weather was just beautiful. Light to no winds made it a great opportunity for learning the ropes on our new boat. We anchored off of Moon Island and had a nice little spot all to ourselves. Water was just warm enough to enjoy a swim at lunch time. Even our dog Simon seemed to enjoy being with us, though he probably would have enjoyed a little cooling dip himself. We got in over 6 hours of sailing and motoring about. Finished up the day with some good eats at one of the local restaurants in Holderness overlooking the waters of Little Squam.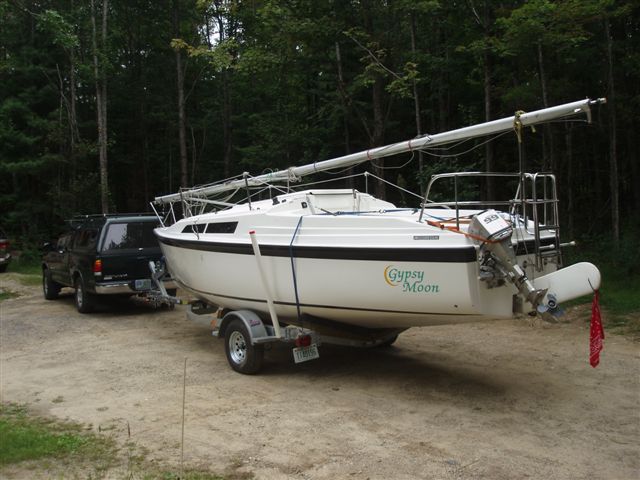 Gypsy Moon on her brand new trailer
The public boat launch at Holderness is very impressive. Sure would be nice to make some contacts on Squam so we could manage to do an overnight mooring. The ride home was rough, got in around midnight. Next time we'll stay in a motel if we don't have any other options.

Julia and Galena on Squam Lake
Hope to get some good September sailing in. We are all so happy that we made the decision to buy a MacGregor and join the NETS group. Ed Goodhue gave us some good suggestions for our radio setup. That will be our next chore for the Gypsy Moon.
We have also been most appreciative of other NETS members for helping us out with some of our other projects. Bob Chase, Michael Morris & Rani Chadowitz gave us some great suggestions for taking off the old oil based numbers and boat name. Jack Chadowitz helped us out tremendously by arranging a new galvanized trailer for us. The original Mac trailer was an accident waiting to happen. Charley Kerwin of Hancock showed us how his new galvanized trailer had been fitted with new bunks for "Buckaroo". And last but not least Barbara Garland had introduced us to "Whale", (our first 3D MacGregor encounter).She has also accommodated our questions by directing us to various NETS members for constructive feedback with our own Mac's fitting out.
Doug and Andrea