Adventures of SV Puff Stuff, Feb/Mar 2004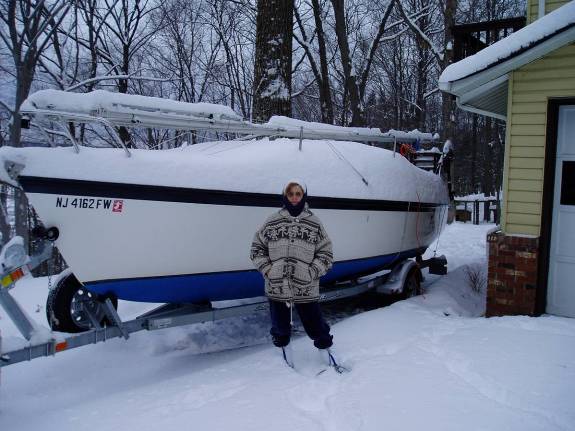 On February 8, 2004 the captain, first mate and mascot left a snowy 10 degree north Jersey for sunny Florida with Puff Stuff (PS), our 26 foot sailboat in-tow. The snow did not melt sufficiently to allow access to the boat cabin until we reached the N. Carolina/S. Carolina border. We spent a day at Disney World's Animal Kingdom to celebrate Arlene's birthday; it was truly worth the time.
Take me to Florida
We launched PS on Feb 13 at Flamingo National Park. The 86 degree temp and bright sun were a shock to human and canine systems. Flamingo is a great park and marina, except for the mosquitoes at sunset.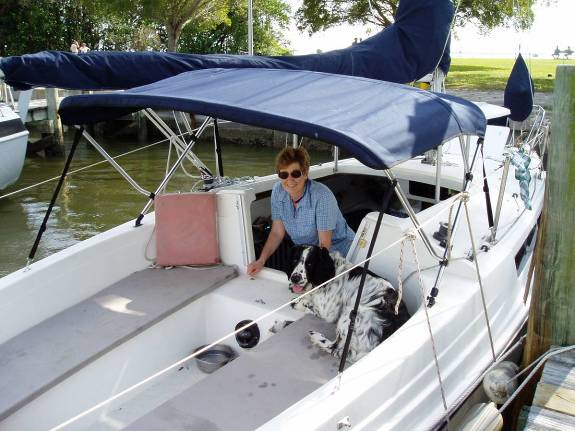 Flamingo Marina Dock (Arlene & Sherlock on PS)
From Flamingo we sailed Southeast to Long Key Bight and spent a few days in that area. From there we sailed West to Boot Key, where we met up with Ed, Don and Dennis on their boats. They were working their way back to Flamingo from Key West. Boot Key Harbor, with its friendly Marathon marina and snug anchorage became our re-supply base for the rest of the cruise. We met several other couples on other boats and did some land touring, including a day trip to Key West.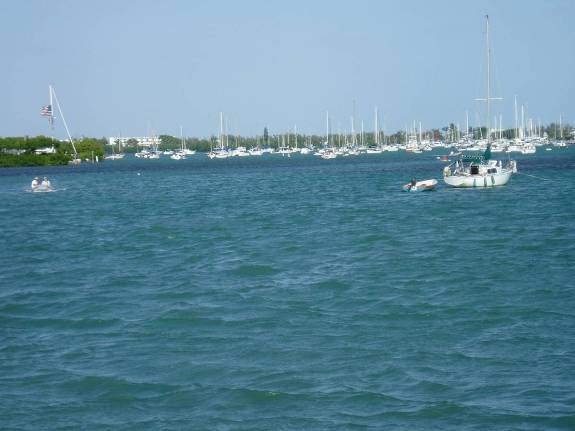 Boot Key Harbor
The winter proved to have very unusual winds, as cold fronts provided 20+ knot winds out of the north for about every 8 out of 10 days. Some boats were waiting in Boot Key for 2 months to get a weather window to go to the Bahamas. Some days NOAA reported 14 foot seas in the Gulf Stream. However, almost every day was sunny and warm. We took advantage of breaks in the wind to sail west and explore several quiet anchorages, as well as going out to the reef for snorkeling.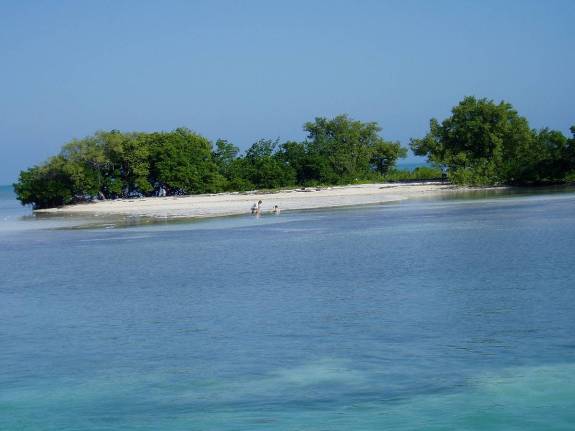 Molasses Key (Had it all to ourselves overnight)
Mid-March Bob & Carol on Time Enough joined us in Boot Key after a wild sail down from Flamingo. They provided musical entertainment for St. Patrick's day at the marina. We enjoyed several days of socializing as the wind howled, with gusts over 30Kn in the anchorage at times. This made going to shore twice a day with Sherlock a foul weather gear exercise. On March 20 PS and Time Enough took advantage of a favorable, but narrow weather window to sail north back to Flamingo, with a short stop at a beautiful beach at East Cape. We saw several dolphins just off the bow of our boat, as well as some other large unidentified fins.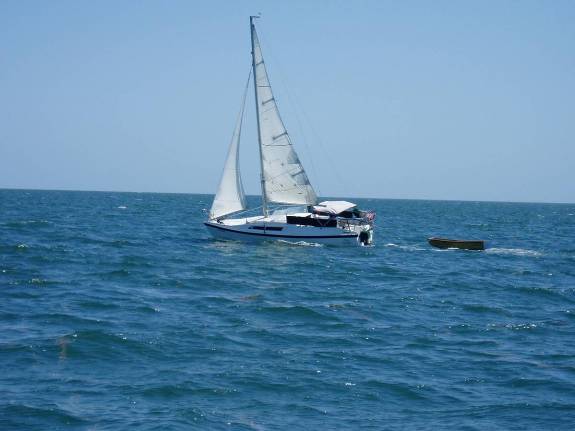 Time Enough Beating N. to Flamingo
From Flamingo, I ventured out onto the flats in our dinghy for a little fly fishing. After several hours of casting, I managed to catch and release a nice 27" snook, which put up quite a fight. I also caught a nice sea trout, which graced our grill for dinner that night. After returning to the marina, I learned that the snook is excellent table fare. On March 24 we loaded PS back on the trailer and headed north, leaving Time Enough with a forecast of several more days of heavy weather. The trip was very relaxing, but less wind would have allowed us to do more exploring.