2007 Bahamas: Continuing adventures of Puff Stuff and Time Enough in the Bahama Islands
Bob and Carol Ahlers
Time Enough I&II
Bahamas 2007
Yet again this winter Sam and Arlene Wycoff on M-26 Puff Stuff and Bob Ahlers and Carol Moseley on sister ship Time Enough cruised the crystal waters of the Bahamas. For us, the fifth trip, Sam and Arlene's third. Time Enough arrived at Flamingo, Everglades National Park, Monday January 15. Because of hurricane damage (Katrina and Rita in 2005) the marina was only partly operational, which meant no dockage fee. The hotel and restaurant are still closed down and not looking like reopening any time soon. Puff Stuff arrived Tuesday. Immediately on launching Sam's bottom ballast valve fell off and he pulled right out again. The same thing happened to me in 2001 while sailing in the Bahamas. Sam was able to get a 24 hour Fed Ex delivery of a new valve from an outfit in Seattle - amazing! While Sam was repairing Puff Stuff I was having truck repairs done in Homestead. Then, due to illness of Arlene's sister, Puff Stuff pulled out again and headed back to New Jersey, and Time Enough sailed to Marathon in the Keys to await developments.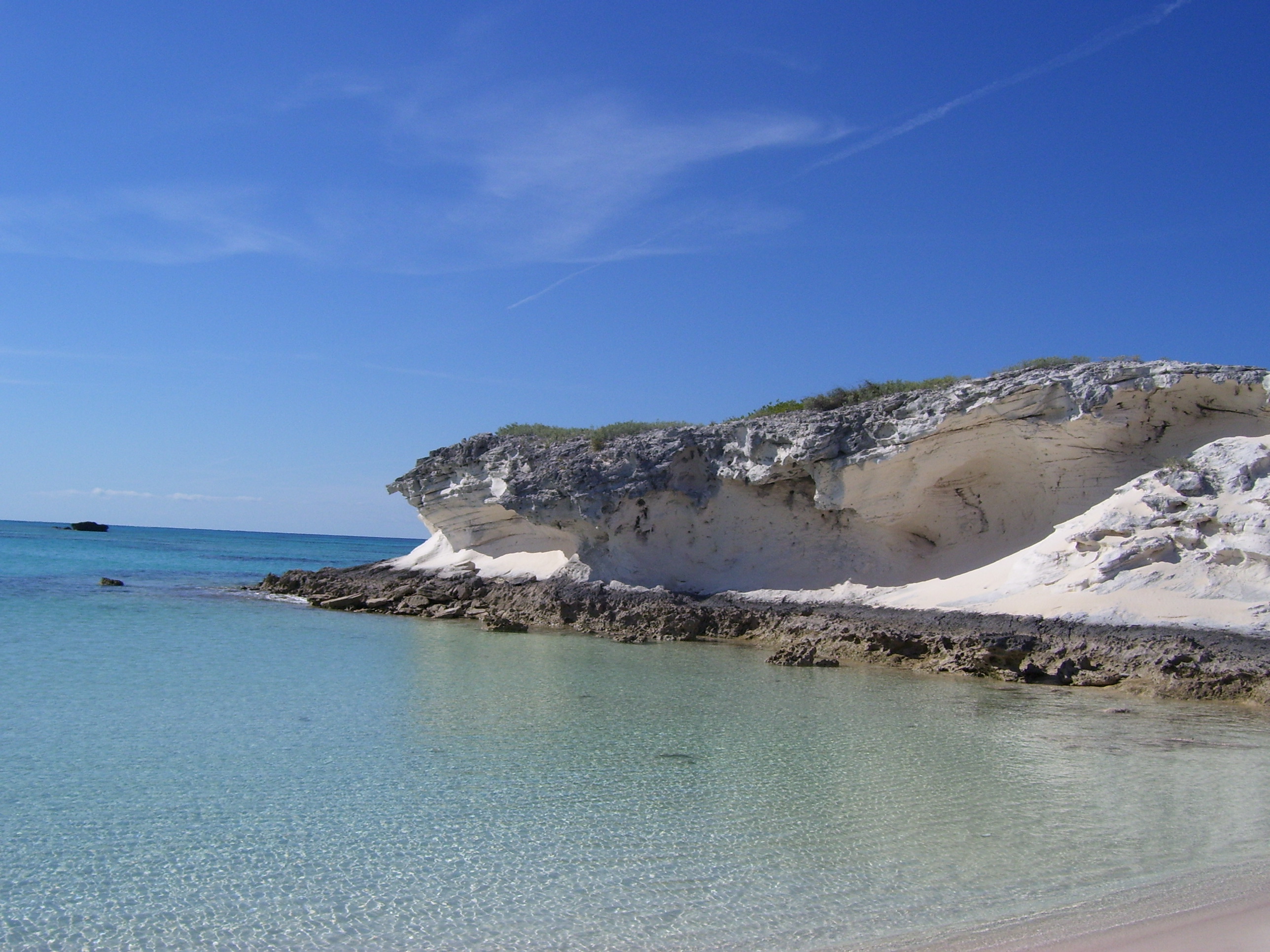 Marathon has an active cruising and live aboard community and we spent over two weeks there. One reason was that our wooden dingy had developed too many leaks and we ordered a Portbote from the manufacturer in California. While waiting we took bus trips to Key West and the Dolphin Research Center, organized a get together of Bahama bound cruisers, met folks and socialized. No one was moving because weather windows were not opening - too much wind from the wrong direction. While waiting we got the good news that Arlene's sister was much better and they decided to cruise the Bahamas after all. We set off to rendezvous on Key Largo near the home of Al and Karen Hill. Next day we were tied to the wall behind Karamel watching manatees play in the canal.
Sam and Arlene arrived at Gilbert's Marina on Key Largo February 11. Sam couldn't get the outboard running and spent the whole next day out in the pouring rain tearing it apart and rebuilding it - still would not run. Off to Miami for a brand new Honda 8. Finally Feb. 14th we bid adeiu and thanks to Karen and Al and left for the Bahamas, hopefully with all equipment failures behind us.
The crossing was a good one, leaving Key Largo via Angelfish Creek, a good sail across the Gulf Stream to South Riding Rock, then motor across flat calm banks under the stars, arriving at Nassau the following afternoon. First boat we saw as we pulled into Nassau Yacht Haven was Sea Schell with Harry and Melinda Schell on board. We had met them at the Annapolis gam and on earlier Bahamas trips, and they had passed through Marathon when we were there. The best thing about cruising is the friends you make along the way and the many reunions.
We had avoided Nassau on earlier trips because of it's big city crime reputation, but we had no problems and a great visit. Check in was a snap right at the marina. We spent a good portion of the next day waiting in lines at Batelco for a telephone. Highly recommend a visit to Ardastra Garden and Zoo for a walk among the Flamingos. Did not get out to Paradise Island to visit the big hotels and Atlantis - next time! Nassau may be big by Bahamian standards but nothing like the US. Everything is walking distance from the marinas, and the bus service is cheap and excellent.
Our next hop was a long day sail from Nassau to Shroud Cay in Exuma Land Sea park. There is a Macgregor anchorage we have used before, up a creek too narrow to turn around, room for only two or three small boats, uninhabited island with total protection. Because of our late start, plus wanting to get to Georgetown before Regatta, and having explored this area before, we didn't linger. Next day brought us to Black Point, then Rudder Cay, then Georgetown, nice weather and nice sailing all the way. Key Largo to Georgetown in a week, including a three day layover in Nassau. That's fast traveling.
Having arrived where we wanted to be, we settled in and quickly got involved with the social scene. From the log of Time Enough: Thurs Feb. 22 - arrive Georgetown noon. lunch at Chat and Chill. volley ball PM. dinner on Puff Stuff. Fri. visit Laurie on Trek. walk on beach. watch volleyball tournament (too late to sign up). Saturday - Sam's birthday, Beach choir practice (play fiddle and flute). volleyball PM. attend talk on cruising Mediterranean. dinner at St Francis (a very nice new restaurant/resort right on Stocking Island a dingy row from our anchorage; laundry too!) Sunday - Beach Church (played in choir). dressed ship and took part in ship parade.(as a lead off for Regatta every one was encouraged to sail/motor by the committee chairmen who reviewed the parade from the anchored committee boat. We were small but I was the only one wearing a blue blazer, and we had all flags flying) post parade dinner at St. Francis.
And so on and so on. Not mentioned is meeting all the old and new friends and just gamming on the beach. A week after we arrived was the official opening night party for Regatta, followed by 10 days of races, parties and activities. Thurs. AM beach golf; PM Coconut Harvest (described in detail from an earlier trip) Fri.children's day - Carol volunteered for first aid and I dressed as a pirate and fiddled. PM- Texas Holdem Poker tournament (something I had never done before but did rather well for a while) Sat. scavenger hunt (we didn't participate but Carol has volunteered us to organise this event for the 2008 Regatta.) Sun. small boat races, PM sing along Mon. fun volleyball tounament. I won my first trophy pennant for playing on the third place team. Also managed to squeeze in a visit to the dentist in Georgetown for a filling - cost $55. Tues. round Stocking Island race cancelled due to excessive wind (25+ knots) practiced for various acts for variety show, attended karaoke party at St. Francis. Weds.AM regulation volleyball tournament, PM sand sculpture competition, practice for show, great jam session on Four Aces(we dingied through the dark and rain with our instruments to get there, but they were leaving the next day) Thurs.in harbor regatta race (Puff Stuff took part- air was so light Sam had to fend off drifting into anchored boats. He did not win.) Fri. round Stocking Island race. Carol and I crewed on Idunno, a friends Nassau 42. I had expected to sip cocktails all day, but no way! I never realized how intense and exciting sailboat racing could be. Idunno is a big heavy boat and well suited to the rough conditions we had (probably blowing about 20 knots) On the first leg we did well, with other boats within 20 feet either side of us. One false move would have caused a collision. At the first mark we tacked too soon, got in irons and had to circle. I was busy on the winches the entire race. An extra feature of this race was a competition for the best dessert cooked while racing. This was Carol's job. With the lee rail awash and Idunno pitching enough so you needed one hand to hold on at all times she made a wonderful creme brule. I did help her separate the egg yolks - a bit like juggling while on a trampoline. We didn't win the race, but Carol won the first prize pennant. Sat. variety show, last day of Regatta.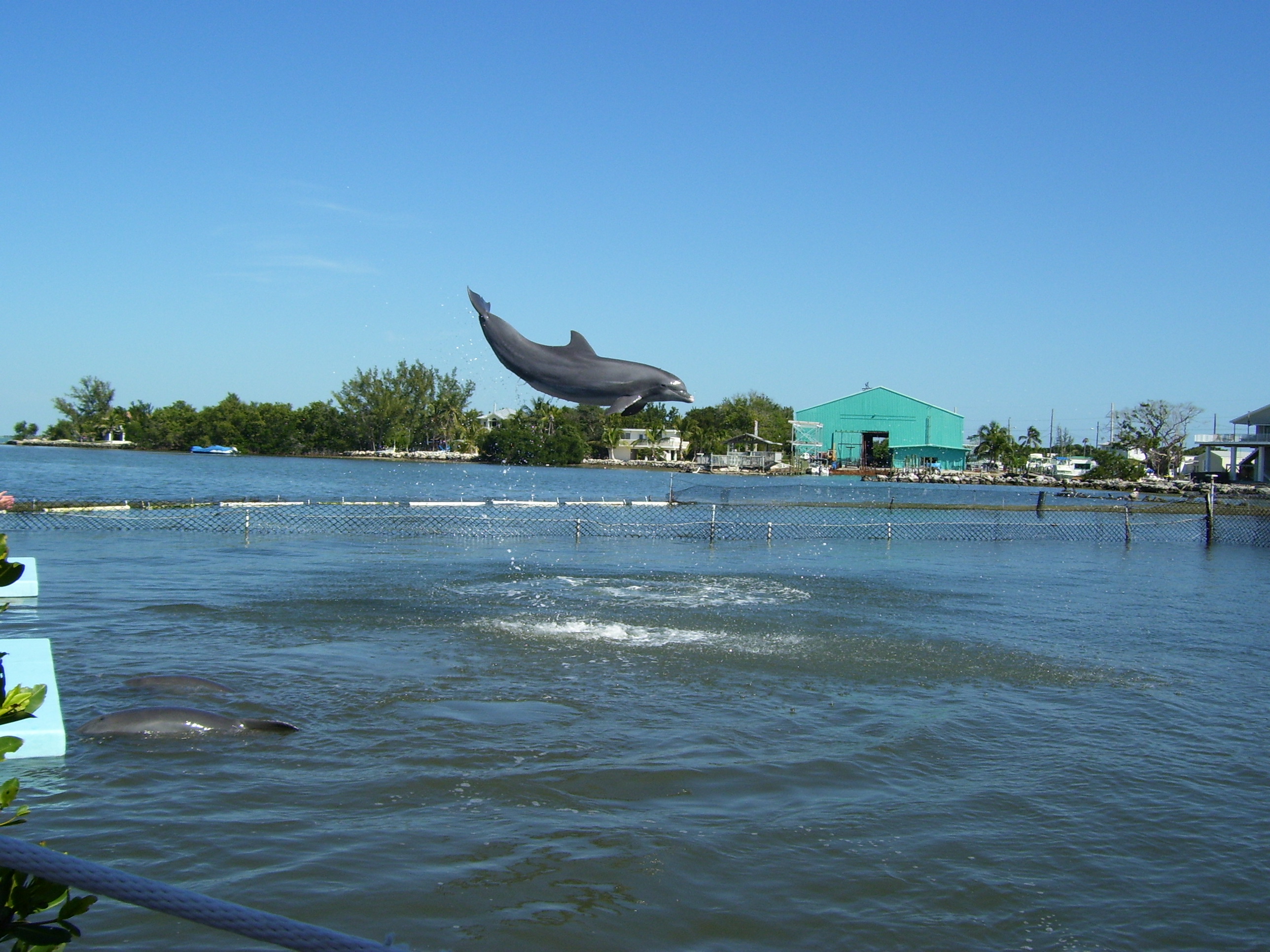 Some people find all this activity over stimulating and sail off to a deserted island for some peace and quiet, but we love it. Frankly, peace and quiet gets a little boring after two or three days. Though the islands and water are beautiful and the sailing is great, it's the people that make cruising so much fun. After Regatta the pace hardly slowed. The following weekend was the Bahamian Music festival in which we took part as part of the group White Folks On Boats. The following day our long time friends Chuck and Kate Munson arrived on Eridanus with other Albany friends Jack and Connie Hume on board. They are all musicians so we had several good jams on the beach in addition to the usual volleyball, parties and dinners. Heavy winds were preventing anyone from moving anyway. A popular Georgetown expression (even seen on Tee shirts) is: NOBODY MOVE, NOBODY GET HURT.
Unhappily Arlene's sister took a turn for the worse and Arlene flew home to be with her. Sam wasn't alone long though. A few mornings later he dingied over and said word must be out that Arlene had left, because he had a visitor in his bed last night. Coming home late from the poker game at St. Francis he noticed his belt lying on the bunk. When he picked it up it moved! It was a four foot Bahamian boa. It must have climbed up his anchor rode and made itself comfortable in Sam's bed. Somewhat perturbed and excited, Sam beat it to death with the leg of the table. Next morning it was beyond veterinary care, but it was an impressive snake.
We stayed in Georgetown six weeks. April 3rd, with Sam soloing on Puff Stuff, we set sail for Conception Island, an uninhabited park reserve about 40 miles east, ie upwind. It was the roughest sail of the whole cruise. The wind was stronger and more on the nose than predicted, and we had a pounding moter sail with solid water over the foredeck and salt water leaking down the hatch. We detoured to Long Island to shorten the trip, but had a rolly night in an open anchorage. Next day wind and seas had settled and we went on to Conception, new territory for us. It is a lovely spot, but the anchorage is open to the west and only tenable in fair weather, which did not last long. Strong southwest winds were predicted so after only one night we headed for Hawksnest Creek on Cat Island. There is a small, pricey resort there but moorings were only $15/night so we were secure and protected while the wind howled and waves crashed right outside. Two days later we continued our exploration of Cat Island, with a nice sail to New Bight. This is the site of the Hermitage, the retirement home of Father Jerome. He was a priest/architect who in the first half of the 20th century built many churches still seen throughout the outer islands. The Hermitage is a mini castle on top of the highest hill in the Bahamas (246 ft.) It and the church in town are a must see.
Next stop was Little San Salvadore. This small island is mostly uninhabited but is owned by Holland Cruise line and used for a beach stop. As we sailed up a huge liner was just loading their passengers and leaving. When the ship is not present cruisers like us are welcome to walk the magnificent beach and visit the now deserted facilities. A row of 24 cabanas lined the swimming area, each with air conditioning. There was a large shopping/restaurant area, bars over looking the bay, paths and trails, even a stable for horseback riding, empty except for a few Bahamian caretakers, where hours before there had been hundreds of tourists. The next ship wasn't due for three more days; meanwhile it was all ours.
After LSS we headed west back to the Exumas and stayed on the dock at the very well protected marina at Compass Cay. It is a small, beautiful resort with lots of trails around the island, a beautiful ocean beach, dozens of nurse sharks swarming round the docks. They encourage these harmless sharks by feeding them and it's quite a show. There were even kids in swimming with the sharks while their parents snapped pictures. Made me nervous.
We were on the path home now, sailing north up the Exuma chain to Normans and Highbourne. Then a big jump due west to Fresh Creek, Andros. We had never been to Andros before and wanted to visit, plus we were considering a shallow water shortcut through Andros back to the Keys. At Fresh Creek we tied to the wall at Lighthouse Marina, very nice and also the only marina there. Tidal currents in the creek were ferocious and there really was no room to anchor. There was a friendly cruiser community that hung out there all winter. Androsia, a famous batik cloth, is made here and we visited the factory and did some shopping. Not cheap, even here. We rented a car and explored the island, the largest in the Bahamas. Carol was delighted to find the Mennonite farm. A group of American Mennonites settled in North Andros and recreated a mid-western US farm, complete with tractors, barns, miles of irrigation, live stock, sheds of fertilizer, all imported from the US. Totally unlike anything in the Bahamas, where most farming is small hand dug "pot hole" gardens. The Mennonites export fruit and vegetables all over the islands. When Carol asked if they had any broccoli they went to the field and picked her a bunch.
As luck would have it the second day we were at Fresh Creek a Gemini catamaran came in that had just come from Florida through Andros via the very route we were thinking of taking home. The skipper was very familiar with Andros waters and went over the charts with us. There are three bights that a shallow draft vessel can cross. A few days later we left Fresh Creek, sailing south along Andros' east coast, then west through North Bight. We did fine, following instructions closely, only kicking up rudders once near the end, and anchored off the totally deserted, uninhabited west coast. There we sat for four days, waiting for a weather window. Lots of peace and quiet. Carol baked a bread, corn bread and a cake on the grill and stove. We could hear NOAA - wind NE 20+knots, gulf stream 6-8 feet. Finally April 23 things settled down and we left in the morning with 15 knots of east wind behind us. The seas were still pretty rough and we had a rolly down wind sail with just double reefed main all the way to Florida - 130 miles. No fear of falling asleep - I had to hang on to stay on the bench. Our auto pilot steered the whole way, but Sam, still single handing, hand steered because of worry about his tiller cracking. He had an accidental jibe that damaged a stanchion. We were all relieved to get back to Gilbert's the next morning.
Thus ends Time Enough's last trip to the Bahamas. We have just become the proud owners of a 1992 Gemini 3200 catamaran. In September we will take Time Enough II down the waterway to Annapolis and then Florida and the Bahamas. The plan is to store her in Florida next spring and return north to Time Enough I and the many fine cruising areas up here. See you on Champlain.
Faire winds,
Bob and Carol
Time Enough I&II